Catching Up With the Pope: Francis-as-Bieber
Editor's Note:
This article previously appeared in a different format as part of The Atlantic's Notes section, retired in 2021.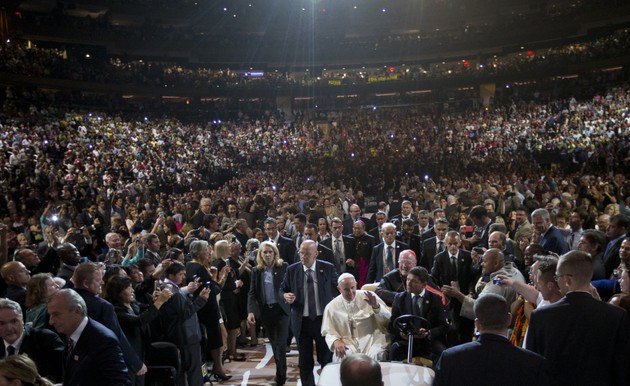 On Friday, the pope took on the world: In an address before the United Nations, Francis spoke about the urgent need to care for the environment and the people who live in it. A lot of what he said echoed the encyclical he wrote in June, Laudato Si, which also made a strong case about the failure of international institutions.
Then we found out that the pope's got a squad, complete with an imam, a rabbi, a Buddhist monk, and more. Their collective enemy? Religious extremism. At a memorial ceremony for 9/11, the Pope showed just how far the Catholic Church has come on pluralistic engagement.
More on the #FrancisEffect: He can make politicians cry, then resign. He probably can't make them give up their nice things, though. Democratic presidential nominees have started fangirling him, obviously. One representative stole the drinking glass the pontiff sipped from in Congress, and he hath not any shame.
Lest Justin Bieber ever starts getting cocky about his fandom, he should have seen Francis's visit to Our Lady Queen of Angels School in Harlem. As he approached, one girl screamed, "It's the pope! I'm going to cry." And where teenagers abounded, selfies did much more abound.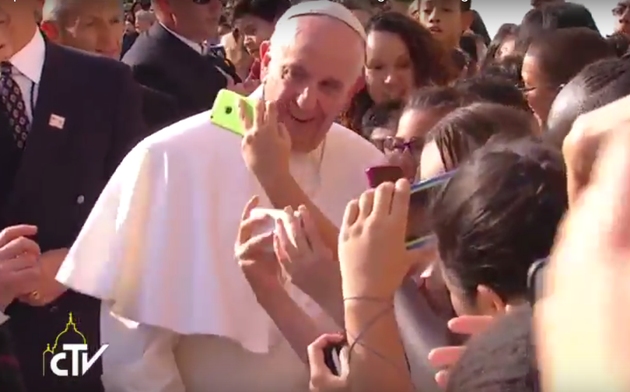 Tomorrow, to Philly, which will include two masses, a visit to Independence Mall, a visit to a prison, and a quarter of a million people gathered on a parkway. More soon.