Casey, Coons Are Latest Key Senate Democrats to Back Iran Deal
The Obama administration is getting closer to victory as more swing voters are coming around on the nuclear agreement.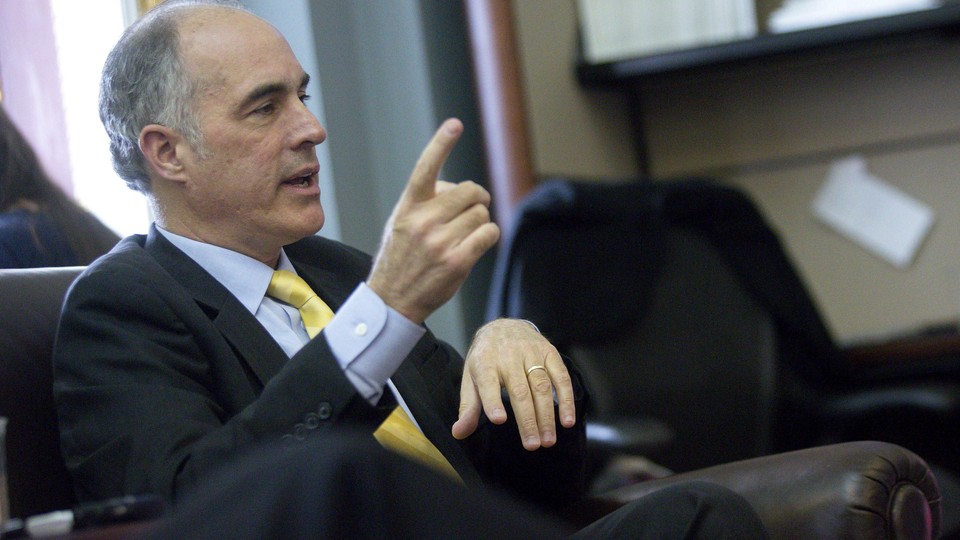 The Obama ad­min­is­tra­tion is extremely close to seal­ing enough con­gres­sion­al sup­port to en­sure the sur­viv­al of its land­mark nuc­le­ar deal with Ir­an, after Sens. Robert Ca­sey and Chris Coons on Tues­day be­came the latest key Demo­crats to an­nounce their sup­port.
"Pre­vent­ing Ir­an from ac­quir­ing a nuc­le­ar weapon has been, and will con­tin­ue to be, one of my top na­tion­al se­cur­ity pri­or­it­ies," said Ca­sey in a state­ment. "At this time, I be­lieve sup­port­ing the Joint Com­pre­hens­ive Plan of Ac­tion is the best way to do that."
And Coons, according to his prepared remarks of his speech at the University of Delaware, said: "I will support this agreement because it puts us on a known path of limiting Iran's nuclear program for the next 15 years with the full support of the international community. The alternative, to me, is a scenario of uncertainty and isolation."
The an­nounce­ments un­der­score the fail­ure of anti-deal groups such as AIPAC in try­ing to pry Demo­crats from the pres­id­ent so far—as well as the low bar ne­ces­sary for an Obama vic­tory. Ca­sey, who earli­er this year cosponsored le­gis­la­tion to in­crease Ir­an sanc­tions should the ne­go­ti­ations fail to strike a deal by the end of June, was seen as one of the most likely Demo­crat­ic no votes. Coons was labeled by Senate Democratic Whip Dick Durbin as a harbinger for undecided Democrats.
"The Republicans decided on their position pretty early on. They rightly drew attention to the weaknesses of the deal—that was their responsibility and they did it," said Nicholas Burns, a Harvard professor and former George W. Bush undersecretary of State who testified before Congress on the Iran deal. "They had the momentum, but especially over the last several weeks I think enough Democrats have come forward to announce their support in the House and Senate that it's now inevitable the president is going to be able to win the vote eventually even if he has to veto. His veto will be sustained and it will move forward."
"He was considered to be one of those senators who was truly on the fence," Burns added of Casey. "So the fact that he announced his support is significant."
When asked if he had an "ah-ha" moment after the speech, Coons replied that a closed-door meeting held several weeks ago with the ambassadors of the other global powers involved starkly portrayed how difficult it would be to continue broad-reaching sanctions in order to find a better deal. The opponents' "walk away, sanction them further" strategy is "full of holes," according to Burns, who supports the deal.
"That's the fundamental reason why the President is going to be able to go forward," Burns told National Journal. "He wasn't met by a convincing, practical alternative in the way that the world really works."
The deal's opponents have only been successful at corralling two Senate Democrats, Chuck Schumer of New York and Robert Menendez of New Jersey, to their side despite plans to spend more than $20 million on a persuasion campaign. Those two states account for eight of the 14 Democratic congressmen in opposition, according to The Hill's whip count, and Representatives with smaller Jewish constituencies have overwhelmingly sided with the administration.
House Minority Leader Nancy Pelosi has said that there are enough members in her caucus to support and uphold the deal should a resolution of disapproval come to a vote after Congress comes back into session next week. And even if there aren't, it looks like there will be enough Senate Democrats to back the pact, which lifts sanctions worth up to $150 billion in re­turn for significantly lim­it­ing Ir­an's nuc­le­ar pro­gram for at least a decade. Casey and Coons are the 32nd and 33rd senators to support the deal, while only 34 are necessary to sustain a veto.
Should both chambers of Congress vote to disapprove the deal with a two-thirds, veto-proof majority, the administration wouldn't be able to lift congressional sanctions, which could blow up the international agreement. Some Democrats hope to muster 41 Senate votes for the agreement, which would prevent the chamber from even holding a final passage vote on disapproving the deal.
Coons said after his speech Tuesday that such an outcome is currently a "very close call."