Can Pope Francis Reverse the Decline of Hispanic Catholics?
When the pope visits the U.S., he'll mostly be speaking in Spanish—and that may resonate with a community departing the church in droves.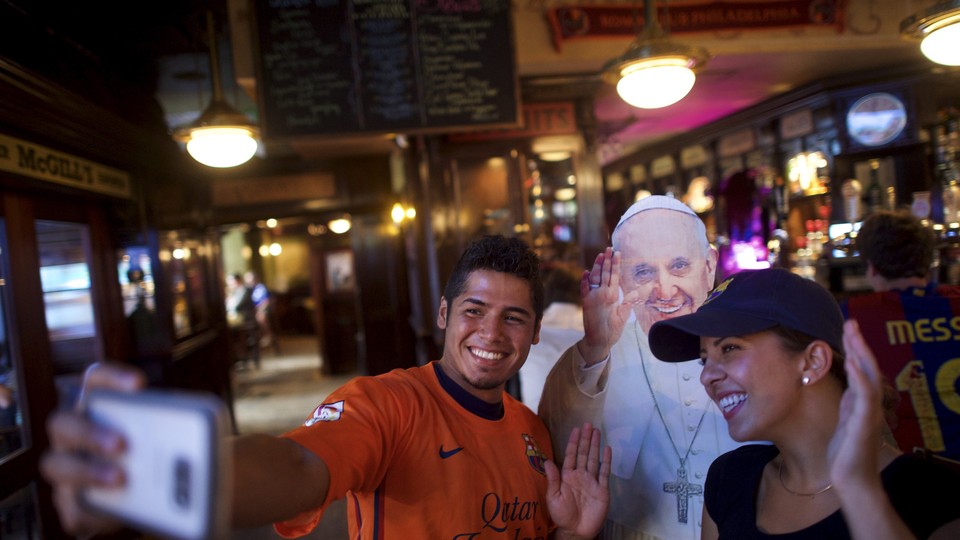 The Pope. It's Jorge Mario Bergoglio, I thought. There was one person I wanted to call with the news as soon as I saw it—my grandfather. And when I did, he was overjoyed. My family is Argentine and, we just had learned, so was the next pope.
The news didn't feel exclusive to religion. It felt like something more—like a signal of hope.
When Pope Francis arrives to the U.S. on Wednesday for a six-day visit, he touches down not only as the Holy Father, but as a man from the tip of South America. And Hispanic Americans across the country may well feel what my family and I felt that day—hope.
The U.S. has seen an influx of Latinos in recent years. Hispanics now account for 17.4 percent of the U.S. population. But even as their numbers have grown, the percent of Hispanics who practice Catholicism has declined.  When Francis addresses the throngs that have come to see him this week, he will be speaking to an American Catholic Church that is rapidly growing more Hispanic, and a Hispanic community that is rapidly growing less Catholic.
In 2014, a Pew research survey found that the number of Hispanic Americans who call themselves Catholic had dropped by 12 percentage points since 2010, when 67 percent of Hispanics were Catholic. Four years later, nearly one-in-four Hispanics defined themselves as former Catholics. The survey also found that 22 percent of Latinos are Protestant and 18 percent are religiously unaffiliated.
The shift is significant but perhaps not surprising. As Enrique Pumar, the chair of the sociology department at The Catholic University of America, explained to me: "The first (reason) is that there are other Christian churches that are making a concerted effort to basically practice and evangelize people in Latin America. The Catholic Church no longer has a monopoly. Today, people have options."
He added that greater acceptance has also produced a cultural shift. In other words, it's become acceptable within the Hispanic community to switch denominations. And, finally, many people are leaving institutionalized religions altogether. "They practice values on their own convenience," Pumar said. "This is happening across the board with all religions."
But even as the Hispanic community grows less monolithically Catholic, it still seems unified in its anticipation of this visit. Pope Francis is celebrated for his authenticity and, in some cases, for shaking up a calcified institution. Such moments have touched people around the world, not just Hispanic Americans. But when Francis arrives he'll mostly be speaking Spanish—and to the Latino community in the United States, his visit offers a ray of hope at a difficult moment.
As of late, the community has been under the spotlight, as a result of Donald Trump's controversial comments on Mexican immigrants being rapists and, during the latest GOP debate, the back and forth between Trump and Jeb Bush on whether candidates should speak Spanish on the campaign trail at all. The pope will, therefore, be speaking to a portion of the population that has faced hostility—and that matters.
"This is really significant to come to the U.S. and have a mass in a foreign language," Pumar said, "This is a symbol of making people welcome, reaching out to this community. We are Latin Americans." The pope, he added, "is going to energize the community."
Churches in and near Washington, D.C., the pope's first stop on his U.S. tour, reflect the shifting face of American Catholicism. Some churches in the area are offering more Spanish-language masses. Christ the Redeemer Catholic Church in Sterling, Virginia, for example, added a third Spanish mass in May to alleviate overcrowding in other masses. Father Patrick Cogan notes that it's mostly a result of changing demographics.
A similar tale unfolds at All Saints Catholic Church in Manassas, Virginia where Spanish-language masses are attended by up to 2,000 people. Father Juan Puigbo, parochial vicar at All Saints Church, argues that while Francis speaking Spanish may make his message more accessible, there's more to the excitement among the community. "I believe that what is impacting is his openness to speak about matters that are delicate and difficult...That also means being so natural," Puigbo said, adding that he's seen more people returning to the church.
Even Anglophone Catholics are adapting to a changing church. The Catholic University of America, which the pope will visit, began offering a Spanish-language mass at the beginning of each semester last year. To prepare for the pope, the university added a Spanish mass during the week leading up to the visit to introduce the prayers to students unfamiliar with the language, said Reverend Jude DeAngelo, the university chaplain and director of campus ministry.
Greta Haussmann, a junior at the university, was one of the attendees. She'd originally worried that the news of the pope giving a mass in Spanish would upset people, but instead discovered that people appeared to understand the pope's intentions. "It'll allow him to be more present because he's speaking in his native language," she said.