Can One of the "Happy Hour" Candidates Break Through Like Carly Fiorina Did?
The four lower-tier contenders are going to have a whole lot of airtime in which to make their pitches.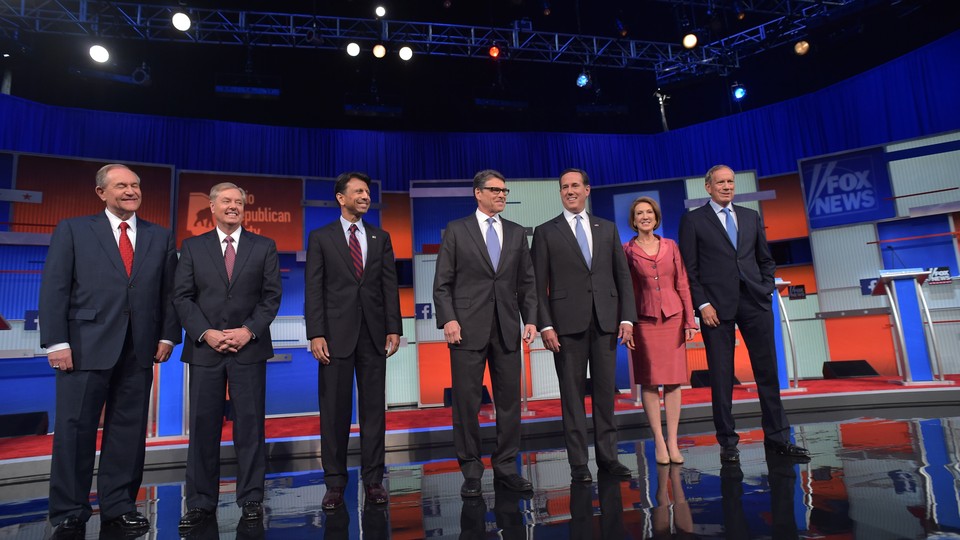 Carly Fiorina made it onto the top-tier stage for CNN's second GOP debate after a strong showing in, and heavy lobbying after, the first contest for lower-polling candidates. Now, the candidates she left behind on the bottom rung are gunning to follow her example.
Fiorina won pundits' and voters' hearts at the debate last month for her composed, rational-sounding performance. She seemed to rise above the collective GOP fray, looking "prepared and poised," The Washington Post said. And she showed a strong, if understated, willingness to go tete-a-tete with her opponents, with conservative columnist Charles Krauthammer calling her "very fluid yet very strong and combative." Her success translated into the polls, spurring CNN to change its method of candidate selection and launching her onto the prime-time stage.
Though the four remaining candidates in the lower-tier debate can't whole-hog embrace Fiorina's style, her recent success making it into the A-level debate at the very least gives them some hope. And with the loss of Fiorina; Rick Perry, who dropped out of the race Friday; and Jim Gilmore, who didn't qualify for this debate, they'll have a lot more airtime in which to make their pitches than they did during the first match. Here, how each of the lower-tier candidates is campaigning going into the debate—and how each could stand out on the not-so-crowded stage.
BOBBY JINDAL
Going into the second debate, the Louisiana governor has put all his eggs into the anti-Donald Trump basket, trash-talking Trump at events and plainly advertising his disdain—and where and when he'll next convey it—on Twitter.
I'm going to continue my broadside attack against Trump on @AmericaNewsroom this morning at 10:05 EST. You don't want to miss it.

— Gov. Bobby Jindal (@BobbyJindal) September 14, 2015
At face value, the strategy might look unwise for a low-polling candidate: Why so obviously go after a front-runner and risk alienating voters who find Trump appealing? Jindal, in an interview this week on Fox, suggested his tactic is a matter of principle, that he can't sit idly by while a nonconservative like Trump traipses around the country.
But his tactic is likely a combination of a few other factors. In attacking Trump, Jindal is showing the same willingness to go to battle that Fiorina was praised for in the first debate (albeit without her composure): If Jindal conveys that he's willing to take on the big dogs, maybe voters will make him one. It's also a play for greater name recognition—especially seeing as Trump has punched back on his much larger national platform—showing voters who haven't sipped the Trump juice that Jindal is on their side.
Or Jindal could also simply be following the Trump model: The mogul's blustery hypercriticism has worked very well in his favor, so underperforming Jindal might as well give it a shot.
RICK SANTORUM
The one-time senator from Pennsylvania was very vocal earlier this summer about his displeasure over Fox's two-tier debate structure, and it's unlikely that he feels any differently about CNN's. But that aside, Santorum looks to be more focused on the ground game than whether his appearance in a TV debate will catapult him to the top. Before last month's debate, he suggested he won't be preoccupied by his standing in national rankings—"[i]t is not a national race"—and much prefers a state-by-state rallying of support. Or in the case of Iowa, a county-by-county rallying: By last week, Santorum had visited all 99 this cycle.
Santorum's preference is rooted in personal precedent: During the 2012 cycle, it wasn't a singular debate performance that thrust Santorum to the front of the pack. Rather, it was his hyperfocused campaigning in Iowa. As NBC News noted recently, Santorum was toward the bottom in Iowa this time in 2011, but two months after hitting all 99 counties in November 2011, he won the Iowa caucuses. Even if Santorum doesn't wow the crowd Wednesday night with his policy answers, he can show them that he's willing to put in the leg work, in some cases literally, to earn their vote.
LINDSEY GRAHAM
Lindsey Graham told NBC News before last month's contest that he'd have a greater "chance" in the lower tier "where there's not so much noise and gibberish." On Wednesday, without Perry, Gilmore, and Fiorina, he'll have even more time on the air to talk policy, and to sell voters on the idea that he can't be discounted.
Graham's presenting himself to voters as one of the only truly seasoned candidates in the race, having served in the Senate since 2003 and in the House of Representatives before that. He's built a campaign around the tough-talking, hawkish approach to foreign policy that he's shown off in the upper chamber, and is likely to use Wednesday's even tinier debate—against two governors and a one-term former senator—to show off even more. Graham is also a funny guy, who cracks legitimate jokes at campaign events and isn't afraid to collaborate with new-media pranksters (see the IJReview video where he destroys a cell phone). Graham could use that wit in the debate to present a lighter side to himself—in between his anti-Islamic State flamethrowing, of course.
In recent months, Graham has brought along a show-and-tell demonstration on the stump: the presence of his Senate bud and former presidential candidate John McCain. On the trail, Graham has reminded voters that early on in the 2007 cycle, McCain's campaign was floundering, even though he went on to clinch the GOP nomination. Both men seem to see the same potential in Graham, and if his remarks on the trail are any indication, Graham won't be shy telling voters Wednesday night that he knows he's got ground to make up.
GEORGE PATAKI
The former New York governor isn't running a terribly visible or traditional campaign. He's been in the race since late May, but hasn't made a splash with his rhetoric or set himself apart on policy. He's a fly-below-the-radar kind of candidate who, despite exchanging recent barbs with Donald Trump, can't seem to gain the visibility he needs; The New York Times recently said that he "spends a lot of time these days reminding voters that he used to run the State of New York." Pataki could be drowned out in the second-tier contest, even in a "crowd" of four.