Can Kim Davis Win?
If she'll truly let her deputies issue valid marriage licenses, she might not have to issue them herself, legal experts say.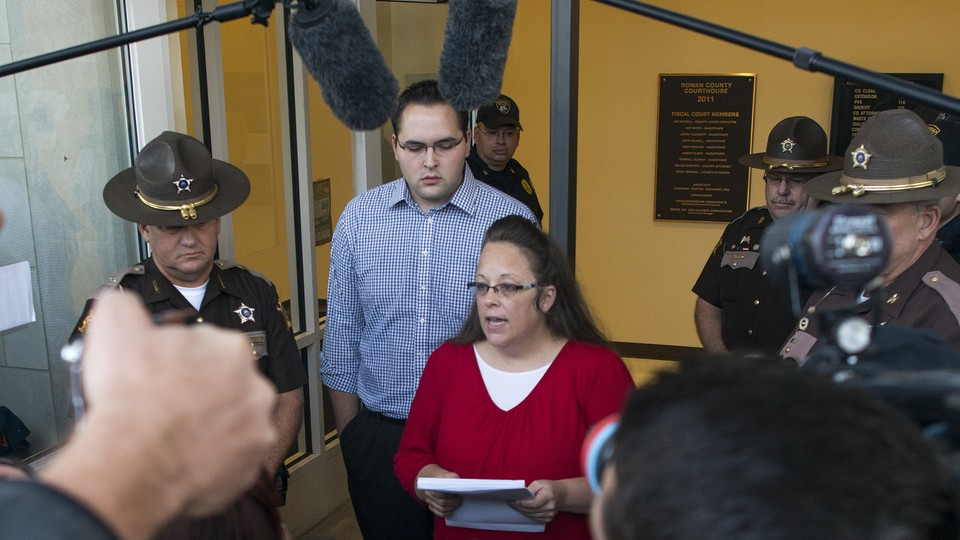 Kim Davis still isn't issuing marriage licenses—and it's not clear anyone will be able to make her.
Davis has allowed her deputies to begin issuing marriage certificates, including certificates for same-sex couples, while still refusing to issue them herself. And some legal experts say that's probably good enough: As long as Rowan County, Kentucky, follows the law, the county clerk herself might not have to.
"Someone in the office issues the licenses, but Davis doesn't have to do it herself, has been the obvious solution from the beginning," said Douglas Laycock, a law professor at the University of Virginia who specializes in religious freedom.
The Supreme Court's ruling prohibits the government from denying marriage licenses to same-sex couples—and as long as Davis lets her deputies handle the task, and the licenses they issue are valid, the government is meeting that obligation, Laycock said.
Advocates for same-sex marriage, though, aren't satisfied. Letting Davis remain on the sidelines doesn't send a particularly strong message that government employees have to follow the law, they argue.
"I don't think this is complying with the law, and I don't think it's satisfactory in terms of complying with the judge's order," said Evan Wolfson, the founder and president of Freedom to Marry. "It's not the right answer, and it's not good enough, and it's not a workable approach for the rest of the country going forward."
But Davis wouldn't be the first government employee to win a religious exemption from some part of her normal job description.
During the Vietnam War, the postal service was ordered to accommodate a Quaker postal worker who objected to distributing draft cards. A separate court also held that the IRS had to accommodate an employee who refused to process the tax-exemption forms for abortion clinics, based on a religious objection to abortion.
Unlike Davis, neither of those employees were elected officials. But Laycock said laws protecting religious expression still apply.
"The government has to follow the law, … but it's not the law, it's never been the law, that just because you work for the government, you don't get rights to exemptions similar to what any other employee would get," Laycock said.
Davis is one of the few county officials taking a hard line against complying with the Supreme Court's ruling. According to Freedom to Marry, 99.4 percent of U.S. counties are issuing marriage licenses to same-sex couples.
Davis might not be the last clerk in the other 0.6 percent to press her case in court, but Laycock and Wolfson both said they expect the controversy over government employees to resolve itself pretty quickly.
"This is not as complicated as the Davis litigation made it appear to be," Laycock said.
Davis made things overly complicated by initially refusing to let her clerks issue marriage licenses, he said. That did put Rowan County in conflict with federal law. And if she had simply asked someone else in the office to handle marriage certificates, so she wouldn't have to violate her own conscience, the ensuing circus (and time in jail) might have been avoided.
The litigation in Rowan County isn't over yet, though.
The state ACLU, which has spearheaded the case against Davis, said Tuesday it's concerned about the validity of the marriage certificates the clerk's office has issued. Since allowing her clerks to issue them, Davis has removed her name and all references to the county clerk's office from the forms themselves, saying instead that they've been issued under the authority of a federal court order.
That might not square with Kentucky law, which requires marriage licenses to come from a county clerk.
The ACLU might be right, Laycock said. To the extent Davis is preventing Rowan County from complying with federal law, she's still subjecting her office to legal challenges.
The county has to issue marriage licenses, and they have to be valid. But if one particular employee simply hands the task off to another, "there's not much of a lawsuit," Laycock said.
In other jurisdictions, Laycock suggested, officials who object to same-sex marriage have probably reached a Davis-like compromise informally, simply by asking someone else in the office to handle marriage licenses.
"Everyone's reasonably happy, and no one gets sued," he said.