Can Carly Fiorina Make the Jump?
The former Hewlett-Packard executive is taking Iowa by storm. But in this race, early primary states aren't as important as having a nationally well-known face.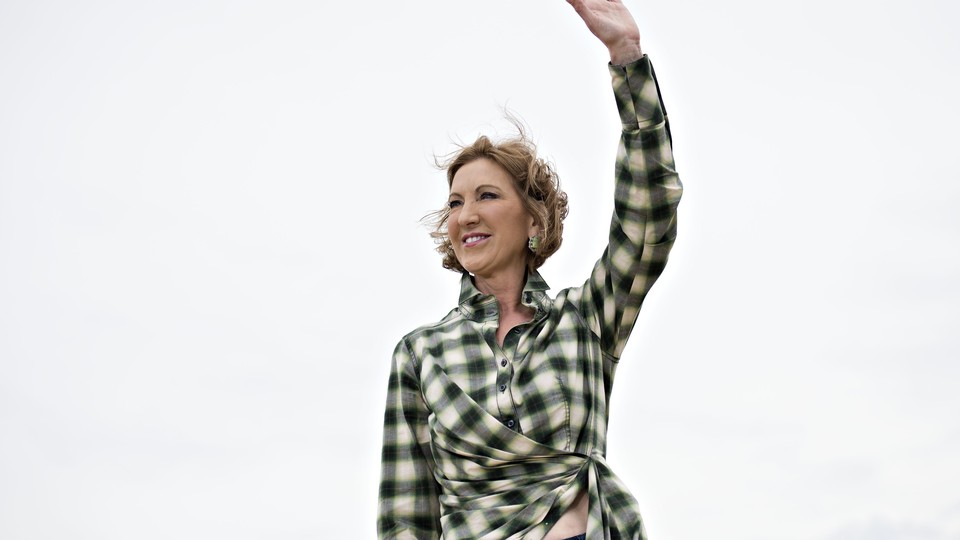 LE MARS, IOWA—"Ah, the smell of heaven!"
Carly Fiorina was about to eat ice cream for breakfast. She had just wrapped up a campaign event here in the "ice cream capital of the world" at the Blue Bunny headquarters, where the smell of freshly made ice cream cones permeated the building.
"I don't know, I think ice cream for breakfast sounds like a really good idea," she said at the top of her stump speech—her first of three for the day.
After talking to a crowd of roughly 100 Iowans, taking their questions, taking photos, and signing signs, Fiorina headed downstairs to the ice cream counter. She ordered a cup of sugar-free mint chip ice cream. (Her husband, Frank, is a diabetic, so Fiorina avoids sugar in solidarity.)
This—the consumption of local cuisine for the cameras, the countless meet-and-greets in diners, the stumping in auditoriums and college lecture halls and cafes—is how you climb to the top of the primary. Or at least that's how it used to be.
Over the course of a four-day swing through northwest Iowa, Fiorina showed at campaign stop after campaign stop that she is punching well above her weight class in the state. Through the difficult and somewhat intangible work of retail politics, she's slowly winning over notoriously skeptical Iowa voters.
But while the sheer size of the Republican field has attracted outsider candidates such as Fiorina, it's also forced everyone to run a national campaign nearly from the outset. It's caused Fiorina's campaign to face a hard truth: In the summer of 2015, performing well in Iowa may not provide the kind of national boost that Fiorina needs.
With the Iowa straw poll canceled and the shift to national polls to qualify for debates, it's unclear how important Iowa and New Hampshire are to a candidate performing well at this stage in the primaries. The 2016 contest has become like an exercise in game theory, with campaigns having to constantly adjust to the changing expectations required of them.
"Things are very, very fluid," Jeff Kaufmann, the chairman of the Republican Party of Iowa, said. "Carly Fiorina is one of those candidates from the lower tier that's making her move, making the jump."
The main motivating factor behind the changing calculus is the historically large field of Republican candidates who are running. That has caused networks to work with parties to decide criteria for entering the debate, and the Republican National Committee has decided that means national polling.
CNN will host the second Republican primary debate Sept. 16 in Denver. Like August's debate, there will be a "happy hour" round to accommodate the explosion of candidates. To make the leap from the second-tier debate to prime time, Fiorina must poll in the top 10 of national polls taken three weeks prior to the first debate and five weeks afterward. Fiorina's camp has complained that the criteria unfairly weights polls taken before the first debate, and therefore before most voters knew who she was.
According to CNN, Federal Election Commission guidelines prevent them from changing the criteria after it's been made public—a claim that some elections law experts contest. Fiorina's supporters have responded to the RNC's debate criteria with righteous indignation.
"No one is campaigning nationally. Placing so much importance on national polling, especially this early in the process, starts to take away the vital role that the voters of these early states play," Katie Hughes, a spokeswoman for the super PAC CARLY for America, told National Review recently.
At events, Fiorina likes to point out that at this point in their races, Jimmy Carter, Bill Clinton, and Barack Obama were losing in the polls. But they won, Fiorina said, "because the people of Iowa decided they wanted them to win."
Unlike Carter, Clinton, Obama—or any other U.S. president for that matter—Fiorina has neither served in elected office nor had a vaunted military career. But it is precisely that antiestablishment vein that has pushed outsider candidates, including Fiorina, to the top of the polls in Iowa. At the Iowa State Fair, the (highly unscientific) corn kernel poll found the top Republican candidates were Donald Trump, Dr. Ben Carson, and Fiorina—three candidates with a combined zero years experience in elected office.
More scientific recent polls have shown Fiorina climbing the ranks in Iowa, as well. A Quinnipiac University poll released last week placed her in eighth. A Monmouth University poll released Monday found that support for Fiorina had increased 7 points, up to 10 percent in August from 3 percent in July.
Iowans who got to know Fiorina by watching her at the "happy hour" debate are upset about the possibility that she won't make it onto the next main debate stage.
At an event in Carroll, state Rep. Brian Best told me he'd already endorsed Walker for president, but called it "flat-out wrong" for CNN to exclude Fiorina from the next debate.
At the same event, Craig Williams, the Carroll County Republican Party chairman, noted that there weren't any CNN cameras covering Fiorina's speech.
"I think CNN is doing a great disservice to the people of this country by not allowing Carly Fiorina onstage," he said.
One of Fiorina's strengths in Iowa is her retail politics. In speaking to a group, as in one-on-one interactions, Fiorina makes a quick and forceful impression as a tough-minded but sensible business leader—an impression that may not hold up to scrutiny. And you need to make an impression quickly if you have next-to-no name identification nationally.
"They go in with little to no information about her ... they come out and they are just absolutely and utterly impressed," Kaufmann said. "The only thing is, it's a lot of hard work and it's a lot of money ... that's a heck of a lot more difficult than putting out a commercial."
"She seems to have an excellent grasp of the caucus process and the retail-heavy nature: the personal phone calls, the hand-written notes, remembering names, staying to take questions," Matt Strawn, a former Iowa GOP chairman, said of Fiorina. "The Carly that the nation saw during the first debate in August is the Carly that Iowans have been seeing since early 2015."
Fiorina's camp has shown itself not afraid to put in the work, hours, and expense of shuttling between early primary states. (Occasionally, that travel comes with casualties. While driving to a campaign stop in Carroll, Fiorina's car hit a deer; or rather, the deer hit the side of the car. "It was the deer's fault, absolutely," Fiorina told a crowd in Des Moines.)
Last week marked Fiorina's 10th trip to Iowa this year, starting with a Lincoln Dinner speech in January that put her on the radar of Iowa Republicans. She's made more visits to Iowa than Gov. Chris Christie, Sen. Marco Rubio, Sen. Rand Paul, or Jeb Bush. And while her fundraising is anemic compared to most of those candidates, she nonetheless continues to win Iowans over, one at a time.
"She's proved to be a very popular figure on the stump," said Tim Albrecht, the director of digital communications at Red Wave Digital in Des Moines. "Her message of economic populism has a place within the grassroots that's been tapped into before, and it will be tapped into again."
Still, Fiorina's relationship with some Iowa voters isn't perfect. At the Iowa Corn Growers Association in Des Moines on Saturday, the group's 142 delegates decided that ethanol, followed by environmental regulation and trade, was the most important issue to prioritize (aka lobby for) at the federal level.
Shortly after the vote, Fiorina arrived to dump cold water on their heads. When asked if she supported the Renewable Fuel Standards, she said she'd phase out all energy subsidies, including ethanol subsidies, by 2022.
"I don't think the government should be in the business of setting prices and guaranteeing access to markets," she said to the very quiet room. "When the government is engaged in markets, the government can corrupt markets."
A corn farmer followed up, asking if she would extend the ethanol standards if subsidies to the oil industry had not been phased out by 2022.
"Yes, but if I'm president, they will," she said, to applause.
The group had to give her some props: Fiorina was the only presidential candidate on either side to accept the group's invitation, and she had done so knowing she'd be telling the crowd something they wouldn't want to hear. And she'll continue doing it whether that momentum expands past Iowa's borders or not.
"Don't you worry, I'll be here a lot," she told the crowd in Storm Lake. "No one is going to get in the way of me getting my message across. No one."