Boehner Foes Are Already Organizing To Take Over His Seat
But while tea-party candidates are preparing campaigns, rank-and-file Republicans expect the outgoing House speaker to be involved in backing a successor.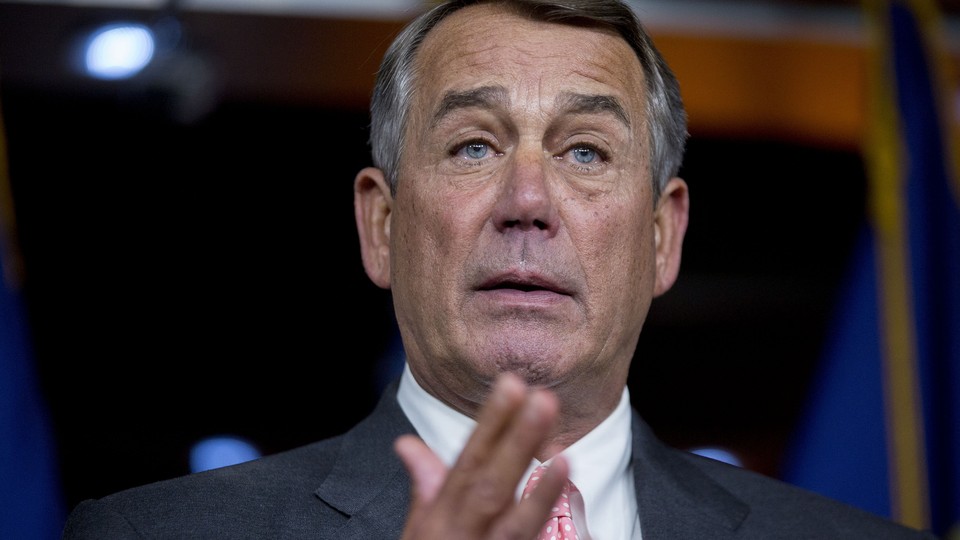 While lawmakers in Washington ponder which Republican should replace John Boehner as House speaker, Ohioans will spend the next few months debating who should take over his congressional seat.
Boehner's announcement that he will leave Congress on Oct. 30 will prompt a special election for his seat, and Republicans expect a crowded, ideologically divided primary to replace him. The race is likely to be a battle between candidates who embrace Boehner's Chamber of Commerce-oriented conservatism against a harder-edged tea-party opposition.
Ohio Republicans say how closely candidates align themselves with Boehner will be a key factor to watch.
"Are you going to run a campaign bashing Boehner and D.C, or are you going to run a campaign embracing Boehner?" said Mike Gonidakis, a Republican who heads Ohio Right to Life. "If you're going to come in and trash Boehner, you're going to fall flat on your face."
Before Boehner's retirement, one of his tea-party-aligned primary challengers from last cycle, J.D. Winteregg, had launched a campaign. Boehner clobbered him, winning reelection by a nearly 47-point margin. But in an empty seat, Winteregg hopes he has a head start.
"I was the only person to step up and say this district needs new and better representation," Winteregg said. "This puts me in special position. I think I'll have the upper hand."
Butler County Sheriff Richard Jones, who threatened to challenge Boehner in 2010 and once put signs saying, "Illegal Aliens Here," outside the county jail, also said he is considering running.
"Most of the time I spend fighting with the establishment and my record proves that," Jones said.
Republicans are also floating the names of a handful of more establishment-oriented state legislators for Boehner's seat: Ohio Senate President Keith Faber, state Rep. Timothy Derickson, state Sen. Bill Coley, state Sen. Chris Widener, state Sen. Bill Beagle, and former state Sen. Gary Cates.
In a district that Mitt Romney carried by 26 points in 2012, party strategists say there's no clear front-runner. If the primary turns out to be a battle between the party's two wings, state Republican Party spokeswoman Brittany Warner said party officials expect Boehner to get involved in the race.
"Speaker Boehner has been a longtime public servant from that part of the state and has many relationships there," said Brittany Warner, spokeswoman for the Ohio Republican Party. "We would fully expect him to be involved in that process."
Since his election in 1990, Boehner's chances at holding his seat have never been seriously threatened. But tea-party groups are viewing Boehner's retirement as validation that voters in the district are craving a more conservative candidate without political baggage.
"We are gratified," said Katrina Pierson, spokeswoman for the Tea Party Leadership Fund, which spent more than $350,000 opposing Boehner last cycle. "Conservatives feel like we have the momentum. This is what people want."
Already, Winteregg's team is working to line up the support of outside groups to boost his bid. Winteregg has been in talks with GatorPAC, the conservative organization headed by Rob Maness, who unsuccessfully ran for the Senate in Louisiana last year.
"He's got the courage to step up and fight the political establishment," Maness said, noting that GatorPAC hasn't made an official endorsement yet.
The Tea Party Leadership Fund, which backed Winteregg last cycle, has not yet made an endorsement but is eagerly watching the race. Club For Growth spokesman Doug Sachtleben also said the group is keeping a close eye on the district.
Winteregg's senior adviser is Zachary Werrell, who successfully engineered Rep. Dave Brat's primary victory over former House Majority Leader Eric Cantor last year in Virginia.
Without Boehner in the race, Werrell said the dynamics of the race have undeniably shifted. But he insisted their team's emphasis on the need for an outsider candidate won't change.
"We're still going to be a grassroots-focused, insurgent campaign," Werrell said. "The target might be a little different, but this is a positive thing for J.D. because we can focus on what he brings to the table."
State law directs Gov. John Kasich to set the date for a special election sometime after Boehner leaves office, but it gives the governor significant leeway to set a specific date, as long as it leaves 45 days for military absentee voting.
Kasich "has a lot of discretion in this area," said Ohio Secretary of State spokesman Joshua Eck. But there is some precedent for aligning a special election with another upcoming election date, Eck said. Kasich could set a January or February primary election if he wants to line up the special general election with Ohio's regularly scheduled March 15 presidential and congressional primaries.