Bernie Sanders's Criminal Justice Reform Plan is a Lot Bigger Than a Bill
The Vermont senator's attempts at justice reform are designed to make inroads with minority voters and catch attention on the hill.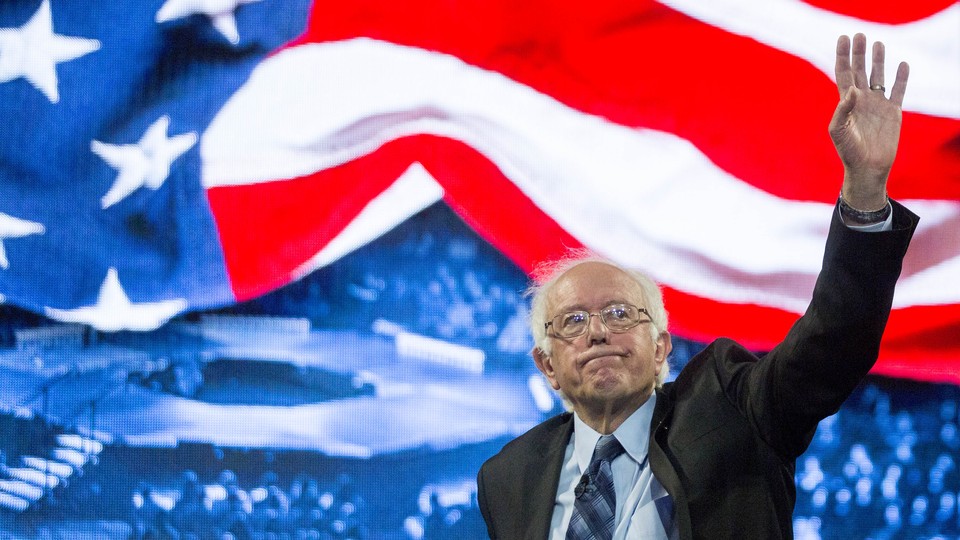 Democratic presidential candidate Bernie Sanders will introduce a bill this week that aims to shut down private prisons, restore federal parole, and catapult himself into the center of the national conversation on criminal-justice reform.
Sanders's bill will be released just as a bipartisan group of senators, led by Judiciary Chairman Chuck Grassley and Minority Whip Dick Durbin, is putting its finishing touches on its own long-awaited reform legislation. That bill is expected to reduce some mandatory minimums and implement programs that ease offenders back into society after incarceration.
In a month when Congress is divided over an Iranian nuclear deal and Republican leaders are bracing for a potential shutdown over Planned Parenthood funding, criminal-justice reform is a rare unifying kernel of policy in Washington. And Sanders's decision to roll out his plan now, in the face of potential congressional dysfunction, is no coincidence; it is key to his campaign's identity. Sanders is trying to remind voters he is above the fray on Capitol Hill, even if he needs the Senate floor to dispatch his message. Sanders's style is far from that of Sen. Rand Paul, who fundraised from the Senate floor during the national security debate in Congress, or Sen. Ted Cruz, who led a government shutdown in 2013, but Sanders too has the ability to use the Senate as a launching ground.
Roughly 20 percent of federal inmates—41,150 people—are serving sentences in private prisons. That's just a small fraction of the overall federal prison population. Erasing private prisons does little to address the prison pipeline that has filled the facilities in the first place. Yet Sanders insists his bill is a start. And with just a few months until the primary contests begin, bills are as much about optics as they are about substance.
Sanders has struggled to break through over the last several months with minority voters—a population that has disproportionately been affected by the country's justice system. A recent CBS/YouGov poll showed that while Sanders is soaring among voters in Iowa and New Hampshire, he is struggling to register with black voters.
Sanders's campaign has made concerted efforts to reach out to those communities in carefully crafted speeches. Yet even when he does try, he has fallen short. According to The New York Times, Sanders spoke to a "half-empty gymnasium at Benedict College in South Carolina" this past Saturday. And even though Benedict is historically a black school, the Times reported that the "crowd appeared to be largely white."
A Gallup poll last month showed that while Hillary Clinton had 80 percent favorability among black voters, Sanders was relatively unknown in the community. Just over 30 percent of black voters said they were familiar with the Vermont senator and just 23 percent had a favorable opinion of him.
In Iowa and New Hampshire, Sanders's lack of appeal among minority voters may not make or break his aspirations to win the Democratic nomination. But black and Hispanic voters will matter greatly in other early states, like Nevada, Florida, and South Carolina. For Sanders, justice reform is his potential selling point to resonate with minority voters without alienating the white liberals and progressives who make up the base of his support.
Sanders's image has always been that of an idealist, a self-proclaimed Democratic socialist happy to be relegated as an outsider in order to stay true to his liberal vision. Yet he has an opportunity on Capitol Hill. He has a chance to unveil his position on criminal-justice reform in a way that goes beyond a policy paper from the campaign trail.
Sanders's criminal-justice-reform bill is more than simply a piece of legislation. It is one of the first times we are seeing the visionary senator strategizing like a serious candidate in the Democratic primaries.