Bernie Sanders Woos a Skeptical Audience at Liberty University
The Vermont senator's presidential campaign has been dogged by questions of viability outside his ultra-liberal comfort zone. On Monday, he tried to show his appeal has range.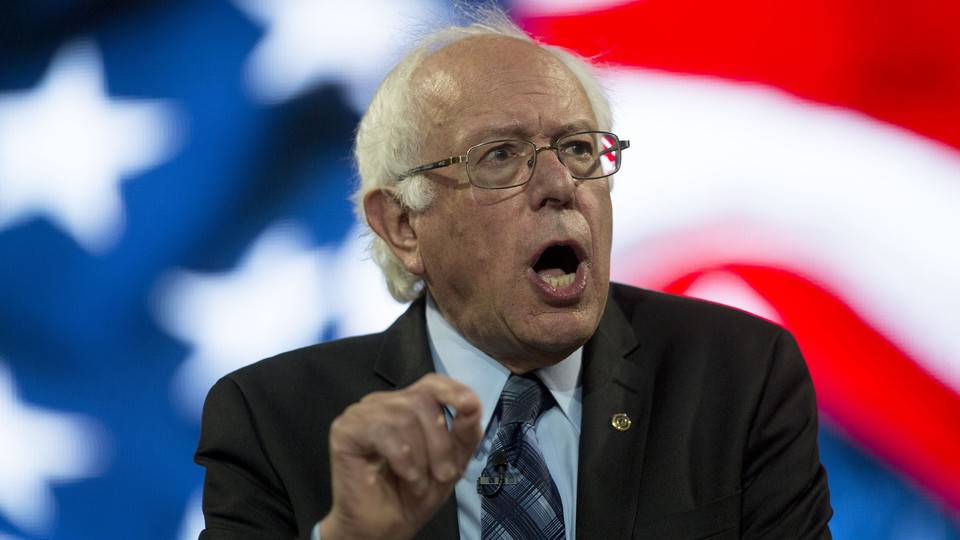 LYNCHBURG, Virginia—At first glance, the scene Monday morning looked like any other Bernie Sanders campaign event: The candidate stood on stage in front of nearly 12,000 people in a packed stadium on a college campus, ready to pitch his 2016 candidacy to the crowd.
But then he spoke. "I want all of you, if you would, to put this in the context of the Bible…"
Sanders, a self-described Democratic socialist, ventured far out of his comfort zone Monday when he took his surging campaign to students at the evangelical Christian Liberty University in southwestern Virginia. The Sanders who took the stage was the same man who pitches his economic populist message to adoring crowds across the country, the one who forcefully defends abortion rights and rails on the country's economic inequality—but he also worked hard to connect with his skeptical audience by framing his message as one of "morality" and "justice." He quoted from the Bible and praised Pope Francis; he bowed his head in prayer and spoke about how to "bring our people together."
The Vermont senator began by stressing the need for common ground in politics, noting that too often there is "too much shouting at each other."
"It is easy to go out and talk to people who agree with you," Sanders said, noting his crowd of 9,000 in Greensboro, North Carolina, the previous night. "That's not hard to do. That's what politicians by and large do, we go out and we talk to people who agree with us. But it is harder—but not less important—for us to try and communicate with those who do not agree with us on every issue."
For Sanders, coming to Liberty is about as far from his usual crowd as he can get. The university, which bills itself as the largest Christian college in the country, is a favorite campaign trail stop of Republican candidates—Sen. Ted Cruz even launched his 2016 bid here in the same forum back in April. Sanders has drawn massive crowds across the country, but many of them have been in liberal bastions like Seattle or Madison, Wisconsin; the viability of his candidacy has always depended on his ability to expand his base of support beyond ultra-blue cities and states. In Lynchburg on Monday, he tried to do just that, by connecting with an audience with whom he has little in common politically.
"I understand that issues such as abortion and gay marriage are very important to you and that we disagree on those issues—I get that," he said to the crowd. "But let me respectfully suggest that there are other issues out there that are of enormous consequence to our country and the world and that maybe, just maybe, we do not disagree on them."
Sanders said the United States is a fundamentally unjust society, and that economic inequality and concentration of wealth among the few is an issue that plays to the same questions of morality and decency that play such a big role in the Christian faith.
"I am far from being a perfect human being, but I am motivated by a vision which exists in all of the great religions: in Christianity, in Judaism, in Islam, in Buddhism, and in other religions," he said. "And that vision is so beautifully stated in Matthew 7:12: 'So in everything, do to others what you would have them do to you, for this sums up the law and their prophets.'"
Speaking about Pope Francis and noting his upcoming visit to the United States, Sanders praised Francis's comments about economic inequality and greed in the world and tied them to his own central argument. "The Pope's view, and I agree with him, we are living in a nation and in a world … which worships not love of brothers and sisters, not love of the poor and the sick, but worships the acquisition of money and great wealth," he said.
The Democratic candidate's speech was met with polite applause or silence from most of the crowd during his speech; a small contingent of outside Sanders supporters, who had been allowed into the event, cheered loudly on his behalf.
Though Sanders worked to frame his message in a way that connected with his audience, he didn't shy away from clearly stating his positions on issues where he knew he'd be outnumbered. During a brief question-and-answer session, Liberty Executive Vice President David Nasser asked Sanders how he reconciles his comments about helping poor and starving children with protecting children "in the womb," a line that received thunderous applause from throughout the stadium.
Sanders acknowledged that he and most of the audience would never see eye to eye on abortion—"We do disagree on that issue, no ifs and buts about it"—and that he strongly feels a woman has the right to make her own decision.
"I respect absolutely a family that says, 'No, we are not going to have an abortion,'" he said. "But I would hope that other people respect the very painful and difficult choice that women feel they have to make and don't want the government telling them what to do."
And when he got his final question—"how can we pray for you?"—Sanders had an answer, bowing his head in prayer with Nasser and the audience.
"This is what I would like prayers to be for, not just for me—far more significant are prayers for our country, prayers for how we bring our people together."