Bernie Sanders Courts the Black Caucus
The Democratic presidential contender addressed a small CBC gathering on Capitol Hill Thursday.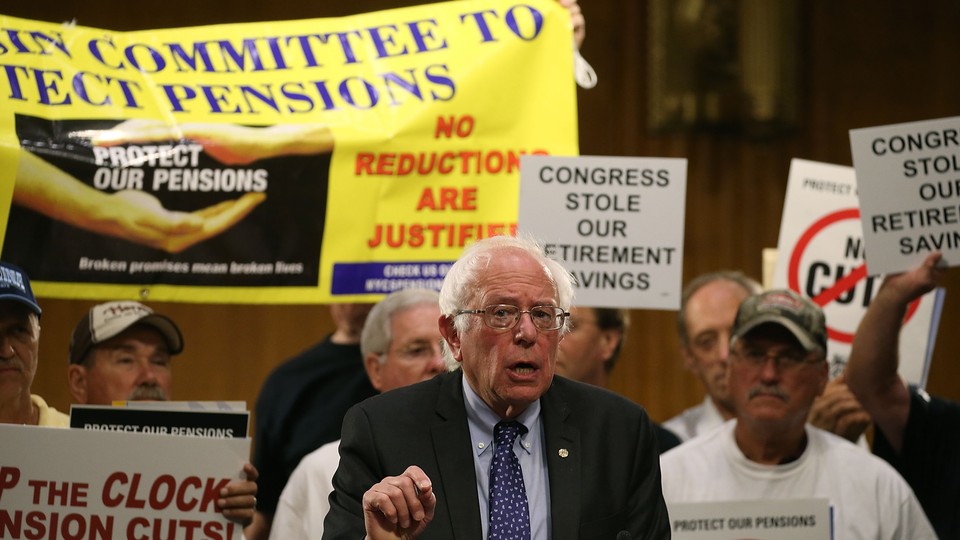 Sen. Bernie Sanders sought to make inroads Thursday with a wing of the Democratic Party that hasn't been so receptive to his message so far.
Sanders showed off his progressive platform to the Congressional Black Caucus in an afternoon session, telling members his stances on income inequality and criminal justice will bring change on issues that disproportionately affect the African-American community.
"The message is that I think the points we're making in this campaign are extraordinarily important to working people throughout this country," Sanders said following the meeting, held in the CBC Institute's townhouse on Capitol Hill. "They're even more relevant to the African-American community, a community which has higher unemployment, more poverty, than the general population."
As Sanders has surged in the polls, his numbers among African-American voters have remained low. He still has his work cut out for him if he wants to make inroads into that crucial Democratic voting bloc—only six CBC members showed up to hear him talk.
Those who did show up had praise for Sanders' agenda. "Sen. Sanders speaks the same language as many of our CBC members," said Rep. G.K. Butterfield, who chairs the group. "He understands the plight of African-Americans and poor people in this country."
Many House members know Sanders from his tenure there, which lasted from 1991-2007. For the newer members, the discussion was a chance to get familiar with his ideas and share thoughts of their own. "The meeting went very well," said Rep. Karen Bass. "We talked about his platform and income inequality and criminal justice. Those were two of his areas of focus. He just talked about how that related to the African-American population. More than anything he was listening."
Sanders said members told him of the problems in their districts, including housing, workplace discrimination and the need to protect historically black colleges and universities. "It was a good discussion," he said. "I've know some of these folks for years. I served in the House with some of them. They're very old friends."
The Vermont progressive, who has been climbing in the polls in Iowa and New Hampshire, said his platform is one that can bring in African-American voters. "When we talk about creating millions of jobs, when we talk about raising the minimum wage, when we talk about providing free tuition to public colleges and universities, again relevant to all of America, even more relevant to the African-American community," Sanders said. "... We have a message that can and will resonate in the African-American community."
Still, he stopped short of seeking endorsements from CBC, saying his campaign would "take one step at a time." Rep. Yvette Clarke said the caucus was receptive to his message, though it was more focused on policy than presidential politics Thursday. "Bernie has got great ideas," she said. "I think they would definitely resonate with many in our constituencies."

Sanders has long touted his record on civil rights, but his campaign has clashed this summer with Black Lives Matter protesters, expressing irritation at their disruption during a Netroots Nation event and leaving a Seattle rally when activists took over that stage. Butterfield said the Black Lives Matter incidents did not come up in the discussion. Sanders has struggled to break double digits among African-American voters in the polls.