Ben Carson Gets His Bounce
After a lackluster summer, the famous neurosurgeon is finally surging—but his reliance on the conservative grassroots might be a burden as much as a boon.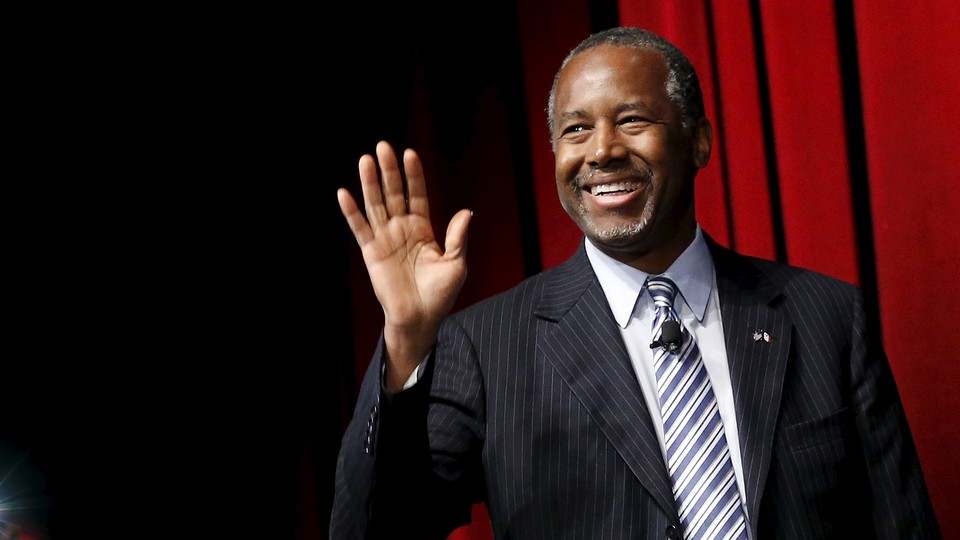 The Ben Carson surge that everyone was waiting for is finally here.
The conservative neurosurgeon has been a source of fascination for both the Republican grassroots and the media ever since he critiqued President Obama, who was seated only a few feet away, at the National Prayer Breakfast in 2013. He's been a steady, if middling, presence in GOP primary polls for most of the year—always earning at least 5 percent, but rarely more than 10. Yet over the last two weeks, Carson has secured a second-place spot after Donald Trump, both nationally and in the crucial opening battleground of Iowa, where he is a favorite of the state's sizable evangelical community. A Monmouth University poll released this week even showed him tied with Trump for the lead in Iowa, at 23 percent.
That Carson is a different kind of Republican presidential contender is obvious both by his race and his biography: Raised in poverty by a single mother in Detroit, he went to Yale and then worked a series of odd jobs before going to medical school and becoming a world-renowned pediatric neurosurgeon. His best-selling book is taught in home-school classrooms throughout Iowa, which has helped him gain a foothold in the state long before he returned as a presidential candidate.
Carson's popularity with the conservative grassroots has never been in doubt, but the question hovering over his candidacy is whether he would ever become more than a curiosity for GOP voters. An early-June story in The Washington Post lent credence to those suspicions, reporting that Carson's campaign had been "rocked by turmoil,"which included the departures of several senior staffers. The article gave the impression that the campaign was flying by the seat of its pants, operating as a magnet for political operatives to make money off Carson's popularity as much as a serious bid for the presidency.
In the three months since, as Carson has dipped and then bounced in the polls, there remains an ongoing debate about whether he has built the kind of campaign infrastructure that can translate grassroots enthusiasm into actual votes. Nowhere is organization more important than in Iowa, where the caucus format demands more time and candidate loyalty from voters.
Matt Strawn, a former state party chairman who is one of the few remaining neutral Republican operatives in Iowa, said he was impressed by the "robust organizational effort" he's seen from Carson on the ground, both from his official campaign and the super PACs supporting him. "If there are five Republicans in Iowa that are getting together someplace, odds are you're going to see a Ben Carson person there trying to sign them up," Strawn told me. The co-chairs of Carson's Iowa campaign are Rob and Christi Taylor, respected veterans who are influential in Des Moines. Carson's supporters boasted last year that they had already signed up precinct captains in each of Iowa's 99 counties.
"I think his appeal is firm," said Steffen Schmidt, a longtime caucus-watcher at Iowa State University. Carson, he said, was picking up support from conservatives who previously backed Mike Huckabee in 2008 and Rick Santorum in 2012—two candidates struggling to recapture the momentum of their previous bids.
Carson's paid staff in Iowa has grown to 10 since the start of May when it was half of that, said Doug Watts, the campaign's chief spokesman. "We've never had any chaos in the campaign," Watts said by way of disputing the "turmoil" reported by the Post. "The campaign has sort of incrementally moved and proved and done what campaigns do—fill out and grow from the beginning." Carson aides have boasted in recent days of raising $6 million in August, more than double the previous month. And in contrast to the money sources of the more experienced Republicans in the race, almost all of Carson's contributions have come from small donors giving $200 or less. Watts said the campaign had recently received its 400,000th donation and had 275,000 "unique donors," providing a broad base to which the campaign hopes frequently to return. "We'll never be hurting for money," he assured me.
Yet despite the protests of the Carson camp, doubts about his organization haven't totally gone away. "I still think he's not a threat," said one veteran Iowa operative with a rival GOP campaign, who  also called Carson's campaign in the Hawkeye State "a smokescreen." Carson, the operative said, has benefitted from enthusiastic support among the evangelical, home-school community. "The home-school group is motivated. They're close-knit, and they organize themselves," the operative said. But he's also facing more competition for that bloc than did Huckabee in 2008 or Santorum in 2012, and the rival operative argued that Carson has less of a presence in Iowa both in terms of his staff and his own personal visits, which rank in the middle of the pack among the many GOP contenders. "I think that come caucus night, you'll see him get 12 or 13 percent," the operative said. "He won't go below. He won't go above. His floor is his ceiling."
Carson's organization has long relied on direct-mail marketing, and in February he announced that he had hired Mike Murray, the CEO of a direct-mail firm, TMI Direct, as a senior adviser. Murray's company has gone on to earn more than $1 million from Carson's campaign, nearly one-fifth of the total it spent during the first half of 2015. Watts said Murray was no longer receiving a salary from the campaign and served only as an outside adviser. "If we didn't pay it to him, we'd be paying it to somebody else," he said. Yet to the rival operative I spoke to, Carson's reliance on direct mail was another red flag in a state where voters are famous for wanting a personal connection with the candidates they caucus for. "That never works in Iowa," the source said.
The debate over Carson's organization won't be settled until caucus time, but why is he cresting in the polls now? He did not seem to stand out in the first Republican debate last month, but he has shot up in the polls since then more than any other hopeful, including Carly Fiorina. As with most other things in this year's race, the answer might come back to Donald Trump. Conservative voters are clearly looking for outsiders at the moment, and Carson's anti-Washington message is "Trump without the fireworks," Strawn observed. He's a genial man, with a demeanor that's almost too soft-spoken for a politician.
Carson's campaign is also perfectly happy to credit Trump. "It's probably succeeded a little faster than we expected, and quite honestly we owe a little bit of that to Donald Trump," Watts told me. "He pulled the attention of a lot of Americans to the presidential primary races."
I think people are realizing, 'Oh, there are two people singing the same song, but in different keys.' Quite honestly, that's accrued to our benefit.
While Trump's is a "New Yorker style," Watts said, Carson delivers a similar message in a more "professorial, intellectual way." Perhaps, then, the Carson boomlet is the first sign of the GOP turning away from Trump, or at least testing out a less bombastic alternative.
And the Carson campaign seems well aware of the GOP electorate's recent history of elevating candidates only to discard them weeks later—recall that in 2012, Michelle Bachmann, Herman Cain, and Newt Gingrich all topped the polls at one point or another. "We're realists. We know the game well," Watts said. "It takes a lot to sustain the effort, to sustain a foothold at the top of the heap or near the top of the heap, and we understand that." Trying to demonstrate their seriousness, he said the campaign was "ramping up our major donor activity," although he added that they weren't ready to announce any big money fish they'd reeled in. For Ben Carson, being a celebrity and the candidate of the grassroots is nice, but it can be both a boon and a burden. And in a crowded, 50-state race for the presidency, it will only take you so far.