Ben Carson Didn't Win Last Night's Debate. He Didn't Have To.
The retired neurosurgeon has found a loophole for success in this ratings-focused primary.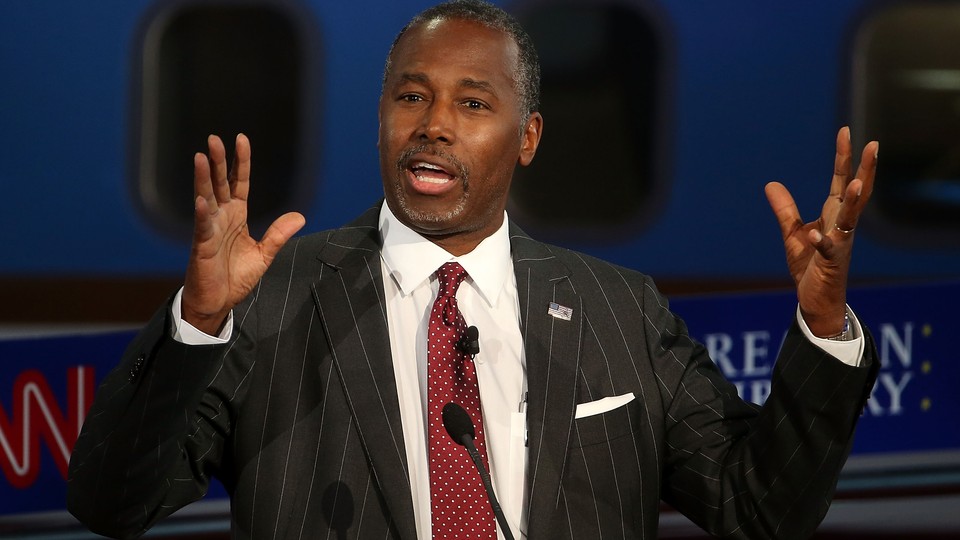 Dr. Ben Carson is not a yeller. On the cutthroat debate stage, that can be a problem, as shown by Carson's anemic performances at both the first and second GOP presidential debates. But Carson has found a way to succeed without having to kowtow to the television ratings gods as so many of his contenders have done.
How has he been able to pull this off? It all has to do with Rick Santorum. But first, let's assess Carson's debate performance last night.
As one of the three candidates on stage to never hold political office, he was the only one to formally welcome fellow outsider candidate Carly Fiorina to the varsity debate. The rest of his time was usually tied with the outsider-king of the primaries, Donald Trump. In question after question, CNN's Jake Tapper asked Carson to go toe-to-toe with Trump on topics like tax reform, the Iraq War, and vaccines.
While Tapper was likely hoping to get a rise out of the normally serene doctor, that did not happen. Carson and Trump remained cordial throughout the debate. The closest Carson came to attacking Trump was when he said progressive taxation—Trump's tax-reform platform—is "called socialism."
After Trump claimed to be the only Republican on the dais who opposed the Iraq War, Carson said he'd also opposed the war, which led to an awkwardly attempted fist bump-turned-handshake between Trump and Carson.
After the debate was over, however, Carson offered his real opinion on Trump to New York magazine's Gabriel Sherman.
"Look at what he said. I'm an OK doctor? People know better than that," Carson said. "He's just taking Democratic talking points, and they know that. So, you know, that probably makes his numbers go down."
When Tapper asked Carson to respond to Trump's claim that vaccines can cause autism, the doctor refused to take Tapper's bait. Car­son called Trump an "OK doc­tor," a jab at a comment Trump made about Carson. While he did say that Trump's position on vaccines has been discredited, he gave tepid support for Trump's idea that vaccines should be spread out over a longer schedule.
"We have ex­tremely well-doc­u­mented proof that there's no aut­ism as­so­ci­ation with vac­cines, but it is true that we're prob­ably giv­ing way too much in too short a time," Carson said.
The CNN format—with Tapper pairing off two competitors with each question and essentially trying to get them to yell at each other—was disadvantageous for Carson, who did not take to the SportsCenter style of debate as well as Fiorina or Trump did.
"I didn't like the format very well," Carson told reporters in the spin room after the debate.
In the first GOP debate, Carson's genteel performance led many a pundit to dismiss his staying power in the primary. But despite their forecasting, Carson has continued to gain ground in the polls and now sits at number two behind Trump.
What can account for this success?
First, there's evidence that real voters paid more attention to Carson in last night's debate than Beltway elites did, according to this analysis from Echelon Insights. And Carson was the third-most discussed candidate on Facebook, after Trump and Fiorina, and the fifth-most-mentioned candidate on Twitter.
Second, Carson has shown he is not interested in the debate as a popularity contest. Instead, his campaign has taken a note from an undercard debate contestant: Rick Santorum.
It may be hard to remember, but in 2012, Rick Santorum won 11 primaries and ended up beating Mitt Romney in the Iowa caucuses. Eleven! He hung his success on an intense ground game in Iowa, visiting all 99 counties and drawing the support of evangelical voters in the state who supported Mike Huckabee in 2008. Santorum has tried to recreate that success this year, completing another 99-county tour of Iowa, but the evangelical vote has moved on. To Carson.
Just as Santorum was able to vacuum up Huckabee's Iowa supporters in 2012, Carson is doing the same thing with Santorum voters, in addition to the anti-establishment voters that are dominating this primary.
"At the end of the day, I attribute it to the power of nice," Rob Taylor, Carson's Iowa campaign chair, told The New York Times on Carson's success in the state.
Evangelicals have known Carson for decades, and his introduction to politics at the 2013 National Prayer Breakfast Dinner where he attacked Obamacare only further enamored him to them. In Carson's playbook, you don't have to be a bully on the debate stage to be heard. But don't mistake his gentility for a lack of ruthlessness.