Baltimore's Mayor Won't Run for Reelection
Stephanie Rawlings-Blake, a Democratic rising star, has been buffeted by a rising homicide rate and fallout from the death of Freddie Gray in April.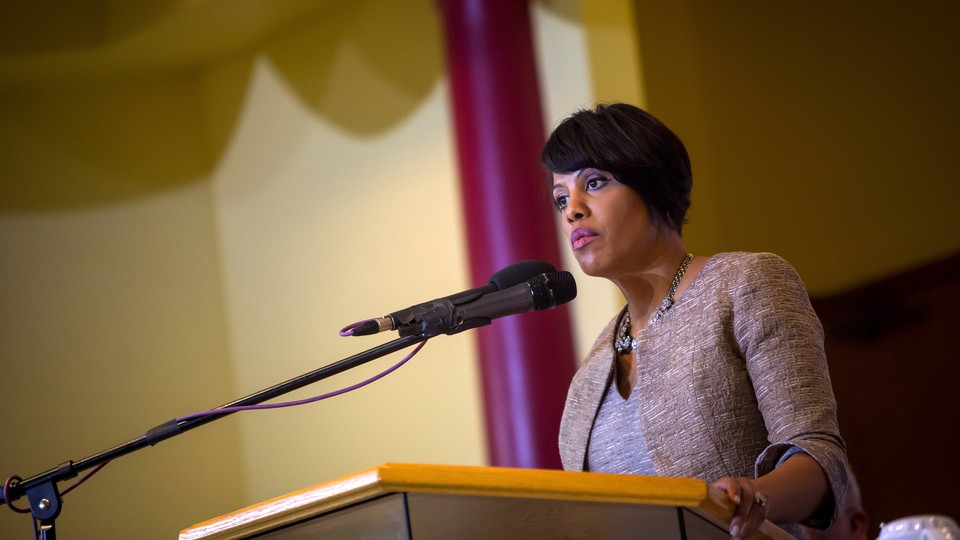 Baltimore Mayor Stephanie Rawlings-Blake won't run for reelection next year, she announced Friday morning.
That's the culmination of an eventful week for Charm City, and the latest blow it's sustained during a tumultuous year. In 2015, the city has seen massive protests over the death of Freddie Gray, a 25-year-old black man, in police custody. It has seen violent crime climb precipitously. And it has seen Rawlings-Blake fire her police commissioner, who was brought in just three years ago as a reformer. Just this week, the mayor announced a $6.4 million civil settlement with Gray's family, while a judge ruled that the six officers charged in his death will be tried in Baltimore.
Rawlings-Blake, a Democrat, is 45 years old and looked like a rising star in her party—she is secretary of the Democratic National Committee and the president of the U.S. Conference of Mayors. She had already begun preparations for a reelection campaign, despite sometimes being  criticized as a distant or aloof leader. But riots and protests after Gray's death exposed the depth of the racial tensions facing Baltimore, and the city's handling of the protests and the rise in homicides afterward placed her in a tenuous political position.
Rawlings-Blake, the youngest member of city council in Baltimore history, was first elected in 2010 to complete a term vacated by Mayor Sheila Dixon, who was convicted of embezzlement. She won her own term a year later. In a strange twist of irony, Dixon had already announced her plans to run against Rawlings-Blake next year. Other candidates include state Senator Catherine Pugh and City Councilman Carl Stokes. Another potential contender: Councilman Nick Mosby, whose wife, Marilyn, is in charge of prosecuting the officers in Gray's death.
According to The Baltimore Sun:
Rawlings-Blake wants to spend the next 15 months on the city's recovery effort, according the sources familiar with her decision. They said she felt it would be inappropriate to ask donors for money while the city has been facing the aftermath of the rioting.
But the paper cited sources saying Rawlings-Blake also cited the old political standby of wishing to spend more time with her family in explaining her decision. A city of legendary and often-flawed mayors will soon add another one to its roster.