Awaiting Pope, Senate Democrats Push Sweeping Energy Plan
Party leaders unveiled legislation that would include carbon savings and kill big-oil tax breaks, though the plan has little chance to move in a GOP-controlled Congress.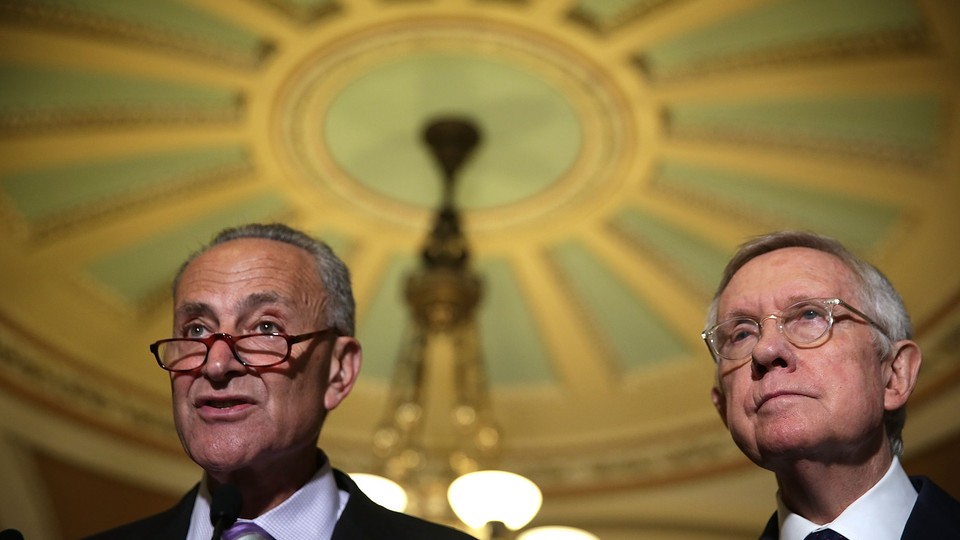 Top Senate Democrats are trying to seize the political offensive on energy as Pope Francis, who issued a detailed call to action on climate change in June, is making a high-profile trip to Washington.
Senior lawmakers released a wide-ranging energy plan Tuesday that sets a new "carbon-savings goal" to help tackle climate change, stating that it's U.S. policy to cut the country's carbon emissions by at least 2 percent annually through 2025.
Senate Minority Leader Harry Reid and Democratic leader-in-waiting Chuck Schumer are among the lawmakers who joined Sen. Maria Cantwell, the top Democrat on the Senate's energy panel, at a Tuesday press conference to promote the plan. Sen. Ron Wyden, the top Democrat on the Finance Committee, was also there.
While the plan is likely little more than a messaging effort in a GOP-controlled Congress, Schumer told The New York Times that it could be a template for legislation that Democrats will push if they regain Senate control in the 2016 elections.
"A plan that looks something like this is going to be high on the next Congress's agenda," Schumer told the paper.
The 437-page plan swipes at the oil industry by nixing a suite of tax incentives for the biggest oil companies, like Exxon and Shell. It would end write-offs for drilling costs and big companies' ability to claim a lucrative deduction on domestic manufacturing income, among other incentives.
It also sets new fees for some oil and gas wells, and curtails a program that allows royalty-free production in deep Gulf of Mexico waters.
Elsewhere, the bill would create a new system of tax incentives for low-carbon electricity and transportation-fuel production that would streamline the existing patchwork of credits, creating a more flexible system that's based on the level of emissions cuts. (Those two provisions are similar to a green-tax overhaul that then-Senate Finance Chairman Max Baucus floated in late 2013.) Other tax provisions would overhaul and extend incentives for energy-efficient homes and buildings.
Democrats are also dusting off a long-standing plan to mandate more energy savings in the power system. The bill would require that electric and natural-gas utilities cut energy use by 20 percent by 2030. This "Energy Efficiency Resource Standard" would save consumers $150 billion over the next 15 years, an estimate of the measure's effects states.
As for the 2 percent annual carbon-cutting target, if met, it would enable at least a 30 percent cut from 2005 levels by 2025, given that U.S. emissions are already down about 10 percent over the last decade. (They've ticked back up slightly in 2013 and 2014.) However, Cantwell's office estimates that the entire bill, if implemented, would cut U.S. greenhouse-gas emissions by a total of 34 percent below 2005 levels by 2025.
The Obama administration, in a landmark climate agreement with China last year and in a more recent commitment to the United Nations, has pledged to reduce U.S. greenhouse-gas emissions by 26 to 28 percent by 2025 compared with 2005 levels.
The big bill contains a wide array of other measures in topics including improving cybersecurity; improving energy infrastructure such as natural-gas distribution systems; modernizing the electric grid and enabling it to handle more green-energy sources; boosting R&D into greener cars and trucks; and much more.
Overall, it proposes to triple funding for basic energy science and technology R&D, Democrats said.
Cantwell, speaking to reporters in the Capitol, noted that Democrats are floating the plan ahead of the visit by Pope Francis and President Obama's meetings late this week with Chinese President Xi Jinping, which are also expected to address climate change.
"We have two big visitors coming to Washington, D.C. this week to express their views on it, and we think that America's plan ought to be put on the table," she said.
The measure also arrives as Democrats are battling GOP efforts to dismantle President Obama's climate agenda, especially first-time EPA carbon-emissions rules for power plants.
However, the bill does not include climate policies long-sought by environmentalists as well as many Democrats that would explicitly put a price on carbon emissions, either through a carbon tax or a cap-and-trade system.
Reid, asked about the absence of provisions to price carbon emissions, told reporters: "Compared to what the Republicans are doing, it's pretty damn good."
Cantwell, also asked about the lack of carbon pricing, noted the bill does not exclude it in the future, but cast the measure as a collection of items that could be up for negotiation in the near term if a major energy bill is brought to the floor.
Over the summer, the Energy Committee approved a broad bipartisan bill, but lawmakers on both sides of the aisle will seek to amend that measure if it comes before the full Senate.
"What I never want to pass up on is the opportunity to reduce carbon right now, and that's what this bill does," Cantwell said of the Democrats' new proposal.
This story has been updated.