At U.N. General Assembly, Raul Castro Lists His Grievances With the U.S.
The Cuban president isn't ready to just put aside long-standing problems after a spate of diplomacy.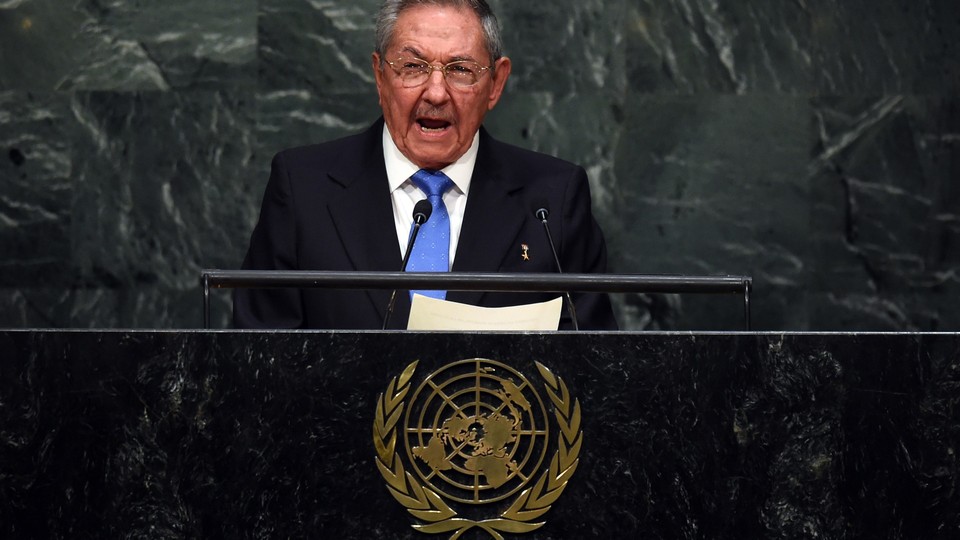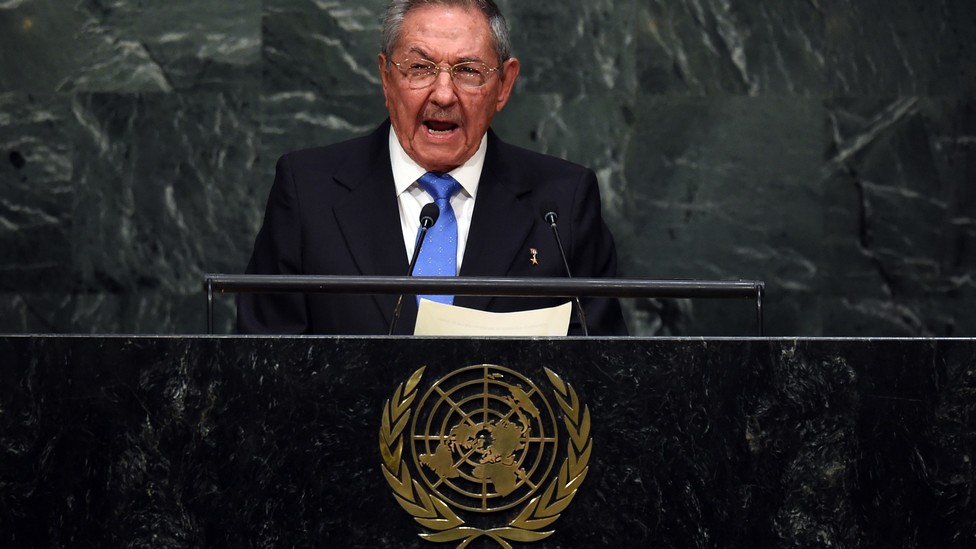 Washington and Havana may have each gotten a new embassy, but that doesn't mean the pair are doing business quite yet.
On Monday, leaders from the two countries—who reestablished diplomatic relations earlier this year—addressed America's continuing trade embargo against Cuba.
"After 56 years in which the Cuban people put up a heroic and selfless resistance, diplomatic relations have been reestablished between Cuba and the United States of America," said Cuban President Raul Castro in a speech to the U.N. General Assembly.
Castro outlined the steps he saw as necessary to achieve a "normalization of relations" between the United States and Cuba. First and foremost, the Cuban leader asked for "the end of the economic, commercial, and financial blockade against Cuba."
As long as the embargo stands, Castro said, Cuba would continue to introduce a U.N. draft resolution titled "Necessity of Ending the Economic, Commercial, and Financial Embargo Imposed by the United States of America Against Cuba."
This would not be the first time the United Nations has voted on a resolution with that name: The U.N. General Assembly voted on a resolution by the same title in 2014, marking the 23rd time the body voted to denounce the embargo; 188 countries voted for that resolution, while just the United States and Israel opposed it.
On Monday, Castro reiterated his gratitude to those 188 countries for supporting "our just demand, here and in other international regional forums."
Earlier in the day, President Obama addressed the embargo, telling the assembly that he was "confident our Congress" would "inevitably lift an embargo that should not be in place anymore."
"Change won't come overnight to Cuba, but I'm confident that openness, not coercion, will support the reforms and better the life the Cuban people deserve, just as I believe Cuba will find its success if it pursues cooperation with other nations," the president said.
Obama acknowledged that the U.S. government continues "to have differences with the Cuban government" but that they could be addressed "through diplomatic relations, and increased commerce, and people-to-people ties."
Also on Monday, the White House announced that President Obama will send U.S. Secretary of Commerce Penny Pritzker to Havana in early October.
The embargo aside, Castro listed three other obstacles he sees standing in the way of normalizing relations between his country and the United States: "The return to our country of the territory illegally occupied by the Guantanamo naval base; the cessation of radio and TV broadcasts and of subversive and destabilizing programs against the island; and when our people are compensated for the human and economic damages they still endure."
The two leaders plan to meet in person on Tuesday.