As Votes on Nuclear Deal Loom, Boehner Says Iran Lawsuit Is "Very Possible"
The speaker and many Republicans contend the Obama administration has violated the Iran Review Act by not sharing the entire agreement with Congress.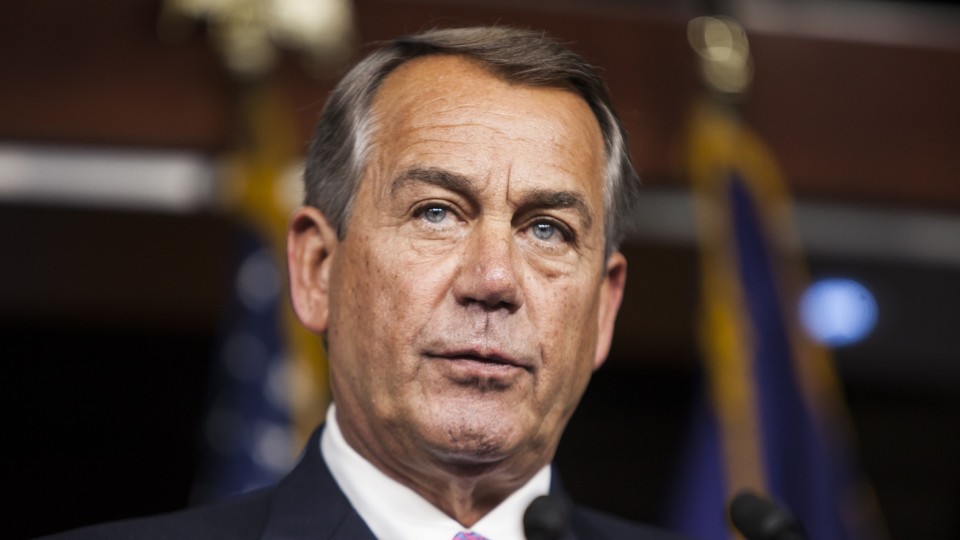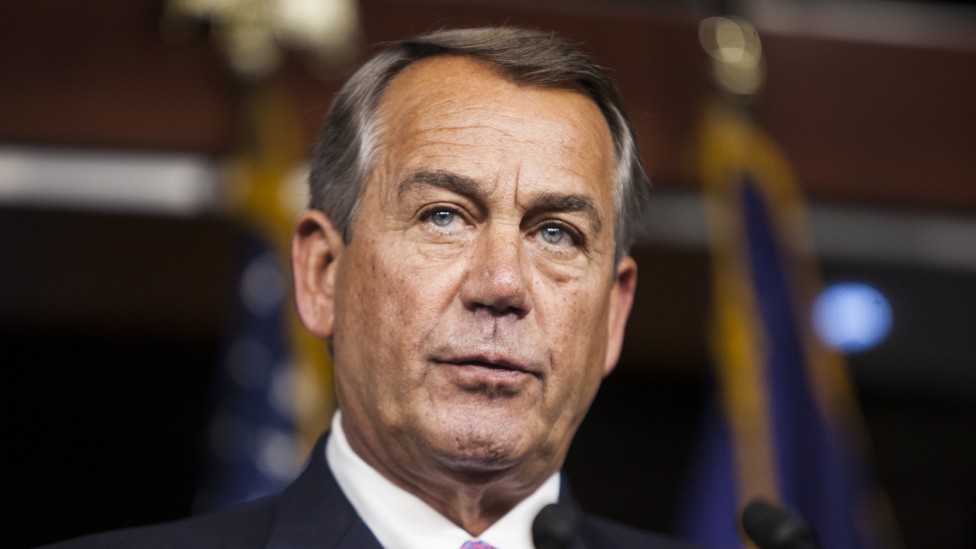 A high-stakes legal fight between Republicans and the White House over the Iran nuclear deal became more likely Thursday, as Speak­er John Boehner said that it is "very pos­sible" he will sue Pres­id­ent Obama to keep the agreement from be­ing im­ple­men­ted.
Boehner said he be­lieves the ad­min­is­tra­tion will be break­ing the law if it be­gins lift­ing sanc­tions on Tehran in one week. At is­sue is wheth­er the White House turned over to Con­gress all doc­u­ments re­lated to the deal, a pre­requis­ite for start­ing the clock on the 60-day con­gres­sion­al re­view peri­od, ac­cord­ing to the Ir­an Nuc­le­ar Agree­ment Re­view Act.
"It makes clear that any side agree­ments, any oth­er type of an agree­ment, in­clud­ing those that do not dir­ectly in­volve us, must be turned over. And so I do not be­lieve he has com­plied," Boehner said.
The miss­ing agree­ments are those between the In­ter­na­tion­al Atom­ic En­ergy Agency and Ir­an. The ad­min­is­tra­tion has said it does not have the doc­u­ments and the IAEA said it is its policy not to re­lease them.
Nev­er­the­less, House Re­pub­lic­ans said that the law does not al­low Obama to im­ple­ment the deal ab­sent those agree­ments be­ing made pub­lic.
When asked wheth­er he would go as far as to sue the ad­min­is­tra­tion, Boehner said, "That is an op­tion that is very pos­sible."
An architect of the House's plan, Rep. Mike Pompeo, who sits on the Intelligence Committee, said he was briefed on the documents by an administration official who had also not seen them, but who had been briefed on their contents by the IAEA.
One document, he said, deals with the verification regime to make sure Iran is compliant with the deal and another has to do with the history of Iran's weaponization program.
Pompeo said he hopes it does not come to a lawsuit, but he said the administration should exert pressure on the IAEA to turn over the documents and at the very least give Congressmen a classified briefing on the actual documents, not just their understanding of their contents.
"I'm hopeful the president will recognize that he didn't comply with his obligations and will at least make a good faith effort to comply," he said. "They have enormous leverage. … It's not physically impossible. The documents exist in the world. They should simply demand access to the documents."
The new House strategy on Ir­an was hatched Wed­nes­day dur­ing a series of con­ten­tious meet­ings. Boehner had ori­gin­ally planned to go ahead with the bicam­er­al plan of vot­ing on a res­ol­u­tion of dis­ap­prov­al of the deal.
But Obama had pledged to veto the meas­ure, and Demo­crats prom­ised not to al­low Re­pub­lic­an lead­ers a two-thirds ma­jor­ity to over­ride the veto. So sev­er­al House Re­pub­lic­ans re­belled against Boehner's plan, caus­ing him to change strategy.
In­cluded in the new plan is a non­bind­ing meas­ure ex­press­ing a sense of the House that Obama has not com­plied with the law, which the House passed on a party-line vote Thursday, and is per­ceived to be the first step in set­ting up a law­suit against the ad­min­is­tra­tion.
The new plan has wide buy-in from the Re­pub­lic­an rank-and-file. Rep. Raul Labrador, who was among the members rebelling on Wednesday, said he is on board with the new plan because instead of passing a resolution of disapproval, the House will likely vote down a resolution of approval. That, he said, turns the previous plan on its head, showing that the House is not complying with the Ir­an Nuc­le­ar Agree­ment Re­view Act.
"We don't need to do a resolution of disapproval because the clock hasn't started," Labrador said. He added that, "Maybe there is a reason they don't want us to see those documents and maybe there is something in those documents that will change some minds."
The House will vote on that measure Friday, along with another stating that the administration cannot lift sanctions.
But Re­pub­lic­an Sen­ate lead­ers have said they will con­tin­ue with the pre­vi­ous plan of vot­ing on a res­ol­u­tion of dis­ap­prov­al and have been dis­missive of House con­ser­vat­ives' com­plaints, mak­ing it un­clear how far the House can uni­lat­er­ally take this.
The vote comes a day after Boehner se­cured a leg­al vic­tory against Obama in an­oth­er case in­volving the pres­id­ent's health care law. The House was found to have stand­ing to sue the ad­min­is­tra­tion over the way low-in­come sub­sidies were fin­anced.