Armed With Subpoena Power, Smith Won't Let Up On EPA
Republicans want to find any trace of collusion with outside groups.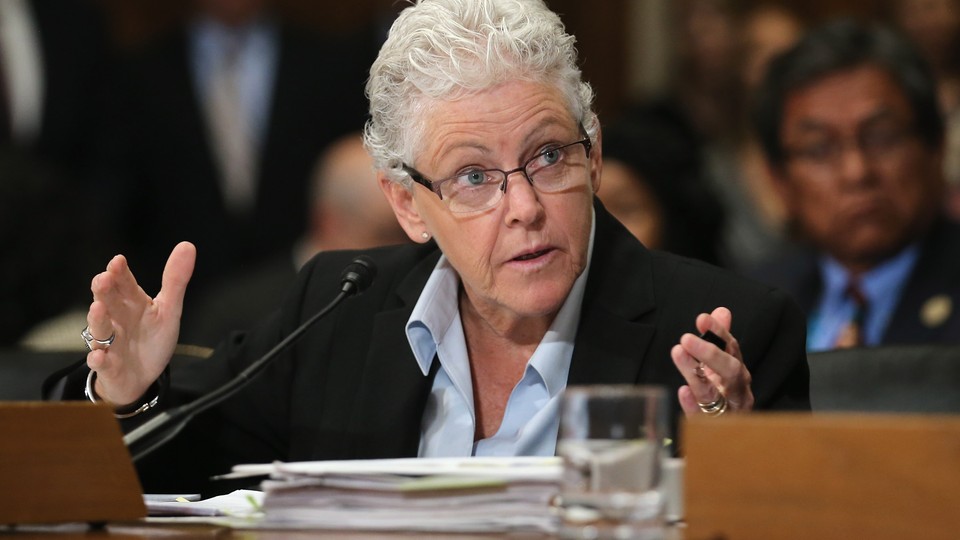 Rep. Bill Johnson had a lot of questions about who was taking shots from Michael Goo's ice luge.
In a July House Science Committee hearing, Johnson, an Ohio Republican, badgered Environmental Protection Agency Administrator Gina McCarthy about parties thrown by Goo, who served as associate administrator for EPA's Office of Policy from 2011 until 2013. Details like the ice luge made for fun headlines, but Johnson was especially concerned that invitations to "Goofests" were extended to members of environmental groups, such as the Natural Resources Defense Council and the League of Conservation Voters.
Johnson pulled up several emails from Goo about his parties and asked McCarthy whether Goo's apparent "personal, private relationship, a social relationship at a thing called Goofest" showed that "critical members of the EPA [have] a close relationship with these outside, third-party organizations."
McCarthy said that she had never been to any of Goo's parties, nor did she see a problem with Goo socializing with his friends (McCarthy herself said she had friends in the utility industry).
Armed with new subpoena power this Congress, Science Committee Chairman Lamar Smith has gone after McCarthy and other EPA officials, trying to get the agency's correspondence with outside groups on a whole slew of environmental rules, as well as regulatory actions, such as the treatment of a mine permit in Alaska.
The requests come amid a heavy amount of scrutiny on the EPA's interactions with outside groups. Congressional Republicans have accused EPA of engaging in "sue-and-settle" arrangements with environmentalists, whereby legal action is brought to compel the administration to advance a certain policy agenda. And they have alleged that EPA essentially worked hand-in-hand with the NRDC to craft its rules on power-plant emissions.
In March, Smith subpoenaed information related to 5,000 text messages to and from McCarthy, which he said had been destroyed in violation of records-retention practices. The subpoena came in response to a lawsuit brought against EPA from the conservative Competitive Enterprise Institute (in an interview, Smith said the request had been "overshadowed by a former secretary of State's situation").
Critics say Republicans are fishing for any thread they can use to cast doubt on President Obama's climate agenda. Science Committee ranking member Eddie Bernice Johnson said it was all part of a pattern that's made EPA "probably the most-bashed agency there is."
The EPA says it is working on 42 active document requests this year, 15 from the Science Committee. The agency sent over more than 1,000 pages of McCarthy's texts and cell-phone records, which they said showed that the vast majority of the messages were communications with family members.
EPA spokeswoman Liz Purchia said the agency is providing Congress with the relevant information about the rulemaking process, which she said involved stakeholder engagement on all sides.
"There is zero merit to the idea that an outside group has any undue influence on the agency," Purchia said. "This is a flawed narrative driven by cherry-picked and isolated communications that in no way reflect the full breadth and depth of the EPA's outreach."
But Smith has not let up, and he thinks he has evidence that Goo—who is now with the Energy Department—and others in the EPA had coordinated with outside groups to get them to produce favorable reports that would back up their policy agenda (one email released by the committee from Goo to a Natural Resources Defense Council staff member suggested "maybe a report or two … showing that there is no new coal being built might be helpful" to the administration). In a May letter requesting documents related to outside correspondence, Smith pointed to several emails to and from Goo's private email account, including one that said, "Attached is a memo I didn't want to send in public."
"Mr. Goo's actions are troubling because it creates the appearance of secrecy," Smith wrote to EPA and DOE in May. A committee spokesman said that some private emails were forwarded to Goo's official email account and came from a request that did not reach the subpoena level, but that some were provided by an outside watchdog group that had gotten emails from the EPA.
Two other recent requests have concerned the EPA's regulations on ozone and potential coordination with a third party related to Alaska's Pebble Mine, which the Obama administration has effectively rejected because of its potential impact on the wild salmon fishery in Bristol Bay (that request also alleges that coordination took place over private email to skirt records law).
Smith said that, much like his push for EPA to be more transparent about the science behind its regulations, he's simply out to ensure that EPA's dealings are out in the open.
"That indicates the frustration that we have with the EPA and why we think they're not being open and honest with the American people," he said.
Or at the very least, he can find out when the next Goofest will be.