Are Republicans Pulling the Plug on the Kentucky Governor's Race?
The RGA said Monday it is no longer running ads for Republican Matt Bevin until his campaign improves.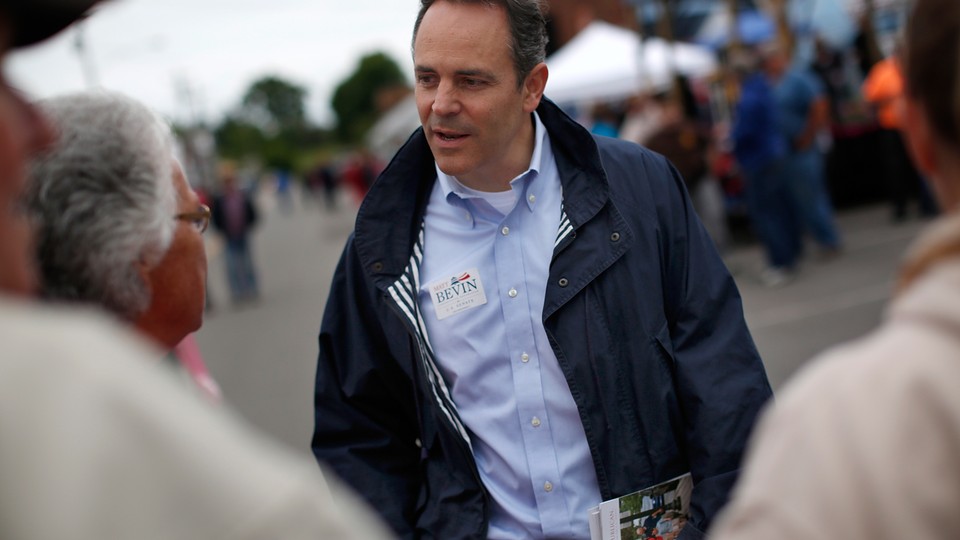 The Republican Governors Association is holding off on running ads on behalf of Kentucky Republican gubernatorial nominee Matt Bevin, the Associated Press reported Monday. RGA spokesman Jon Thompson told the AP the committee is "reevaluating what is best for us to do."
According to one D.C.-based Republican operative with knowledge of the committee's plans, the RGA wants to make sure Bevin is "serious about the race" before going back on the air, citing what is said to be weak fundraising on Bevin's end, a limited effort at running his own TV ads, and the content of his first ad.
As of last week, Bevin had only put $140,000 behind a first TV buy, while the RGA has spent $3 million on his behalf in ads tying Democrat Jack Conway to President Obama. Bevin launched his first spot two weeks ago. The ad also tied Conway to Obama, comparing the two candidates to football teams. Bevin's campaign said it was launching "just in time for prime-time football games." The ad raised eyebrows from Republican observers because of the redundant theme.
"That's not necessarily maybe the smartest message. I think that's something he might need to improve on a little bit, is what message he wants to send, what he'll do as governor," said the GOP operative.
The committee isn't throwing in the towel on the Kentucky race. They're not ruling out going back on the air at a later date. The Bevin campaign said they plan on going on the air again later this week.
As for Bevin's fundraising, he could yet get a financial boost from South Carolina Gov. Nikki Haley, who is scheduled to attend a fundraiser for Bevin Tuesday in Lexington. Bevin could also put more personal money toward his bid. He spent more than $2.5 million of his own money ahead of the May GOP primary. Kentucky Democrats have criticized Bevin for deciding not to publicly release his tax returns this summer.