Amid Shutdown Battle, A Conservation Fund Seeks A Lifeline
The Land and Water Conservation Fund is also going to expire next week.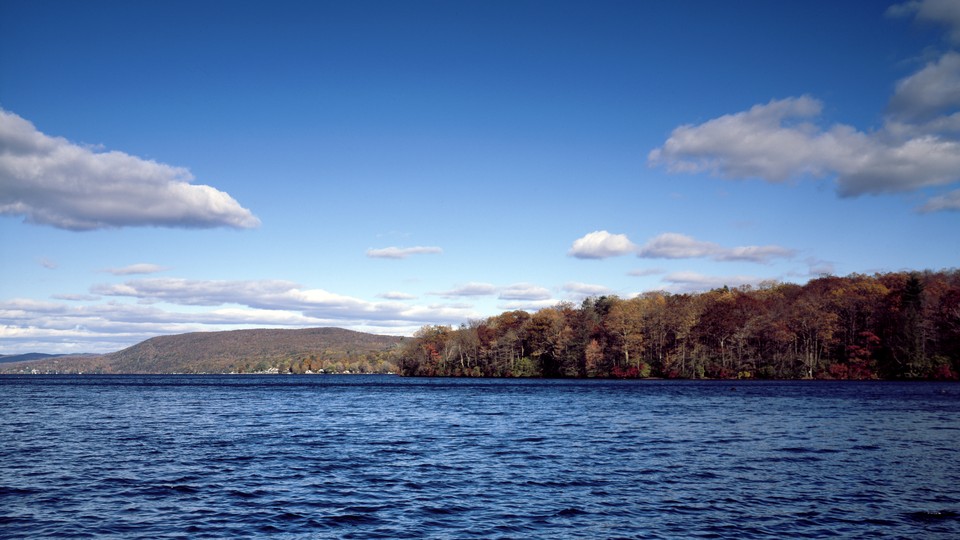 As the calendar flips closer to Sept. 30, the talk on Capitol Hill is dominated by Planned Parenthood and the looming government shutdown. But some fear that lost in the shuffle is another, much smaller deadline that could go unaddressed.
The Land and Water Conservation Fund is a popular, 50-year-old program that uses royalties from federal oil and gas leases for land acquisition and parks across the country. It's been responsible for preserving national parks, historical sites, and even the Appalachian Trail.
And its authorizing legislation expires at the end of the month.
Typically, reauthorization of the $900 million program is an easy, bipartisan affair. But a dispute over how much money the program should be sending to states has held up a renewal of the program, and now House Natural Resources chairman Rob Bishop says he's content to let it expire next week.
House Democrats have a bill that would keep the program alive, with 198 bipartisan cosponsors (19 of them Republican). In the Senate, a permanent reauthorization was included in a bipartisan energy bill that passed the Energy and Commerce Committee. That bill, part of a compromise between Republican Lisa Murkowski and Democrat Maria Cantwell, would also tweak the funding formula that changes the federal-state funding split.
But, barring an unprecedented spurt of productivity, it's unlikely that a standalone LWCF reauthorization is going to make it through both chambers before next Thursday, especially given the impending government-funding deadline. Supporters are left looking for whatever options they can.
"Ideally, we wouldn't just keep this program going, we'd make some policy changes and get a full reauthorization," said Josh Saks, legislative director for the National Wildlife Fund. "But the basic goal is just to keep the lights on, so that means looking at any passable vehicle."
A "passable vehicle" in the short term would seem to be a continuing resolution, which means the race is on to ensure that whatever funding measure Congress comes up with includes the LWCF. It wasn't included in the Senate continuing resolution set to be voted on Thursday (that bill, which also defunds Planned Parenthood, is likely to fail and be followed by a clean funding bill).
Last week, 53 senators—including 12 Republicans—signed onto a letter urging renewal of the "critical investment program." House Democrats have a countdown clock and organized an hour of floor speeches on the program last week, where Natural Resources ranking member Raul Grijalva called it "America's best parks program" and chastised Bishop for not holding a hearing on the LWCF reauthorization.
And Democrats have wasted no time blaming the majority for putting the program on the brink of expiration. In a statement Wednesday, New Hampshire Democratic Sen. Jeanne Shaheen decried the "manufactured crisis" that could lead to the program getting shut down.
"This is incredibly shortsighted and sets a dangerous precedent for other important conservation programs that will soon need Congressional approval," Shaheen said.
House Democratic sources say they're also hopeful it will make it into that chamber's continuing resolution, but an aide for the Appropriations Committee said it had not been included in any discussions yet.
Bishop, a Utah Republican, remains opposed to a short-term extension, a spokesman said, since he wants a larger reform bill. Bishop has said that the program tips too far in the direction of Washington, and wants to ensure that state and local governments get more control over funding. Right now, about 62 percent of funds go to federal land acquisition, according to a 2014 Congressional Research Service report, while the state-grant program gets 25 percent.
The Senate energy bill would give 40 percent of the funds to states and 40 percent to the federal government, giving Congress discretion over the remaining 20 percent. But some Republicans in that chamber say that's not enough—Sen. John Barrasso has tried to raise the state funding level to 50 percent (he offered an amendment to do that in a committee markup, but it failed).
All of which means that the clock is still ticking. Should Sept. 30 pass without a legislative tweak, the Interior Department would lose its ability to accrue revenues from oil and gas companies. The government would be able to use its unappropriated balance, but supporters say it would create uncertainty about the future of parks spending.
A map circulated by the Center for Western Priorities shows the hundreds of thousands of acres added to various parks from the LWCF—and the gaps in parks that the federal government could still acquire with future funding. And public lands groups say it's essential that the government be able to keep preserving as much as possible.
"Projects are in the queue, but if the fund disappears, who knows," said Andy French for the League of Conservation Voters. "So right now, we're just looking for whatever stopgap vehicle we can get to put this in place."