After Years of Railing Against Boehner, Conservatives Lack an Alternative
The House Freedom Caucus can't find anyone to challenge Kevin McCarthy for the speakership.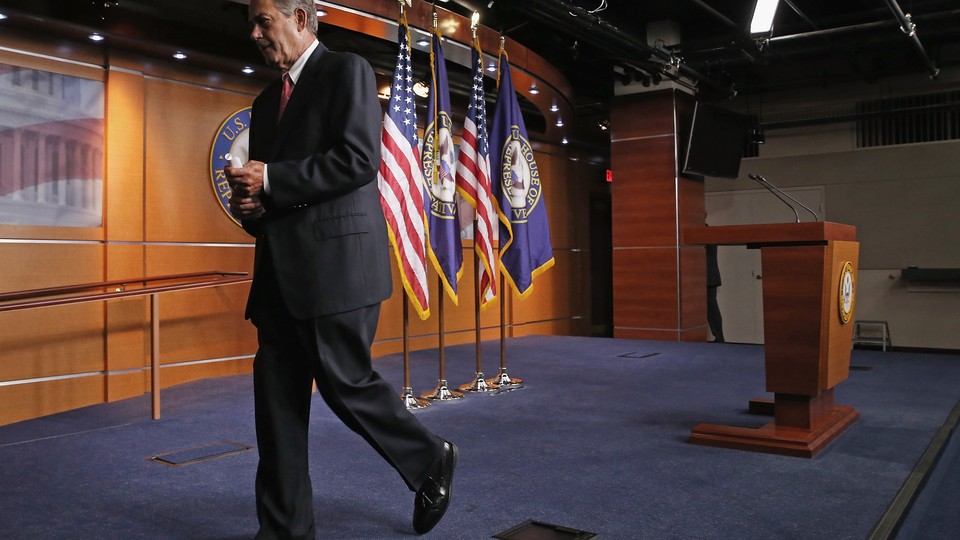 It's conservatives' big chance to take control of the House of Representatives, and apparently they don't know what to do with it.
After five years of railing against House Speaker John Boehner, the right flank of the Republican conference finally has a shot at putting up its own candidate for speaker. But so far, Majority Leader Kevin McCarthy, an establishment front man, has the inside track on the job, and long-shot Daniel Webster of Florida is the only declared conservative candidate.
Behind closed doors, conservatives are finding it difficult to draft a candidate to go head-to-head with McCarthy. As Boehner's powerful deputy, he may not represent a radical power shift for the House GOP, but he's well-connected to high-rolling donors and leaders. McCarthy is a prominent fundraiser who's already raked in more than $3.9 million this year between his campaign committee and PAC.
Members of the conservative House Freedom Caucus huddled Monday night in a private meeting to discuss how they could influence the leadership elections, but several told National Journal that putting up their own candidate may not be possible, because no one is willing to be the sacrificial lamb.
"There were discussions of someone like Jim Jordan, who is a very capable guy ... and his belief is 'No, I couldn't make it,'" said one conservative who spoke on the condition of anonymity so he could talk freely about the elections. "I think that is the belief of many. Why would you tilt against a windmill if you can't win? Well, that leaves the larger question of why are we tilting against the windmill?"
The Freedom Caucus has only about 40 members—enough to disrupt the status quo, but insufficient to start a leadership insurrection.
"The House Freedom Caucus will not have a candidate for speaker. We cannot get one of our guys elected," Rep. Mick Mulvaney told reporters Tuesday.
Boehner's sudden departure left conservatives in a lurch.
"It's why we want to elongate this process to have time to talk about these things," said Rep. John Fleming, a Freedom Caucus member from Louisiana.
Members say they hadn't anticipated Boehner would turn in his gavel without a fight. And they hadn't laid out a contingency plan for what would happen if they got their wish.
"It's tough, because everyone is afraid to go against the front-runner," said Rep. Marlin Stutzman, a Freedom Caucus member. "But I look at this as an opportunity for a fresh start."
When asked Tuesday why conservatives were bypassing their chance at the speakership, Jordan warned that it might be too soon to dismiss the possibility. "It's a very fluid situation and there may be more candidates coming," he said.
Freedom Caucus member Trent Franks of Arizona wouldn't even address why the group has yet to put up an alternative to McCarthy. "I am probably not going to speak to that because I think the bottom line is the Senate filibuster is unbelievably the cause of dissension in the House," Franks said.
For now, it appears conservatives are not even finding much success in recruiting members to run for some of the deputy positions.
Down ballot, the leadership races are roiling with tension. Majority Whip Steve Scalise is angling for a promotion to majority leader against Tom Price of Georgia. Price picked up endorsements from powerful Ways and Means Chairman Paul Ryan and Financial Services Chairman Jeb Hensarling. Trey Gowdy—a popular conservative and chairman of the Select Committee on Benghazi—was toying with a run, but put those rumors to bed Tuesday afternoon, disrupting conservatives' hunger for a counterpoint to McCarthy.
If McCarthy is the only option as speaker, the Republican Party's most conservative members are still looking for assurances that he would run a more flexible ship than Boehner has. Boehner became known for expunging conservatives from plum committee assignments when they crossed him.
"In order to not only get the job, but keep the job, there are always going to be 40 votes out there to vacate the chair anytime," Rep. Tim Huelskamp said, referring to the procedural rule that conservatives had threatened to use against Boehner.