A U.S.-China Summit Marked by Tension—and Low Expectations
Obama will welcome Xi to the White House Friday amid squabbling over a wide range of issues.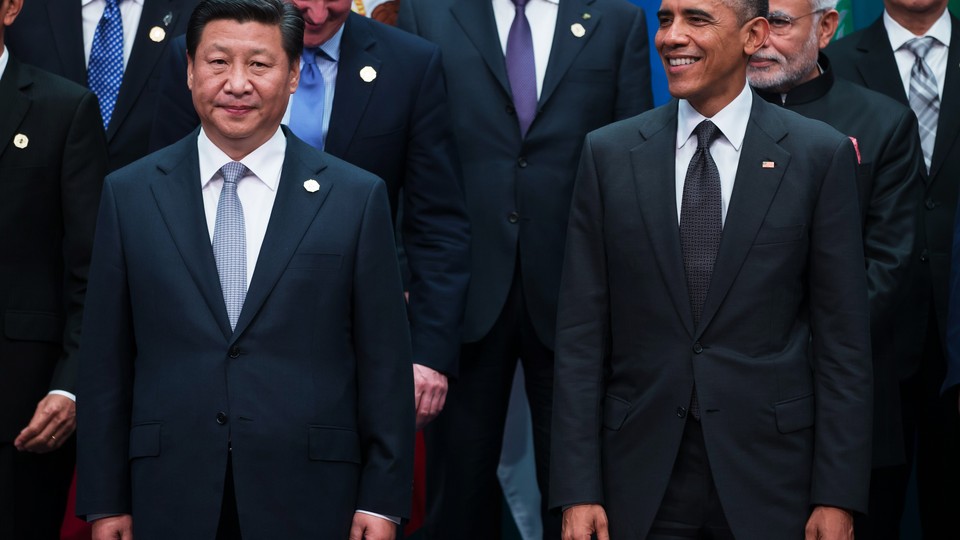 For the second time in just three days, thousands will gather on the South Lawn of the White House Friday to watch President Obama welcome the leader of more than a billion people with all the colorful flags, national anthems, and martial music that signify a state visit. But there will be one noticeable difference between Wednesday's ceremony for Pope Francis and Friday's for Chinese President Xi Jinping.
The firing of the 21-gun salute that is usually part of the welcome of a state visitor was quietly dropped Wednesday in recognition of the pope's role as a champion of peace and bearer of a pacifist message. That's not the case Friday—not only does Xi really want the 21-gun salute as a sign of respect, the firing of guns just may be the most appropriate way to signal the worsened relations between China and the United States.
Things are not well on the Sino-American front. In the two years and six months he has been president, the 62-year-old Xi has paid only pro forma attention to Washington's concerns and has pointedly flexed Chinese muscle both militarily in the South China Sea and economically in cyberattacks and currency manipulation. The only bright spots have been high-level cooperation on Iran, North Korea, and climate policies.
The result is low expectations for the summit that began informally Thursday night with a working dinner at Blair House between the two presidents but continues more formally Friday with the South Lawn ceremony, Oval Office talks, and a joint press conference.
The White House promises "a very robust discussion of the differences between our two countries," according to Daniel Kritenbrink, senior director for Asian Affairs on the National Security Council. "We won't paper over those differences. We'll be very clear and candid about them," he told reporters. "Some of those differences will include cyber, economic and trade issues, maritime issues, and human rights."
With stories fresh in mind of Chinese hacking of private information on millions of American citizens and hundreds of American businesses, looming over the talks is the threat of possible U.S. sanctions against Chinese companies that engage in the cyber snooping. "We've also made clear that we have other punitive measures available," said Ben Rhodes, deputy national security adviser for strategic communications, adding, "Sanctions remain the tool of the United States and we would be prepared, if necessary, to pursue sanctions ... if we felt that there was a case that merited that type of punitive sanction."
No one anticipated the imposition of sanctions prior to Xi's arrival in the United States, since that could destroy a summit both sides want to succeed. But if Xi does not give the right answers during the talks, they could be imposed soon afterwards, according to analysts of U.S.-Chinese affairs. But no one seems to know when this could happen. "If the Chinese behavior continues and the most we can get are important but essentially Band-Aid cures for some of the symptoms, at what point does the U.S. have to consider imposing costs?" asked Michael Green, senior vice president for Asia at the Center for Strategic and International Studies and a member of President George W. Bush's National Security Council in his first term. That, he said, is the big question for this White House meeting.
The cyber issues, when coupled with Chinese stock-market instability, set the stage for a possibly contentious summit. "The atmospherics for this summit are more fraught, more difficult, than for any summit since the establishment of normal diplomatic relations with China," said Robert Daly, who heads the Kissinger Institute on China and the United States at the Wilson Center and formerly worked at the U.S. Embassy in Beijing.
The U.S. administration has been disappointed and surprised by some of Xi's actions, particularly his willingness to press forward with Chinese claims in the South China Sea that Washington and its allies see as destabilizing and contrary to international law. Additionally, Obama enters the summit with real questions about Xi's stewardship of the Chinese economy after recent months of Chinese stock-market gyrations and currency adjustments.
"On economic issues, the No. 1 ask for the U.S. actually isn't market access to China. ... It's actually just clarity," said Scott Kennedy, director of the Project on Chinese Business and Political Economy at CSIS. "What's going on? What is your policy with regard to financial markets? The renminbi? ... Can you reassure us that you all know what you're doing?"
The developments of recent months have "contributed to a narrative that the Chinese leaders are not doing such a good job managing the economy," said David Dollar, who is now at the Brookings Institution but from 2009 to 2013 was the Treasury Department's economic and financial emissary to China. "Right now, I think there are serious worries about a hard landing in China."
The turmoil in the relationship even colored China's celebration earlier this month of the 70th anniversary of the end of World War II. U.S. officials boycotted the ceremonies because they were overly militaristic and ignored Japan's actions of the last seven decades.
With so much friction between Washington and Beijing on so many fronts, there were some fears that this week's summit could become a diplomatic disaster. But in recent weeks, both sides have sought to step back from the brink. "I don't think either leader wants this to be a train wreck, and there's been a lot of effort to ensure it isn't a train wreck," said Kenneth Lieberthal of Brookings, who was senior director for Asia on President Clinton's National Security Council from 1998 to 2000.
Even with the tension, Obama enters the talks hopeful of the outcome, said the NSC's Rhodes. "We've approached this relationship knowing that we're not going to agree on everything, but with the strong belief that we benefit when we can advance cooperation."