The End of the Line: Rehabilitation and Reform in Angola Penitentiary
In the nation's largest maximum-security prison, a remarkable warden has turned to religion to bring morality to the inmates.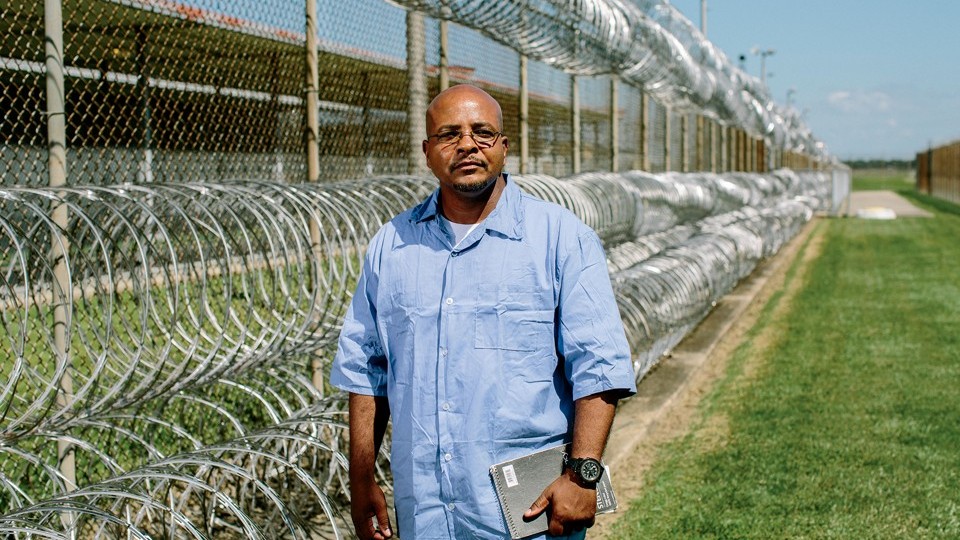 "It never makes sense to deny education to any human being."
—Burl Cain, Warden, Angola Prison
The mayor of New Orleans, Mitch Landrieu, has made it a practice to visit the Louisiana State Penitentiary at Angola from time to time to consult with a group of convicted murderers, native New Orleanians all, about ways to stem the violence afflicting his city. It is always smart to go to the experts, Landrieu thought, and so he did. On a recent trip, he brought me along, which is how I was introduced to Angola and to the man who rules it: Burl Cain, the warden.
As we drove up a deserted Highway 66 to the prison—Angola is the actual end of the line; the highway stops at the prison's front gate—Landrieu had two things to tell me. The first is that Angola would bring me to my knees. Six thousand three hundred men are warehoused in Angola, nearly 80 percent of whom are African American. These are some of the most forsaken men in all of America. The second is that I shouldn't be fooled by Cain's affect and appearance. He may seem like a "good 'ol boy," Landrieu said, but he's actually one of the most thoughtful corrections leaders in the country. "The warden has some very progressive ideas," Landrieu said. "He knows that we're all about the quick fix—more guards, more prisons, more punishment. He knows that something is seriously messed-up in the way we do things."
When Cain took over Angola two decades ago, it was one of the most violent prisons in the country. In 1992, Angola experienced 1,346 assaults, both inmate-on-inmate and inmate-on-staff. Last year, there were 343. This is not a negligible number, but keep in mind that Angola is the largest maximum-security prison in America, and most of its inmates are serving sentences for violent crimes.
Angola is a vast place, bigger than Manhattan, mostly farmland dotted with barbed-wire enclosures, gun towers and concrete dormitories, and we drove for a bit after clearing the front gate. Cain spends part of his day in a ranch house he uses to house and feed guests—a group of talented inmates serving life for murder do all the cooking—and that's where we met him. He is rotund, garrulous, oracular, and, as Landrieu suggested to me, fascinating and contradictory—part Boss Hogg, part Marian Wright Edelman. I realized almost immediately that Cain was a subject worth plumbing, which is why he shows up extensively in my recent profile of Landrieu, and why The Atlantic thought it would be worthwhile to make a documentary about Cain and his heterodoxical ideas. On one of my return visits to Angola, I brought with me three talented Atlantic filmmakers—Kasia Cieplak-Mayr von Baldegg, Sam-Price-Waldman, and Paul Rosenfeld—and the (short but compelling) film they made of our visit is now online.
The documentary features Cain describing his unusual ideas about prison reform. Burl Cain, in short, used Christ to pacify Angola. He invited the New Orleans Baptist Theological Seminary to open an ordination program on the prison grounds, and today, hundreds of inmate-ministers are turning thousands of their incarcerated brethren to Jesus. Cain was quick to tell me that the saving of souls was not his first priority, though he is himself a Mike Huckabee-supporting evangelical. Instead, he told me that peace on his particular patch of earth was the immediate goal. Religion, he decided, was the most efficient pathway to moral living, and he needed to moralize the prison quickly, to bring down the violence. He said he doesn't care which religion a prisoner adopts; any faith that leads to "moral rehabilitation" is fine with him. He even had a kind word for polytheistic religions.
Cain's invitation to the Baptists was also prompted by a secular concern. In the 1990s, state and federal government funding for prisoner education was slashed—it was Bill Clinton who ended the Pell Grant program for incarcerated Americans—and the Baptists, as well as other private institutions, helped Cain keep Angola's vocational training programs alive. Prisoner education is just one subject on which Cain sounds like a liberal reformer. One day, while we were driving in his SUV to Angola's corn-processing facility, Cain told me, "If a person wants to learn, we have a responsibility to help him learn. A lot of these guys had terrible schooling outside, and that's why they're here in the first place." He went on, "The ones who are here for life, they need schooling, too. We've got to keep them busy and useful. Some of the inmates in here for life are our best instructors in the vocational programs."
Cain suggests, in the documentary, that America would not be the world capital of incarceration if it could figure out a way to intervene in the lives of young men before they commit acts of violence, rather than after. "We had to have a victim to send them here and get them prepared to go back into society and be successful. God help us, somebody has to be hurt, murdered or killed before we will recognize the problem we have and go back and fix it. In corrections we didn't do it for so long because we all believed we were just supposed to lock them up. We forgot that 'corrections' means 'correct deviant behavior.'"