A How-To Guide for Dealing With Donald Trump's Insults
The insults won't stop, but the targets of Trump's venom have the power of deciding how to respond.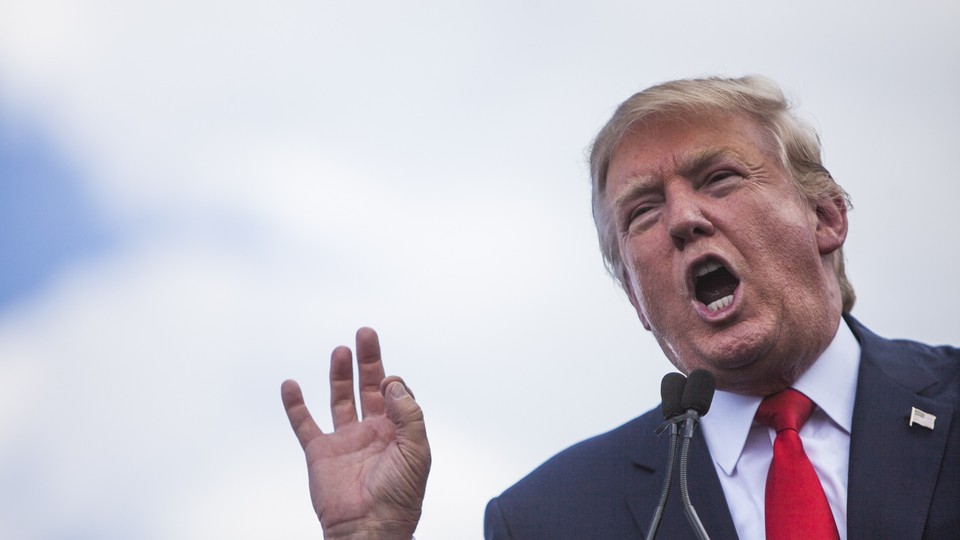 Donald Trump has never been afraid to go negative.
Since jumping into the presidential race, the real estate mogul and self-styled outsider candidate has lobbed a steady stream of insults at his 2016 rivals, high-profile members of the media, and, let's not forget, celebrities like Rosie O'Donnell.
The insults won't stop anytime soon. But targets of the 2016 contender's venom are far from powerless. They can chose how to respond—and there can be a clear upside to ending up on the receiving end of Trump's ire if a candidate, celebrity, or member of the media plays his or her cards right.
Taking the high road and refusing to engage in a Trump back-and-forth can help a 2016 contender appear above the fray, while still grabbing a piece of the media spotlight that follows Trump everywhere.
Consider Carly Fiorina. After Trump appeared to insult Fiorina's appearance, telling Rolling Stone, "Look at that face! Would anyone vote for that?," Fiorina jumped at the chance to turn the attack into an opportunity for self-promotion. "I'm not going to spend a single cycle wondering what Donald Trump means but maybe, just maybe, I'm getting under his skin a little bit because I am climbing in the polls," Fiorina said on Wednesday during an interview with Fox News's Megyn Kelly.
Kelly is herself no stranger to the Trump insult—and the attention that comes with it.
The star Fox News host opted not to engage with Trump after he unleashed a series of disparaging remarks against her on Twitter and publicly aired his grievances on television in the wake of a tense exchange between Kelly and Trump at the first Republican presidential debate. Kelly made no public move to counterattack, even after Trump told CNN that Kelly had "blood coming out of her eyes, blood coming out of her wherever" during the debate.
Kelly endured a spate of criticism from Trump loyalists as a result, but her television show The Kelly File saw a dramatic spike in ratings after Trump took aim at her, providing at least one example of what stands to be gained by holding back when Trump attacks.
Not everyone has stayed above the fray. For some candidates—especially those struggling to gain traction in the polls—a counterpunch or even a preemptive strike at the front-runner can be appealing for the attention it is bound to attract. But there is considerably more risk involved for anyone who invites Trump's attack or hits back hard.
Jeb Bush has fallen in national polls as Trump keeps up a drumbeat of attacks against him, and at times Bush has appeared to falter as he weighs just how to react to Trump. At the outset, Bush pledged to run a "joyful" and optimistic campaign. But as Trump trains his fire on the former Florida governor, calling him "low energy" and attacking his stand on immigration, Bush has increasingly shown a willingness to fight back—a strategy that feeds a distraction both within the campaign and for voters as Bush is dragged off message.
On top of all that, Trump is not a traditional political fighter. His insults are not carefully poll-tested and meticulously designed not to offend key conservative elements. (Take his assertion that Sen. John McCain is considered a war hero only "because he was captured.") That willingness to speak boldly and off-the-cuff ensures that even the most measured plans to hit Trump could backfire or go awry for Republican rivals.
Nearly all of the 2016 candidates—with the notable exception of Ted Cruz, who hopes to win over support from Trump loyalists—have tangled with Trump. And some 2016 campaigns are not only counterpunching, but appear to be actively attempting to provoke Trump in a bid for attention. On Thursday, Bobby Jindal launched into a tirade against Trump during a speech delivered at the National Press Club, as Jindal's campaign faces extreme headwinds and the candidate is struggling to gain ground in the polls.
"Donald Trump is shallow. He has no understanding of policy. He's full of bluster but has no substance. He lacks the intellectual curiosity to even learn," Jindal said in an apparent effort to leave no stone unturned.
Ben Carson, who has been rising in the polls in the aftermath of the first GOP prime-time debate, also appeared to try his hand at a swipe in The Donald's direction on Wednesday, seemingly questioning Trump's commitment to his faith.
"Humility and the fear of the Lord are riches and honor and life and that's a very big part of who I am," Carson told reporters in California, adding: "I don't get that impression with him." Carson, though, appeared to reverse course on Thursday. In an interview with The Washington Post, Carson said he had no intention of getting into any kind of "gladiator fights" and offered an apology after Trump castigated Carson on Twitter and cable networks.
All that is sure to win headlines, but going on the offensive against Trump has not been a winning strategy for Republican 2016 contenders, at least so far.
Rick Perry went all-out in an attack on Trump in July, calling the real estate mogul's candidacy a "carnival act" and "a cancer on conservatism" that "must clearly be diagnosed, excised and discarded."
That certainly received media attention, with Business Insider declaring: "Rick Perry rages on Donald Trump in epic speech." But it hasn't saved Perry from campaign heartache. As of early September, the Perry campaign no longer has any paid staffers left in the crucial primary state of New Hampshire.