A Crack in Trump's Armor?
On the eve of the CNN GOP debate, a new poll shows that many upscale Republicans question his qualifications and temperament.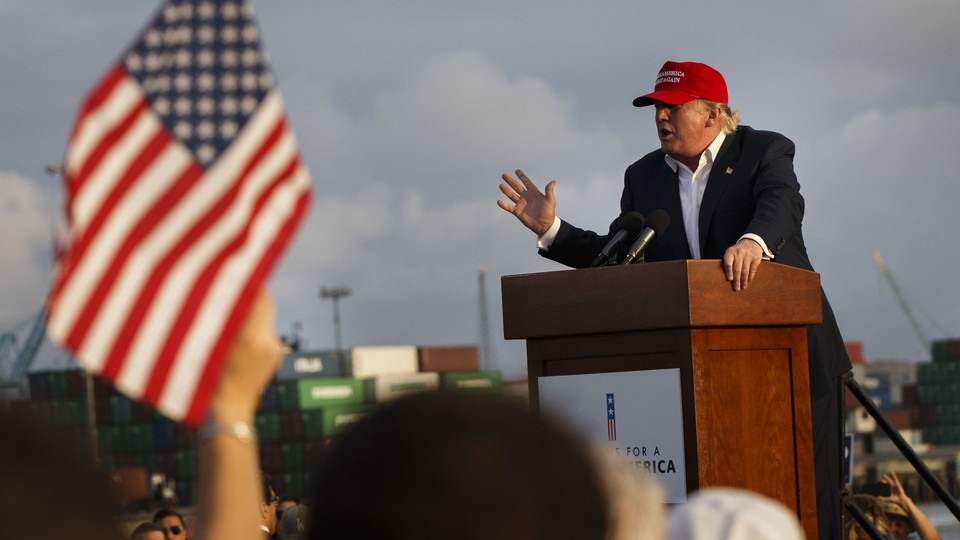 SIMI VALLEY—As the sprawling, brawling Republican presidential field gathers for its second debate here tonight, the new ABC/Washington Post national poll may point to a crack in the armor of confrontational front-runner Donald Trump.
While the poll found that Trump continues to hold a comfortable lead among Republicans nationwide, detailed results provided to Next America show that large numbers of white-collar GOP voters doubt that he has the qualifications, personality, or temperament to succeed as president.
Those findings point to the convergence of two potential Trump vulnerabilities: doubts about whether his blustery style will adapt to the Oval Office and somewhat more resistance to his candidacy among college-educated than noncollege-educated Republicans.
Like many other recent surveys, the ABC/Washington Post Poll released just before the CNN debate here Wednesday night showed Trump running competitively with college-educated Republicans but dominating with the party's growing blue-collar wing. The poll found Trump drawing support from an astonishing 40 percent of Republicans without a college degree, more than twice as much as his next-closest competitors: Ben Carson (at 18 percent), Ted Cruz (at 9 percent), and Jeb Bush (at 6 percent) followed. Among Republicans holding at least a four-year college degree, the contest was much more competitive: Trump drew 19 percent among them, slightly behind Carson's 25 percent.
Additional results from the survey provided to Next America by ABC pollster Gary Langer, president of Langer Research Associates, show that the divergence in the vote preferences of white-collar and blue-collar Republicans rests on starkly different appraisals of Trump's personal qualities.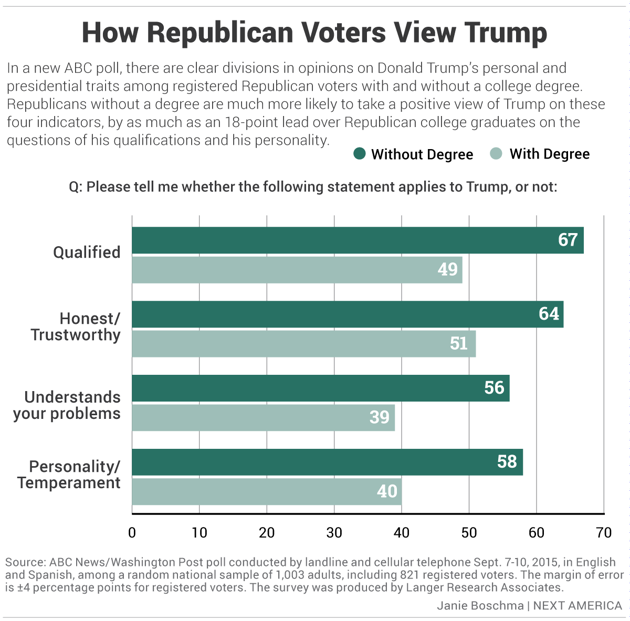 Asked if Trump was qualified to serve as president, noncollege-educated Republicans said yes by a resounding margin of 67 percent to 30 percent. College-educated Republicans, though, split almost exactly in half, with only 49 percent saying yes, and 47 percent saying no.
Likewise, a big gap separated the two groups when the poll asked respondents if Trump understands the problems of people like them. On that measure, 56 percent of noncollege Republicans said yes, while 42 percent said no. Among Republicans with at least a four-year degree, the numbers were almost exactly reversed: 57 percent said no, and only 39 percent said yes.
The numbers again were almost exactly reversed on a personal measure that could prove even more important. Noncollege Republicans, by a solid 58 percent to 39 percent margin, agreed that Trump had "the kind of personality and temperament it takes to serve effectively as president." But college-educated Republicans took a much more skeptical view: Just 40 percent said Trump had the temperament to succeed as president, while 55 percent said he did not.
With the public overall, Trump faced ominous numbers on those three critical measures. Just 35 percent of adults said he was qualified, the poll found, while 29 percent said he understood the problems of people like them, and only 33 percent believed he had the personality and temperament to succeed. Fully 63 percent said his temperament was not suited to success as president, a heavy cloud over his potential general-election viability.
RELATED ARTICLES
The Most Valu­able Voters of 2016
Trump's Shaky Elect­or­al Found­a­tion
Trump Preach­ing to Shrink­ing White Elect­or­ate Cre­ates Prob­lems for GOP
One Republican pollster who supports another candidate said in recent focus groups that he conducted potential GOP voters expressed similar hesitations about Trump. "Concerns about temperament are at the top of the list," said the pollster, who asked not to be identified. "People get an idea of the temperament it takes to be a successful president ... and get the idea that insulting every world leader who doesn't agree with you is not in the interest of the United States. Lack of real knowledge about what to do is next; it's going to get real old over time to say it takes good management. With most thinking people—as they start to make a serious decision about a president—that is going to wear thin over time."
Another leading GOP pollster, who also supports another candidate, agreed that concerns about Trump's temperament—particularly as commander-in-chief—remain a critical potential vulnerability. But the pollster added that no single argument is likely to dislodge Trump. "This is one of those things where he's so strong that it's not likely that one thing or one mistake or one issue will bring him down," the pollster said. "It's got to be a weight of evidence … where voters say, 'I could put up with that, and I could put up with that, but I can't put up with that and that'—whether it's crazy stuff on issues, his temperament, or electability."
Today, Trump is running competitively with well-educated Republicans, even as he has opened his big lead among those with less education. But the skeptical personal assessments expressed in the ABC/Washington Post Poll show that it may be easier for the blustery businessman's rivals to erode his standing with better-educated voters in the final sprint toward the actual voting next year.
If the class divide over Trump persists, the relative balance between white-collar and blue-collar Republicans may prove a critical dynamic in next year's primaries.
In 2008, college and non-college Republicans each cast almost exactly half of the votes in the GOP primaries, according to a cumulative analysis of all exit polls that year by Langer. No such cumulative analysis was conducted for 2012, but voters without a college education cast a majority of the vote in 13 of the 20 Republican contests for which exit polls were conducted, and at least 45 percent in four others.
In that race, Mitt Romney, the eventual nominee, reversed the formula lifting Trump in these early polls: Romney won college-educated voters in all but three states but faced considerably more resistance from blue-collar voters. Jeb Bush started the 2016 race as the favorite to fill the Romney lane by consolidating college-educated and more affluent Republicans, but the former Florida governor has struggled considerably to do so. Though Carson has partially filled that vacuum in several recent polls, many analysts still believe Bush, Ohio Gov. John Kasich, and possibly Florida Sen. Marco Rubio will prove the strongest competitors for the party's upscale "managerial" wing.
Generally, the share of college-educated voters in both parties is higher in blue states (such as the Northeast and the West Coast) than in the conservative-leaning South and Heartland states. That dynamic frames the possibility that if Trump maintains his hold on the GOP's blue-collar wing, those in the party hoping to stop him may be forced to rely mostly on winning primaries in the blue-leaning states that are least likely to back the eventual GOP nominee in the general election.
---
Janie Boschma contributed to this article