2016 Republicans Who Visit Early States the Most Struggle to Gain Traction
Meanwhile, Donald Trump has surged to the front of the pack despite spending far fewer days on the campaign trail this summer.
Party leaders and activists in Iowa and New Hampshire love to stress the importance of presidential candidates making frequent face-to-face contact with their states' voters. But those who have followed that advice the closest in the 2016 contest have yet to see the payoff.
Republican White House hopefuls who spent the most time this past summer in the two states that kick off the nominating process are languishing in the polls there and nationally. At the same time, one of the candidates who has put the least amount of effort into delivering stump speeches, shaking hands, and kissing babies has vaulted to the front of the pack: Donald Trump.
Between Memorial Day and Labor Day, Bobby Jindal and Rick Santorum were the most frequent visitors by far to Iowa, according to data compiled in National Journal's Travel Tracker. Jindal logged 33 days in the state, which accounted for two-thirds of his total campaign travel that period, compared to 25 days for Santorum, who recently completed a tour of all of the state's 99 counties. However, both candidates remain stuck in the low single-digits in surveys of Iowa Republicans, and are once again on track to be relegated to the second-tier GOP debate next week.
"For the people who have been visiting the state of Iowa, I always remind them of quality versus quantity," Polk County Republican Party Chairman Will Rogers said. "If you're just coming to the state and visiting all 99 counties and not really doing anything there to build an organization and connect with caucus-goers, then you're time's not being well-spent." But while Trump may be sucking up much of the oxygen at this stage of the race, Rogers added that visiting Iowa early and often "will pay dividends down the road," as it did for the winners of the 2008 and 2012 caucuses, Mike Huckabee and Santorum.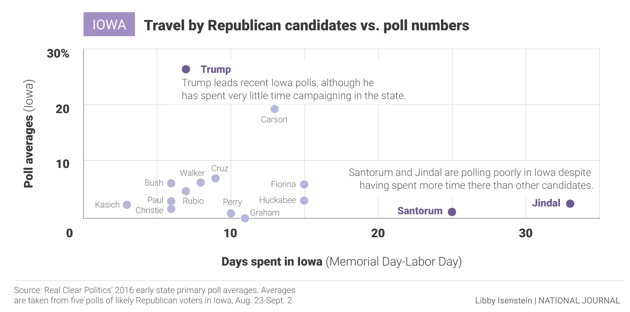 In New Hampshire, where several presidential contenders are pinning their hopes, it's a similar story. Lindsey Graham spent 26 days in New Hampshire this summer, more than any other candidate, followed closely by Chris Christie with 25 days. They have little to show for it: Christie is hovering around the 4 percent mark in the state, while Graham is barely registering.
Meanwhile, Trump holds a comfortable polling advantage over his Republican competitors in Iowa, New Hampshire, and across the country heading into the fall, despite keeping one of the lightest summer travel schedules. From the end of May through the beginning of September, Trump spent seven days in Iowa and five days in New Hampshire. And in total, Trump logged just 27 days on the campaign trail, fewer than any other GOP candidate aside from long-shots George Pataki and Jim Gilmore.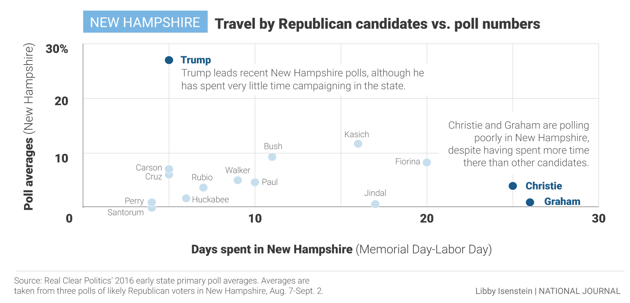 The dynamic in South Carolina, which has seen far less action both in terms of campaign trips and polling than the two states in front of it on the primary calendar thus far, is following the same trend. Santorum, Huckabee, and Rick Perry invested the most time there during the summer, but aren't anywhere near the top of the polls in the state.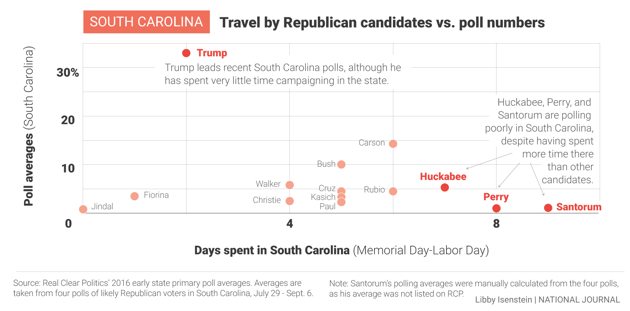 The Democrats who have traveled most often to Iowa and New Hampshire aren't having much luck either. Martin O'Malley spent the most days in Iowa of any candidate from his party at 18 days, and Lincoln Chafee topped the list in New Hampshire with 19 days. Neither is making much of a dent in the polls.
Some frequent early-state flyers have seen their efforts rewarded, though. On the GOP side, for instance, Carly Fiorina spent the third-most time in both Iowa and New Hampshire this summer, and has seen her standing gradually improve in both states. (A strong debate performance last month has a lot to do with that, too.)
National Journal's Travel Tracker covers the trips that declared Democratic and Republican presidential candidates have made outside of their home states since the 2014 midterm elections. The data is compiled through press releases, news articles, and original reporting.
Below are some other interesting findings from the 951 cumulative days presidential candidates spent on the campaign trail from Memorial Day through Labor Day:
—Iowa and New Hampshire continue to dominate 2016 campaigns' itineraries. Candidates from both parties spent a combined 465 days in those two states, accounting for nearly half of this summer's total campaign days.
—Still, not every candidate booked a trip to those states. Gilmore was the lone White House hopeful from either party not to visit Iowa during this period, while Huckabee was the only one not to swing by New Hampshire.
—While the early-voting states of Iowa (241 days), New Hampshire (224 days), and South Carolina (78 days) were the most popular destinations for candidates, two big-money states—California (35 days) and New York (29 days)—rounded out the top five.
—What about Nevada, the forgotten early state? Thirteen candidates paid a visit to the first-in-the-West caucus state, which adds up to a total of 28 campaign days. Marco Rubio, who along with Jeb Bush is making early inroads with the state's influential Mormon community, spent the most time there (six days).
—The bloc of Southern states holding nominating contests on March 1 also received plenty of attention. Candidates spent a total of 78 days (the same as in South Carolina alone) campaigning in Alabama, Arkansas, Georgia, Tennessee, Texas, Oklahoma, and Virginia, which have become known as the "SEC primary" states.
—John Kasich has placed his emphasis squarely on New Hampshire, where he spent 17 of his 38 days on the trail this summer. But the Ohio governor has his eye on the Midwest as well. Michigan was tied with South Carolina for the state Kasich spent the second most time in (five days). "We're kissing cousins, we're neighbors," Kasich said during a July stop in Michigan.
—Hillary Clinton and Bush covered the most ground this summer. Clinton visited a total 28 states, while Bush made his way to 24 states. (Their totals may be inflated compared to other candidates, however, since their schedules have received more press coverage.)
—All told, only six states did not receive a visit from a presidential contender this summer: Hawaii, Kansas, Montana, Nebraska, North Dakota, and West Virginia. Sunny Hawaii remains the only state that hasn't played host to a candidate since November 2014.
---
Libby Isenstein (Graphics) contributed to this article