2016 Presidential Candidates Detour From Early States to Help With 2015 Elections
Jeb Bush, Hillary Clinton, and others are swooping in to help state parties with critical local elections in 2015—and maybe help themselves a bit, too.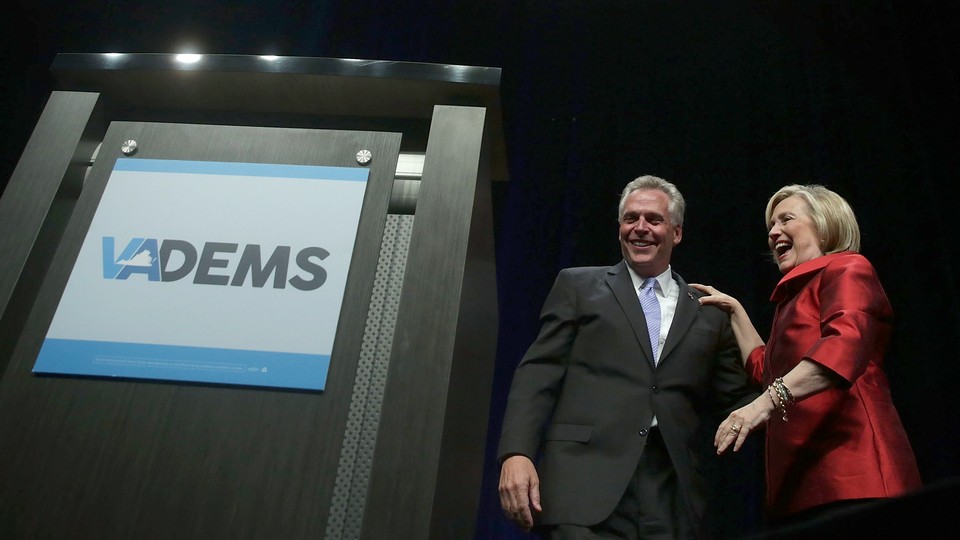 Jeb Bush will continue his mega-millions, cross-country fundraising tour Thursday in Kentucky and Virginia. But this time, neither event is for his own presidential campaign.
The former Florida governor is taking a brief hiatus from filling his own coffers to help raise money for Republicans running in the often overlooked 2015 elections, coming up in six weeks. By helping out with these important local contests this fall, Bush and other candidates are garnering goodwill among party leaders and donors in states that could play big roles in next year's primaries—and, even further down the road, the 2016 general election.
Bush will head to a private residence on Thursday in Louisville for a fundraiser benefiting the Kentucky Republican Party, which has one overarching objective in 2015: reclaiming the governor's mansion. Republican Matt Bevin, who unsuccessfully challenged Mitch McConnell in Kentucky's 2014 Senate primary, is facing off against Democratic Attorney General Jack Conway in a toss-up race, the most competitive of three gubernatorial campaigns around the country this year. (Bevin, however, will not attend Thursday's fundraiser due to a scheduling conflict, according to campaign spokeswoman Jessica Ditto.)
Kentucky GOP Chairman Steve Robertson said Bush is the first presidential candidate to come raise money for his party this year—aside from home-state Sen. Rand Paul. But Robertson added that he's been in touch with several other campaigns, and he hopes they will follow Bush's lead heading into November.
"It's a competitive environment out there," Robertson said. "I would imagine when folks see Governor Bush doing something selfless like this that helps the Kentucky party in its time of need, I'm sure there will be others—I hope there will be others—that will perhaps have the desire to do the same thing."
Currently, none of the Democratic contenders for the White House have any events on the books to boost their party in Kentucky this fall. But Hillary Clinton did her part this past summer to help out Virginia Democrats, whose top 2015 priority is to gain control of the state Senate, where Republicans hold a slim two-seat advantage. Democratic Gov. Terry McAuliffe is one of Clinton's oldest political allies, and Clinton—who has made a point of building up state parties in places like Iowa and New Hampshire during her campaign—delivered the keynote address at Virginia Democrats' annual Jefferson-Jackson dinner in June.
The dinner brought in more than $1 million for the state Democratic party.
"Hillary Clinton is committed to fighting for every vote in every state, and our campaign is working to ensure that state parties have the resources they need to help elect Democrats up and down the ballot in 2015 and beyond," said Marlon Marshall, Clinton's director of state campaigns.
Now, it's Bush's turn to lend a helping hand in Virginia, where he recently named former Rep. Eric Cantor as his state campaign cochair. Bush will headline a midday fundraiser for the state GOP's Senate caucus—an event organizers are billing as "Java with Jeb!"—in Bristol Thursday. Four state senators and one other candidate on the ballot this fall plan to attend.
"Governor Bush knows firsthand how you can transform a state when you implement conservative governance, and he is glad to help candidates up and down the ticket in order to bring victories in states all around the country in 2015," Bush spokeswoman Allie Brandenburger said.
Other candidates attended events for local parties in Virginia earlier this past summer. Carly Fiorina, for instance, was the main attraction at a Fairfax County GOP event in June. Virginia Republican Party Chairman John Whitbeck said that he is also working with several other candidates to attend events for the party by the end of the year.
Virginia and Kentucky will be among the first states to hold their elections after the four traditional early-voting states of Iowa, New Hampshire, South Carolina, and Nevada. Both parties will vote in Virginia on March 1, while Kentucky Republicans have their caucus scheduled for March 5 (Democrats' primary will be in May). On the GOP side, the parties will award their delegates proportionally in those contests, meaning candidates have the ability to make progress toward winning the nomination even if they don't finish first in those states.
In Louisiana, another state with major elections coming up in a few weeks, the dynamic is slightly different. Since elections are open in the state, there are several Republicans still in the race for governor ahead of the November election. And with sitting GOP Gov. Bobby Jindal running for president himself, few Republican White House hopefuls have gotten involved. Bush and New Jersey Gov. Chris Christie both campaigned for gubernatorial candidate David Vitter this past spring before they officially entered the presidential race.
"Bobby's carried the financial burden for the state party for pretty much his entire governorship, so I'm not aggressively recruiting presidential candidates to come in, at least until the spring of next year when the field's been sorted out," one Louisiana GOP official said. "That being said, when they offer, we do work with them."
The Louisiana Republican Party is working on setting up an event with Ben Carson next month and hopes other presidential candidates will record robocalls and make endorsements in key legislative races.
As for the Democrats, Bernie Sanders spoke at the Louisiana state party's Jefferson-Jackson dinner in July. Clinton traveled to Baton Rouge on Monday for her own campaign event.