100 Women Marched 100 Miles to Bring The Pope a Message
These mothers, grandmothers and daughters want to counter the rise of recent political talk that has disparaged immigrants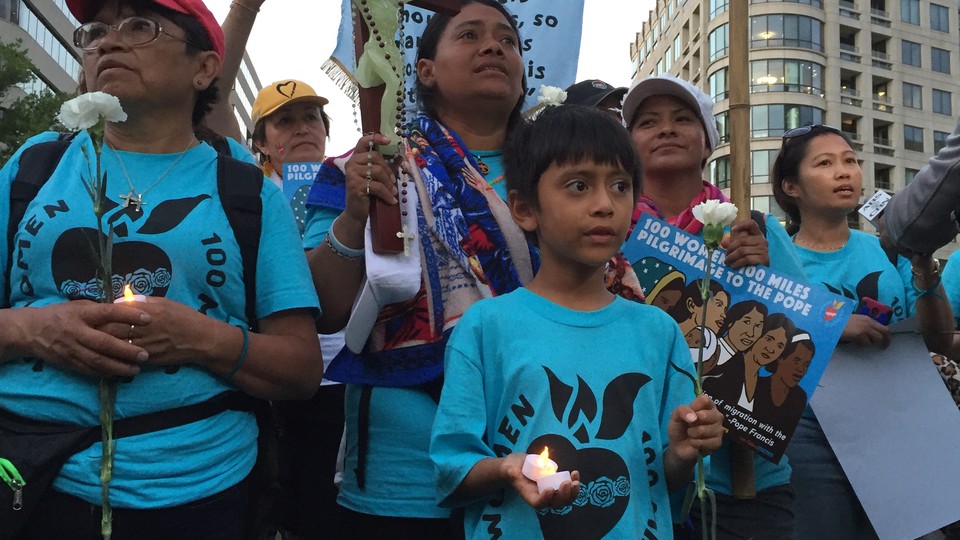 A long line of more than 100 women rested in Washington, D.C. near a statue of Civil War general. The women were mostly Latino, and had walked 99 miles to bring Pope Francis a message. The "pilgrimage" as many called it, was a week-long walk called "One Hundred Miles, One Hundred Women," a demonstration that participants hoped would raise awareness of immigrants' rights and the increased deportation and separation of families. To tie into Pope Francis' visit to the U.S, the women had started their walk a week before in York, Pennsylvania, at an immigrant detention center.
Now after walking days and often sleeping on church floors at night, many of their feet had blistered. But so close to their trip's end, they cheered. "Are you tired?" one woman yelled in Spanish. "What is that!" the group responded. In two more blocks they'd reach their destination at a small public square. There they'd stand in a circle holding candles. They'd sing. And the Archbishop of Lima, Juan Luis Cipriani, would say, "The Earth belongs to God and he created no borders. We are all citizens of the world. Borders were created by men."
Below are photos of a few of the people who finished the walk (not all walked 100 miles, some joined later).