10 Ways Super PACs and Campaigns Coordinate, Even Though They're Not Allowed To
Campaigns and super PACs have become adept at working around rules barring them from directly working together.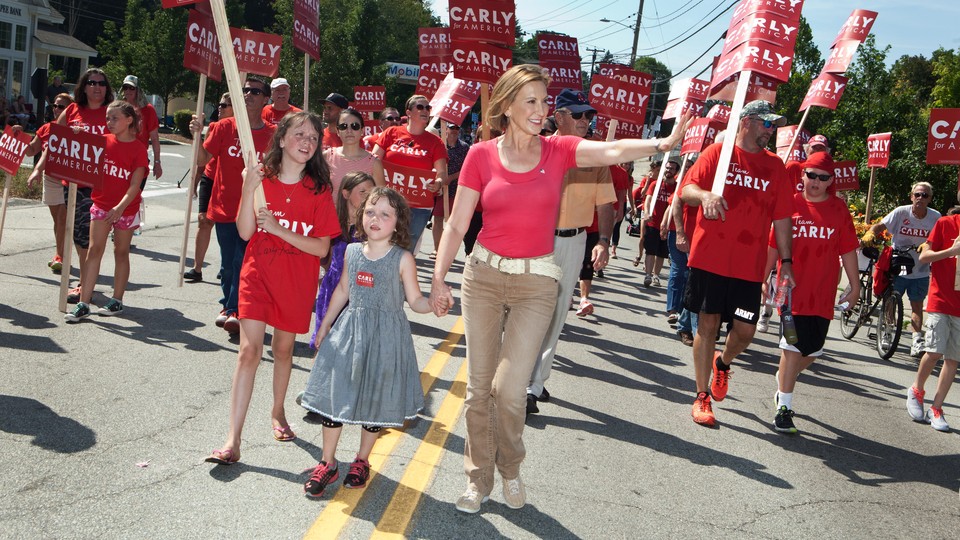 If Bobby Jindal makes it through to next February's Iowa GOP caucuses, he will have attended 53 town hall meeting with voters in the first state to vote in the nomination process. But his presidential campaign isn't organizing any of those events. That's being left to a super PAC supporting the Louisiana governor's candidacy, Believe Again.
It's just one of the latest examples of how campaigns and outside groups are pushing the limits that prohibit them from coordinating farther than ever. Super PACs are freed from the individual donor limits that campaigns, but they're also supposed to exist as independent organizations that—though they may raise and spend as much money as they want on politics—are not allowed to work directly with the campaigns they are supporting. But in 2016, campaigns are increasingly offloading tasks to their better-funded allies with little fear of repercussion from a deadlocked Federal Election Commission.
Below are nine other ways how super PACs and campaign are working around, or simply ignoring, coordination rules:
-- "Carly for President" v. "CARLY for America"
No one is stretching the limits of just what a super PAC can do to help a candidate more than Fiorina's team in 2016. "CARLY for America", the super PAC, has taken over many of the duties that normally would have been left to "Carly for President," the campaign itself -- from organizing events in Iowa and New Hampshire to announcing endorsements to to hosting conference calls with the candidate to fielding questions from the media. All this, along with the nearly identical names of the groups, makes makes it difficult to distinguish between the two. And they don't appear too worried about making a distinction. Fiorina tweeted out a popular video that was produced by her super PAC from her campaign's account earlier this month.
-- Pre-Campaign Ads
Just about every TV ad that New Day for America has aired so far has featured Kasich speaking directly into the camera. How was the super PAC able to pull this off without contacting Kasich or his campaign? The Ohio governor filmed those parts of the ad before he officially became a presidential candidate, meaning there was no campaign to coordinate with yet. Jeb Bush's super PAC, Right Rise, used the same tactic.This only works for non-members of Congress, though, since FEC regulations only apply to those seeking federal office.
-- B-Roll Footage
But there are still ways for sitting senators and representatives to provide footage to super PAC supporting them, like simply posting it online. Mitch McConnell's Senate campaign, for instance, uploaded a two-minute video to its YouTube page in March 2014 called "McConnell Working for Kentuckians" that featured several shots of McConnell smiling into the camera, working at his desk, shaking hands with voters and speaking at rallies accompanied by nothing other than some background music. Some of that b-roll footage was later used in an ad from the Kentucky Opportunity Coalition, a nonprofit group supporting McConnell's reelection. Several other Senate candidates followed suit.
-- A Specific Type of Coordination
In 2016, one super PAC isn't shy about the fact that it's coordinating directly with a campaign: Correct the Record. After splitting off from another Democratic outside group, American Bridge, Correct the Record announced that it would work in tandem with Hillary Clinton's campaign while remaining a super PAC. The group believes they can do this because of a section of the federal code that exempts free online content from campaign finance regulations. So instead of running TV ads like most other super PACs, Correct the Record is sticking to defending Clinton on its website and through social media with content that is free to all -- including the campaign.
-- Direct Contributions  
Some candidates have gone as far as to hand over a cut of their own campaign cash to a super PAC. Earlier this year, Sen. Pat Toomey's leadership PAC gave $50,000 to Prosperity for Pennsylvania, a super PAC aiding his reelection bid in Pennsylvania. And in Louisiana, David Vitter sent $100,000 in leftover funds from his Senate campaign account to a super PAC backing his 2015 run for governor.
-- Fundraiser Appearances
Candidates are actually allowed to attend fundraisers for super PACs supporting them, just as long as they don't solicit unlimited contributions. They can ask donors to give the amount equal to the legal maximum to campaign committees -- $5,400 during the 2016 cycle -- but nothing more. During the 2012 election, Mitt Romney and Barack Obama both stopped by fundraisers for their main super PACs -- Restore our Future and Priorities USA Action, respectively -- but left the room before any checks were cut. Ted Cruz attended a fundraiser for a group of super PACs supporting his 2016 bid back in June. And Clinton's campaign chairman, John Podesta, spoke this month at a donor event hosted by Priorities USA, which is now backing the former secretary of state.
-- Secret Twitter Accounts
During the last election cycle, some Republicans set up Twitter accounts to share polling data with one another. The accounts were publicly available, but only those who were aware of their existence could find them and put them to use. An example of one of the tweets that would seem meaningless to the untrained eye, as CNN reported at the time: "CA-40/43-44/49-44/44-50/36-44/49-10/16/14-52-->49/476-10s." Outside groups that took advantage of this included the Karl Rove-founded super PAC American Crossroads, the nonprofit American Action Network at the National Republican Congressional Committee.
-- Public Memos
Campaigns took other steps to make information easily available to friendly super PACs during the last midterm elections. In the heat of of the North Carolina Senate race, for instance, Republican Thom Tillis's campaign publicly distributed a detailed 1,000 word memo containing specific information about its ad spending. Usually, a campaign would not want a memo outlining its strategy out in the open. But an outside group could easily use that information to figure out exactly when and where they can help out.
-- Thank You Notes
After a successful 2012 election cycle, House Majority PAC decided to take a victory lap. The super PAC released a four-minute long video in the January of the following year featuring each of the seven new Democratic members of Congress they helped elected. Each of them took their turn lavishing praise on the super PAC. "If it weren't for House Majority PAC, I wouldn't be here today," Rep. Krysten Sinema of Arizona said in the video, which included a disclaimer at the bottom that read: "Congresswoman Sinema is not asking for funds or donations."
CORRECTION: An earlier version of this story stated that no official presidential candidate had attended a super PAC fundraiser this cycle. Cruz attended one this past summer.