Without Romney Running, Rubio and Bush Make Early Inroads with Nevada Mormons
The LDS community plays a huge role in Nevada's Republican caucuses, and that vote is undecided heading into 2016 without a Mormon candidate running. Two contenders have the early advantage.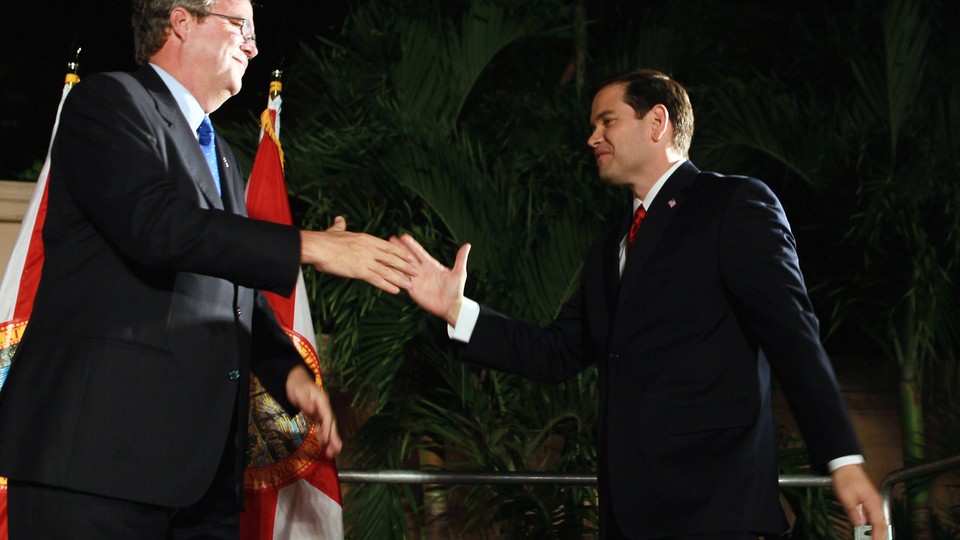 For the first time since Nevada gained coveted early state status in Republican presidential politics, the state's sizable Mormon vote is up for grabs — and with it, the Nevada GOP caucuses.
Mitt Romney dominated the Nevada caucuses in both 2008 and 2012, taking more than half the Republican vote each time thanks in large part to Mormon caucusgoers who supported him at near-monolithic 90 percent rates. And while Mormons only account for roughly 4 percent of Nevada's overall population, they have comprised one-quarter of GOP caucusgoers in the past two presidential years, according to exit polls.
This year — without Romney, or any other member of the Church of Latter Day Saints, seeking the Republican presidential nomination — this large, key slice of the Nevada electorate is available to a broader field of candidates. Most campaigns are just starting to organize in the first-in-the-West state, but Marco Rubio and Jeb Bush are already making inroads with influential Mormon figures and former Romney allies.
Next winter, that early work could swing one of the first four states to choose the nominee.
"Everybody's trying. It's one of those things where every presidential campaign has made a run at trying to bring on someone that would be able to help them out with the LDS community," said Cory Christensen, a Mormon who served as the finance director for both of Romney's campaigns in Nevada. "Certainly the two that are doing the best at this point would be Rubio and Bush. Right now, I'd say they kind of have the jump on everybody else."
Lt. Gov. Mark Hutchinson, who once held a leadership position in the Mormon church, spearheads Rubio's Nevada team as his state campaign chairman. Hutchinson and a handful of other local Mormon activists who have signed on with Rubio in recent weeks have helped build what Nevada political analyst Jon Ralston recently called a "potent state organization." Mike Slanker, a top strategist for Sen. Dean Heller and Gov. Brian Sandoval, who is leading Rubio's Nevada campaign, is also well-regarded in the state.
Rubio's personal ties to Nevada and the Mormon Church are well known within the community, too. The Florida senator spent part of his childhood in Las Vegas, where he was briefly a member of the LDS church before converting to Catholicism. Rubio's cousin, Mo Denis, is a Democratic member of the Nevada State Senate.
Todd Moody, a Las Vegas attorney who caucused for Romney and hasn't yet settled on a 2016 candidate, said that he and many other Mormons are drawn to Rubio because of his focus on family and conservative positions on social issues like abortion. (Earlier this month, Rubio drew attention during the first GOP presidential debate by restating his opposition to abortion even in cases of rape and incest.) Moody said that Rubio is "consistently in the top two candidates in the people that I speak with."
"Of all the candidates, he is the one who seems to talk family more often," said Moody, who is leaning toward supporting Rubio. "He's the one that I think we relate to well. At least I do."
Yet Bush is also courting LDS leaders. Just last week, the former Florida governor's campaign announced endorsements from two Mormon senators: Heller of Nevada and Sen. Orrin Hatch of Utah right next-door. Bush's top Nevada operative, Ryan Erwin, was a senior adviser to both of Romney's campaigns in the state.
"In terms of education, family values, less government, strong national defense — all the things that you hear Bush talk about particularly and Rubio to a large extent — I think those are areas that strike a good chord within the LDS community," said Sig Rogich, a veteran GOP consultant who is chairing Bush's finance committee in Nevada.
Bush's and Rubio's early successes organizing the Mormon community comes partly because they are putting in more effort than their presidential rivals. Christensen said while several other candidates have the potential to appeal to Mormon voters, Bush and Rubio are the only ones "who are actually doing what it takes to get them on the ground."
Most presidential candidates are focused on the states that come ahead of Nevada on the nominating calendar. Republican White House hopefuls have only spent a combined 31 days campaigning in Nevada so far this year, according to data compiled in National Journal's Travel Tracker. That works out to roughly one-tenth of the time they have spent in Iowa and in New Hampshire.
Bush, Rubio, and Ben Carson have spent the most days campaigning in Nevada in 2015.
But without Romney locking down the state early, more campaigns are turning their eyes to the state. "In 2008 and 2012, most campaigns did not feel like they had the ability to compete with Mitt Romney, his campaign, and his organization in Nevada," said Robert Uithoven, the Nevada state director for Ted Cruz's campaign, which is planning to announce a larger state-leadership team soon. "And now, I think with the contest being wide open and Romney not being on the ballot, there are a lot more candidates who feel they can compete here."
Uithoven said that Cruz's socially conservative views and emphasis on protecting religious liberty will help him appeal to all voters of faith. Meanwhile, Rand Paul's campaign is also planning to ramp up its efforts in the state. The Kentucky senator hopes to tap into the libertarian infrastructure his father built over two presidential bids, but his team thinks his focus on constitutional rights has some Mormon appeal, too. Rep. Raul Labrador, an Idaho Mormon who co-chairs the Paul campaign's operation in the Western states, is already helping with outreach to LDS voters.
"We feel that Rand has a strong connection their ideals and values, so it's just a matter of getting the message out into the community, getting them engaged in the process," said Carl Bunce, a senior adviser to Paul's campaign.
Wisconsin Gov. Scott Walker began to form his team in Nevada last week, naming former Gov. Bob List as his state chairman. And Walker also appeared with Cruz, Carson, and Carly Fiorina at an event in rural Nevada over the weekend hosted by the state's attorney general, Adam Laxalt.
One question looming over everyone's Nevada caucus preparations is whether the Mormon community will be as outsized a factor in 2016 as it was when Romney was running. Several Republican strategists predicted the Mormon share of caucusgoers would shrink to 15 or 20 percent next year — not because of a turnout drop but because the prospect of a contested GOP caucus would boost turnout among other less-reliable groups of voters.
Despite that possibility, LDS members will still be a critical group. "It will be different," said Bunce, the Paul adviser. "There will be a diminished turnout among the LDS population but not much."
Now, even as other candidates start turning more attention to Nevada, Bush and Rubio hope their endorsements, campaign infrastructure, and visits will start to translate into concrete support among Mormon voters, building up a base ahead of the caucus night in six months' time. LDS member West Allen, a Las Vegas attorney who was a staunch Romney supporter, echoed many in saying that Bush and Rubio are soaking up much of the early attention — and that he hasn't yet decided who to back.
"They tend to be the ones people talk about, mostly because they're viewed as those who are thoughtful and who are trying to be wise and honest," Allen said of Bush and Rubio.
Yet with such a large Republican field, and no Mormon on the ballot, LDS voters aren't likely to coalesce around a single candidate again anytime soon.
"I don't think any of them are Romneys, as far as ability and sheer preparedness," Allen said. "But they are their own individuals, and we'll pick the best of them."