With Their Eyes on Recess, Key Democrats Are Taking a Public Stance on the Iran Deal
The White House got some major momentum in its favor Tuesday. At least until one prominent House Democrat came out against the Obama administration.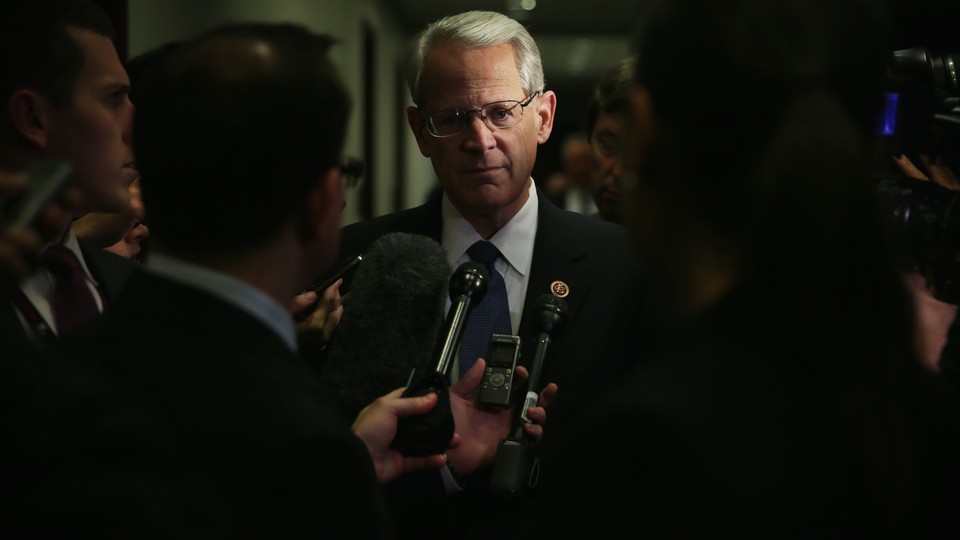 It was always going to be hard for Capitol Hill to scuttle a historic nuclear agreement between the U.S. and Iran.
But as the White House and pro-Israel lobbying groups such as the American Israel Public Affairs Committee face off ahead of the vote in September, there is increasing pressure for members to take a stand ahead of the month-long August recess. Interests on both sides of the debate want to ensure they have advocates fighting for them on the ground back home.
Tuesday afternoon, a handful of key Democratic senators from Florida's Bill Nelson to California's Barbara Boxer announced that they would back the Iran nuclear deal.
"I was leaning toward it. Today, after I spoke to all the ambassadors, that was my pivot point," Boxer said. "They all basically agreed Iran would continue its nuclear program, that they would be free of most of the sanctions, and it would be a very dangerous world."
It appeared the White House was quickly gaining momentum.
"I see it building right now, which is a positive thing for being able to defend the agreement and for the White House's position," Sen. Martin Heinrich, a Democrat from New Mexico, told National Journal. Heinrich announced his support for the Iran accord in an op-ed last week in the Albuquerque Journal.
With mere hours left before the August holiday, key Democratic Sen. Tim Kaine, who serves on the foreign relations and armed services committees, added his name to the list of supporters. From the Senate floor, Kaine heralded the deal as "a dramatic improvement over the status quo."
"At the end of the day, this agreement is not about making an ally out of an adversary. It is about denying an adversary a path to obtaining nuclear weapons," Kaine said. "This deal takes a nuclear-weapons program that was on the verge of success and disables it for many years through peaceful diplomatic means with sufficient tools for the international community to verify whether Iran is meeting its commitments."
Then Rep. Steve Israel, the House's highest-ranking Jewish Democrat, shook things up and told Newsday he not only wouldn't be voting against the Iran deal, he would be working to lobby against it. Fellow New York Democratic Rep. Nia Lowey also announced Tuesday afternoon that she was opposed to the deal.
In order to block the nuclear deal, Democratic opponents and Republicans still have a lot of work ahead of them. They need to amass a congressional supermajority to override the president's expected veto. The White House just has to keep all, but about a dozen Senate Democrats.
Outside the Senate, the White House seemed to be on a promising track earlier this week when it earned key support from Rep. Adam Schiff, the ranking member of the House's intelligence committee over the weekend. Schiff told The Atlantic's Jeffrey Goldberg that he could "not find an alternative that would turn out in a better way than the deal."
Many, like Schiff, have said voting against the deal would do little to hamper Iran's nuclear ambitions. Supporters argue that voting against the Iran deal would only empower "hard-liners" in Iran who were opposed to the country negotiating with the U.S. in the first place, and hurt U.S. credibility overseas. Those are the same rallying cries that Secretary of State John Kerry and other administration officials have used to try to convince Democrats to get on board.
Rep. Israel's statement Tuesday, however, is a blunt reminder that the White House is not out of the woods, even as it repeatedly dispatches top administration officials to Capitol Hill. AIPAC has launched a massive lobbying effort, inundating members with emails, meetings, and calls. The group has established a special 501 (c) (4) specifically to stop the Iran deal. Citizens for a Nuclear Free Iran is stacked with former policymakers, including Sens. Joe Lieberman, Mary Landrieu, and Mark Begich. According to the Sunlight Foundation, the group planned to launch ads in 18 states to convince voters that the Iran nuclear deal still leaves some things to be desired.
And there are plenty of Democrats who remain conflicted. Sen. Chuck Schumer, who will in all likelihood rise to become the Senate's Democratic leader when Harry Reid retires, is coming up against one of the most contentious votes of his Senate tenure. Even the foreign relations committee's ranking member, Ben Cardin of Maryland, has not issued a statement of unflinching support.
Senators who are still on the fence say the White House is not pressuring them at this point to rush a decision. And they are very comfortable taking their sweet time ahead of the vote in September.
"I am continuing to think and listen and read and consider all of these very complex and challenging issues because this decision is so consequential. If it were an easy decision, I might well have made it by now," says Sen. Richard Blumenthal, a Democrat from Connecticut.