Winners: Trump, Kasich, Rubio. Losers: Bush, Carson, Cruz.
Donald Trump's campaign might eventually unravel, but it didn't happen Thursday night.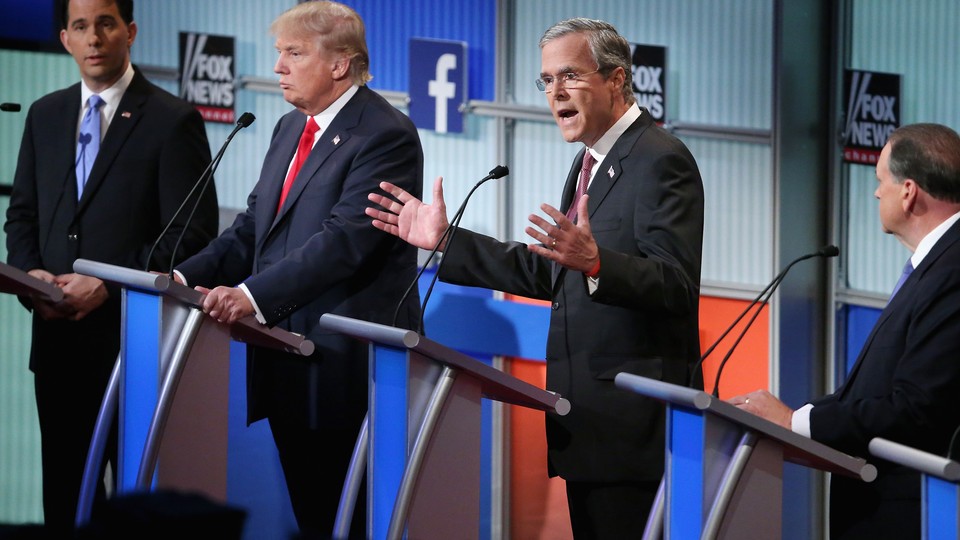 The winners and losers from Thursday night's prime-time GOP debate:
Winners
Donald Trump
Trump's campaign might eventually unravel, but it didn't happen Thursday night. The front-runner in the polls thrived off a series of tough questions about his past — in most cases, quickly pivoting to a condemnation of political correctness and politics as usual. Trump is clearly a TV veteran: His timing was impeccable when he quipped to debate moderator Megyn Kelly that the only woman he ever trash-talked was Rosie O'Donnell. It wasn't true, but in TrumpWorld, it didn't really matter.
The recitation of many of Trump's past liberal positions — his support for abortion rights and single-payer health care, for instance — might alienate some supporters unfamiliar with the finer points of his record. But time and again he demonstrated why so many conservatives are in love with his blunt message. "I've been challenged by so many people, and I don't frankly have time for total political correctness," he said at one point. "And to be honest with you, this country doesn't have time either."
(RELATED: Republican Debate Turns Spectacle and Leaves Trump on Top)
John Kasich
The Ohio governor snuck onto the main debate stage thanks to a late surge in the polls — and immediately proved he might belong in the field's top tier. It wasn't just his strong command of the facts, though he demonstrated that with a detailed defense of his decision as governor to expand Medicaid. Kasich also showed a charisma that made him — and not Jeb Bush — look like the most electable Republican in a general election. Whether he was touting his record as a swing-state governor or finessing a question about how he could justify his opposition to gay marriage to a gay son or daughter, he talked like a formidable potential nominee.
"You know, America is a miracle country," Kasich said, responding to the question of how he would defeat Hillary Clinton. "And we have to restore the sense that the 'Amiracle' will apply to you. Each and every one of the people in this country who's watching tonight, lift everybody, unite everybody, and build a stronger United States of America again. It will be and can be done."
Marco Rubio
Of the three candidates most likely to win the nomination — Marco Rubio, Jeb Bush, and Scott Walker — the senator from Florida had the best night. He seemed to grow in confidence as the debate wore on, culminating in a rousing speech explaining his opposition to abortion rights.
More than anything else, however, he underscored again and again why he would be a strong opponent against Clinton. "If I'm our nominee, how is Hillary Clinton going to lecture me about living paycheck to paycheck?" Rubio asked. "I was raised paycheck to paycheck. How is she going to lecture me about student loans? I owed over $100,000 just four years ago."
(RELATED: John Kasich Is Stealing Jeb Bush's Thunder)
Losers
Jeb Bush
Bush didn't stumble badly. But the former Florida governor didn't come off as the man most likely to be president, either; he was awkward at times, uninspiring at others. He did little to dispel the notion that his public presence can be underwhelming. He brought back painful memories of his campaign's worst moment, when Kelly revisited his suggestion earlier this year that he would have ordered the invasion of Iraq knowing what he knows now.
"I remember, Megyn," he said, trying to laugh it off.
Bush's experience and gargantuan bank account guarantee that most will still see him as the GOP front-runner after this — but it wasn't his best night.
Ben Carson
Carson scored points at the night's conclusion, joking about all the things that he, as a surgeon, has done that his rivals hadn't. But of the 10 candidates on stage, he's the one who came off as if he belonged in Thursday's earlier "Happy Hour" debate. Carson himself seemed to sense he was the night's forgotten man, joking that the moderators had gone a long time between asking him questions.
"Well, thank you, Megyn," he said when it was finally his turn again. "I wasn't sure I was going to get to talk again."
(RELATED: Trump Voters: Is This Really What You Want?)
Ted Cruz
Cruz submitted a solid — if unmemorable — performance. But he gets graded on a curve — and not well: This should be the former college debater's best format, and a handful of his rivals had a better night. Worse yet for the senator from Texas was Trump's performance, which suggested that the billionaire — and his hold over the conservative voters Cruz covets — won't fade from the race anytime soon.