Winners and Losers In President Obama's Global Warming Rule
The centerpiece of the president's climate agenda is sure to create political fallout.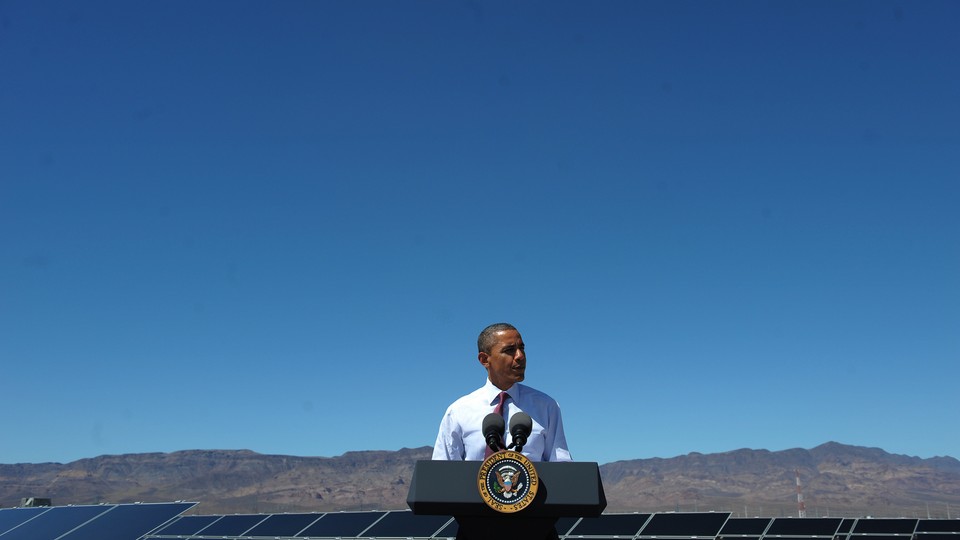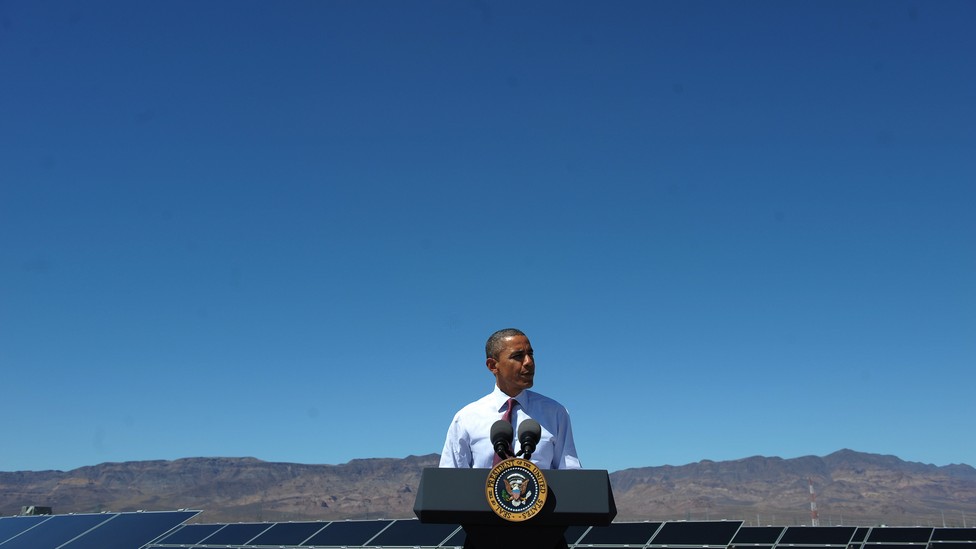 The first limits on carbon pollution from the nation's fleet of power plants — the centerpiece of President Obama's climate-and-environmental agenda — has the potential to transform the American energy landscape, favoring renewables such as solar and striking another blow against coal.
It will also keep politicians and lawyers busy, as Republicans and industry team up to stop the rules, while the administration and green groups work overtime to make sure that Obama's legacy play doesn't get derailed.
Here are the winners and losers of Obama's clean-energy plan:
WINNERS
President Obama
Finalizing the rule stands as a signature achievement for the president's environmental agenda. It stands as the backbone of the administration's pledge to rein in climate pollution in the U.S. by 26 to 28 percent below 2005 levels by 2025, a pledge that the White House will tout at United Nations climate talks in Paris this year as it works to compel other nations to strike a strong global deal to stave off the worst impacts of global warming.
"We are confident other nations will follow and the world will reach a climate agreement in Paris later this year," EPA Administrator Gina McCarthy told reporters on Sunday.
Renewable energy
Energy that produces zero-carbon emissions such as solar power and wind energy is expected to get a major boost from the rule. One of the most obvious and easiest ways to cut emissions will be for states to bring more renewable power onto the grid and incentives added to the final rule should ramp up the use of zero-carbon energy faster than anticipated. By 2030, the share of clean energy in the U.S. is slated to stand at 28 percent as a result, an increase over the draft rule.
There will also be an extended timeline for states to comply with the regulation, which pushes the deadline back two years to 2022. That's likely to benefit clean energy by giving states more time to add it to the grid while the renewable industry has more time to drive down the cost of zero-carbon energy sources. States will also be given credit under a new Clean Energy Incentive Program for bringing renewables online before the 2022 deadline.
Nuclear power
Nuclear power has always been a tricky issue in the climate debate, given that nuclear plants do not emit carbon dioxide but face fierce opposition from many green groups who fear that they create many other environmental problems — including the never-ending question of what to do with nuclear waste.
Advocates of nuclear power were frustrated with the proposed rule, which they said did not put the energy source on the same playing field as other zero-emission sources such as wind and solar energy. States under the proposal could take just 6 percent of their existing nuclear power and credit it towards emission reduction goals (based on a calculation that roughly 6 percent of the country's nuclear capacity is at risk of shutting down). And nuclear plants under construction would not have been counted as part of compliance, instead counting towards a state's existing power mix.
The administration appears to have registered the complaints since the final rule will offer up incentives for nuclear power that did not exist in the draft proposal. Under the final rule, plants under construction — such as those in Georgia and Tennessee — would now go toward compliance, counting as new zero-carbon generation, and plants getting efficiency upgraded would also generate compliance credits.
Cap-and-trade
Northeastern states already have the nine-state Regional Greenhouse Gas Initiative, which is expected to be used as part of their compliance scheme, but states in the West and Midwest also kicked around the idea of linking up and allowing power generators to trade emissions, or at least creating concurrent standards that would allow them to do so. It was seen as a possibility under the proposal, but the final rule makes it explicit that states can embrace cap-and trade-and an interstate trading system. States who begin cutting pollution ahead of the 2022 deadline will get pollution credits that McCarthy said could be used as part of a trading system. Cap-and-trade is also a part of a federal model plan that states could adopt immediately, signalling how seriously the administration is treating the potential of interstate trading.
One economic option not given much weight in the final rule, however, is a carbon tax. McCarthy said that the EPA preferred to keep the suite of options to the "standard ways "¦ the utility world does business."
Lawyers
The regulation is expected to face an onslaught of litigation and has already been subject to an unprecedented legal challenge before it was even finalized, a lawsuit that was thrown out by a panel of judges in June. Lawyers for the oil-and-gas industry and the environmental movement have been gearing up to attack and defend the regulation, and a legal battle over the rule is likely to drag on for years. But McCarthy was quick to say that the rule is legally sound, cautioning that Americans will hear "the same tired plays from the special-interest playbook," and adding simply that "they are wrong."
LOSERS
Purple state senators facing tough 2016 elections
Vulnerable senators on both sides of the aisle staring down tough elections will face pressure to take a stand on the regulation. New Hampshire's Kelly Ayotte has expressed concern about climate change, and environmentalists will be quick to pressure her for a position on the rule. Ayotte did not join 41 Senate Republicans in sending a letter to the president asking for the administration to take the rule off the table. If Ayotte decides to support the rule, she could win environmental support during her 2016 reelection race but would expose herself from attack on the Right. Illinois's Mark Kirk, meanwhile, has faced constant criticism from the Left over his lack of support for the regulation in what is expected to be a tight 2016 race.
Democrats won't be immune either. Michael Bennet faces a tough race in Colorado and will likely face questions from his state's fossil-fuel industry over the expected impact.
Natural gas
Natural gas was expected to win a major boost under the draft rule, but that treatment appears to have changed in the final version. States can still cut climate pollution by switching from coal generation to natural gas, a move that environmentalists are wary of, given that America's fracking boom has driven down the cost of natural gas. But while the proposed rule predicted a quick ramp up in the use of natural gas, the final rule projects that natural-gas power generation will be virtually identical to a business-as-usual scenario. That's in large part because of additional incentives for zero-emission sources such as wind, solar, and nuclear.
McCarthy noted that the final rule may result in "less immediate investment in new natural gas, but it certainly hasn't done anything to eliminate or reduce the importance of natural gas in the energy system."
The coal industry
Coal has struggled to compete with natural gas for years. But the release of Obama's climate rule is expected to accelerate that decline, and is likely to trigger even more coal-plant shutdowns — as well as complaints from congressional and 2016 Republicans about an Obama "war on coal."
Indeed, the rule could deal a major blow to the industry. An analysis from the Energy Information Administration, the federal government's stat shop, predicted that coal-power production would decrease by 32 percent by 2030 as a result of the draft rule. One saving grace for coal could be overseas. In 2012, U.S. coal exports hit a new high with 126 million short tons sent abroad, according to EIA data. According to White House officials, under the final rule, coal is projected to be 27 percent of the energy mix in 2030, down from the initial projection of 30 percent.
Carbon capture and storage
A technology once touted by the administration as the key to the coal industry's survival will still be part of the president's plan to curb emissions from future power plants, but won't be relied upon as heavily as anticipated. Regulations for new coal plants will mandate the use of carbon capture and storage technology, contrary to reports that the requirement would be eliminated. But plant operators will be able to run the technology at a lower rate of carbon capture than proposed in a draft regulation. Carbon capture and storage has already suffered a wide array of setbacks as efforts to showcase the technology in the U.S. have hit massive cost overruns. And it remains to be seen how widely the technology will ultimately be deployed.