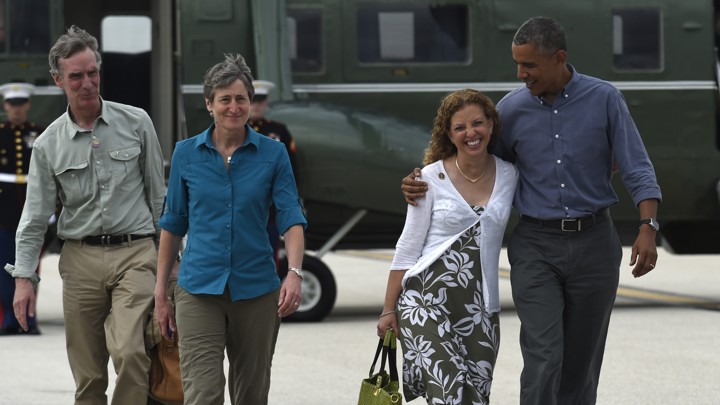 With each passing day, the drama is seeping out of the looming vote in Congress on the Iran nuclear deal. Except for a few notable defections, Democrats are lining up behind President Obama, and the likelihood that opponents will be able to muster a veto-proof majority to block the accord is dwindling.
There remain, however, a handful of key lawmakers on the fence, and one of them happens to be the president's handpicked chairwoman of the Democratic National Committee, Representative Debbie Wasserman Schultz. More than any other leader in Congress, Wasserman Schultz has for the last four years been obligated, by dint of her position as the titular head of the party, to vote with the Obama administration on the House floor. Yet she has also represented a significant Jewish constituency in south Florida for more than a decade, and she's come under the same intense pressure as other Democrats on Capitol Hill.
Wasserman Schultz has given virtually no indication of which way she's leaning, but on Thursday she announced that she was bringing Vice President Joe Biden down to Florida to make the administration's case for the deal to Jewish leaders in the region. "I think that she's torn," said Greg Rosenbaum, chairman of the National Jewish Democratic Council, which has come out strongly in favor of the Iran accord.
While Republicans have opposed the agreement en masse, the at-times vitriolic debate has split Jewish Democrats apart in an unprecedented way.  "I've never seen an issue this divided within the Jewish community in the United States and between the United States and Israel," Rosenbaum said. The opposition from Charles Schumer, the Senate's Democratic leader-in-waiting, caused a rift with the White House, while Representative Jerrold Nadler, a veteran Democrat in the House, has been so vilified by more conservative Jews in New York for supporting the deal that both the NJDC and the Anti-Defamation League have written open letters in his defense.
Rosenbaum told me he's worried the bitter fight will cause "irreparable damage" in a Jewish community that has been caught between the equally aggressive pushes by the Obama administration for the deal and the Netanyahu government in Israel against it. "I look at it and say, the day after this deal goes into effect, I gotta figure out how I put humpty-dumpty together again," he said. Obama has drawn criticism for linking GOP critics of the deal with Iranian hard-liners, but Rosenbaum said the more offensive comments have come from opponents who have drawn analogies to the Holocaust. "I've been told that they hope I'm the first person they come for," Rosenbaum told me, citing emails he's received. "And 'Get in the boxcar' and calling me a 'capo' and a Nazi sympathizer. Those are direct statements from people in the Jewish community."
All of that provides the backdrop for the decision that Wasserman Schultz now faces. In truth, she is far more senior in title than she is in influence these days. A pair of damaging articles in the last two years reported that she had lost the confidence of the Obama White House, and she has long since been supplanted by other ambitious Democrats looking to rise up the ranks of the House leadership. In recent months, Wasserman Schultz has broken with the president for the first time on a significant policy issue by opposing his push to normalize relations with Cuba, another sensitive topic in south Florida.
Among undecided Jewish lawmakers, Ben Cardin, the top Democrat on the Senate Foreign Relations Committee, would be a bigger get for Obama on Iran. But Wasserman Schultz remains a prominent spokeswoman for the party, and Republicans would undoubtedly seize on her opposition as a political coup. It's even been suggested that she would have to resign as DNC chief if she opposed the deal, although Rosenbaum told me he thought she would do so only if she planned to campaign aggressively against it. In a statement on Thursday, Wasserman Schultz said there were "a number of questions and concerns" she and her constituents had about the Iran deal and that Biden would be "an effective representative" to answer them—which might be another way of saying that he is much more popular than Obama among Jews at the moment.
Throughout my process of reviewing the agreement and speaking with nuclear experts, economists, and administration officials, my goal has been and remains seeking as much information as possible to make an informed decision on this issue of great national and international security. Ultimately, I will make this most consequential of decisions based on what I believe is the best way to prevent Iran from achieving their nuclear ambitions.
Rosenbaum said he didn't hold it against Wasserman Schultz that she's taking "all the time that is available to her" to decide, and it's possibly by design that she'll wait to announce her position until after the outcome is clear. On the verge of guaranteeing that Republicans won't be able to override a presidential veto of a resolution rejecting the deal, supporters have turned their attention to winning over the 41 senators they'd need to filibuster an initial vote. Even AIPAC, the pro-Israel group lobbying against the deal, now says it expect only a "strong and growing majority of Congress" to oppose it—not to block it entirely.
The Obama administration is making a renewed push to win the support of Jewish voters, and by extension, their representatives. In addition to Biden's appearance in Florida, Obama is speaking to Jews around the country in a webcast on Friday. According to J-Street, a liberal group supporting the agreement, 13 of the 28 Jewish members of Congress are supportive, seven are opposed, and eight have yet to announce their position. "You could describe it as a split, but it is a split that is heavily weighted toward support for the deal," said Dylan Williams, J-Street's chief lobbyist. "This deal is likely to end up with majority support among the Jewish members of Congress."
Wasserman Schultz, then, is probably not going to make or break the Iran agreement on Capitol Hill. And she wouldn't be the most powerful Democrat to oppose the deal—that title still belongs to Schumer. But loyalty to the Democratic president is virtually a requirement of her position, and the mere fact that Obama cannot yet count on support from the chief spokeswoman and fundraiser for his party shows just how tough a vote this will be.
We want to hear what you think about this article. Submit a letter to the editor or write to letters@theatlantic.com.
Russell Berman
is a staff writer at
The Atlantic
, where he covers politics.