Why the Race For Alan Grayson's House Seat Is Stranger Than Fiction
In the race to represent his Central Florida district, Grayson's former top political aide is running against his girlfriend.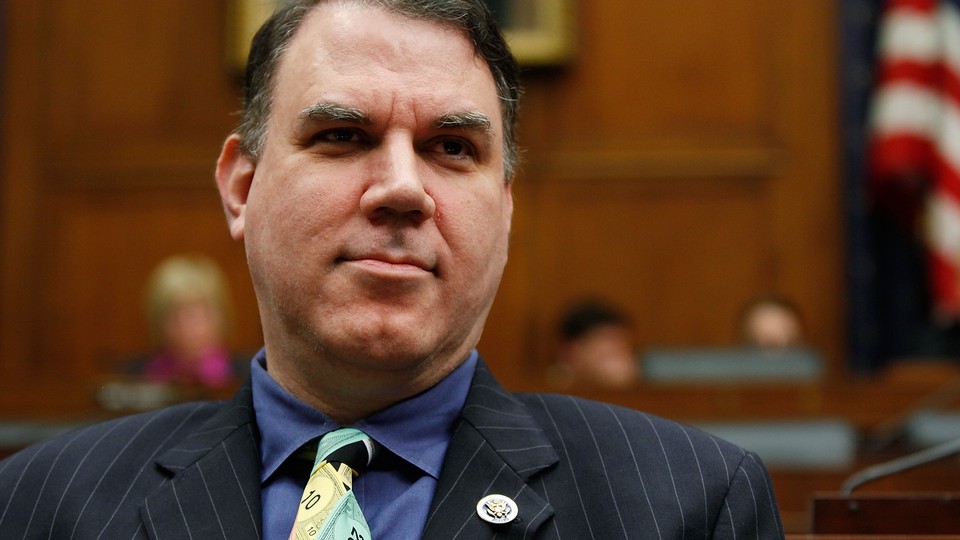 Rep. Alan Grayson's fiery, shoot-from-the-hip style has Democrats bracing for a bruising Senate primary in Florida next year. But the fight over Grayson's House seat could also see its fair share of drama, thanks to the congressman himself.
The Democratic primary for his district has pitted Susannah Randolph, one of Grayson's former top aides, against Dena Minning, a biotechnology entrepreneur and medical doctor romantically linked to Grayson. The congressman has praised both and pledged to stay out of the race for now, but the unusual situation is raising concerns even among Grayson's fans, who say it creates troubling and awkward optics in the district.
"Have you ever seen a congressman leave his seat, run for the United States Senate and have his girlfriend run for his seat?" said Democratic donor John Morgan, who backed Grayson in the House but discouraged his Senate run. "I think it's unprecedented."
Minning's campaign declined an interview request, instead directing National Journal to her campaign website and Wikipedia page. As rumors about her running to succeed Grayson circulated for months, both of them stayed mum about their relationship. In a statement sent by the campaign, Minning highlighted her support for the Affordable Care Act and Social Security. "The reason I am running for Congress is to help the people," she said.
In a statement, Grayson said, "Dr. Minning, an M.D. and Ph.D., has developed cures for grave diseases, provided free health care to the needy, and advanced the frontiers of knowledge and health. ... I am not making any endorsements at this time, but I wish her well." Grayson praised Randolph as an "outstanding progressive activist" who has "consistently served the needs of my constituents at the highest level."
But Grayson's pledge to stay on the sidelines at the beginning of the race to replace him has not eased many Democrats' fears.
"There are a lot of people who feel uncomfortable with the idea of [the district] being a legacy that somebody can pass on, said Bob Poe, a former chairman of the Florida Democratic Party. "I don't know that it's the suggestion, but the perception of it is troubling to Alan supporters."
Randolph, Grayson's former aide, shrugs off the unusual situation. "It's Florida," she said. "When are elections not weird?"
"It's a democracy, so anyone can run," Randolph added. "And may the best woman win."
Actually, Randolph and Minning don't have the Democratic primary to themselves: Many in Orlando have long tipped state Sen. Darren Soto for Congress, and both he and former state Rep. Ricardo Rangel are running along with a former county Democratic chairwoman, Valleri Crabtree.
Randolph — who managed Grayson's unsuccessful reelection bid in 2010 and returned to his orbit to run constituent services in his current district — has already rolled out a list of big-name Democratic backers, including the megadonor Morgan and former Democratic Rep. Patricia Schroeder.
"The early signs for a front-runner would point to Susannah Randolph," said Mitch Emerson, Grayson's campaign manager in 2012. Emerson isn't aligned with any campaign. "She's been working in the community for decades in a variety of ways and she knows the district inside and out."
But if Soto can leverage the district's one-third-Hispanic population, Randolph's path becomes much tougher. Soto is popular in the Latino community, and much of his state Senate seat lies within the district.
Meanwhile, Minning — who filed to run at the end of last month — has no political background beyond her ties to Grayson. She founded and heads MedExpert Consulting Inc., and was a registered lobbyist for the company in 2013 and 2014 to represent Biocryst Pharmaceuticals.
"It's just not the kind of district in a primary where it's going to be easy for somebody who has no real ties to the community, no real history, to put together the kind of campaign that will win," said Steve Schale, a Democratic strategist in Florida who's not working for any candidate.
Still, her candidacy might erase a possibility some people floated when Grayson first talked about running for Senate: that he could retreat to his safe House seat after trying out a Senate campaign for a time.
"I used to always think that Alan could backpedal and could come back and run for his seat," Morgan said. "But now what I worry that he's done is he's boxed himself in a corner. I mean, how do you come back and tell your girlfriend, 'I'm running against you?' That would make for an awkward dinner."
CORRECTION: A previous version of this story misstated Grayson's involvement in the race to replace him. He has said he is not going to make an endorsement at this time.