Why New Hampshire Is Ground Zero for the Planned Parenthood Debate
The fight over funding the organization has already spilled into next year's Senate and gubernatorial races, not to mention the presidential primaries.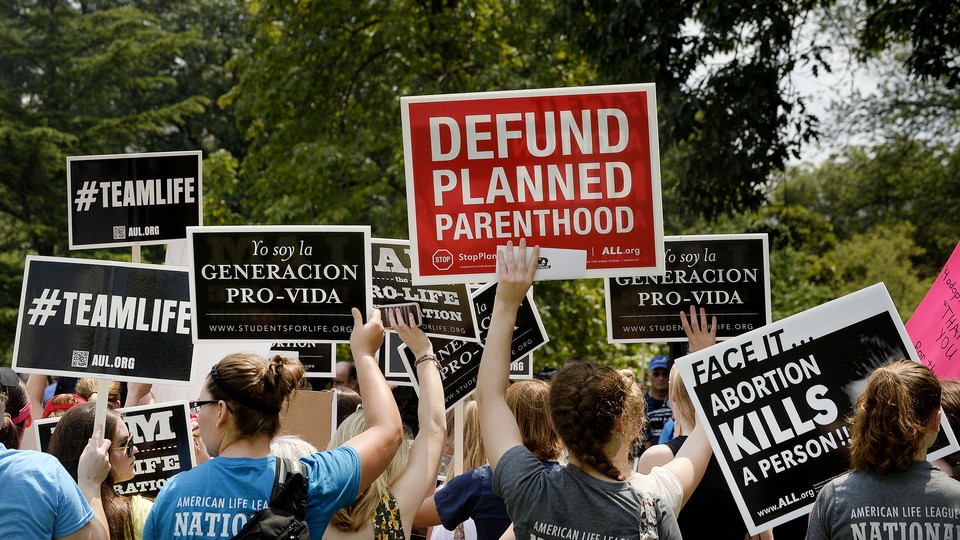 The debate over federal funding for Planned Parenthood is boiling over in Washington. But the strongest political consequences in 2016 might come in New Hampshire.
Last week New Hampshire became the third state, along with Alabama and Louisiana, to cut back state funding for Planned Parenthood in response to controversial videos documenting the group's participation in fetal-tissue-donation programs. While the dozens of presidential candidates visiting the state have all eagerly chimed in on the issue, New Hampshire will also host competitive races for Senate and governor next year.
In an important state where women's health has been a central political issue for years, and where even Republican primary voters are more pro-choice than pro-life, the trend is set to continue in 2016.
National Democrats pounced on GOP Sen. Kelly Ayotte, one of their top targets in the Senate, for her recent vote to defund Planned Parenthood. A state-level vote last week all but ensured the issue will play a role in New Hampshire's 2016 gubernatorial race, too. Republican Chris Sununu, the son of former Gov. John Sununu, stated his interest in running for governor in April, and he cast the deciding vote last Thursday in the state's Executive Council to deny Planned Parenthood of Northern New England a $639,000 state contract.
"This obviously will be an issue that's discussed not just in the council races, but likely the governor's race," said Republican strategist Ryan Williams.
"It is a little more clear a vote for a narrative that Democrats have used pretty effectively in New Hampshire, and of course other states too, over the last couple of years," said Fergus Cullen, a former chairman of the state Republican Party.
Sununu has split with his party in the past to vote in favor of funding Planned Parenthood. But even as he (like Ayotte) has built a moderate profile and laid groundwork for a competitive statewide campaign, he broke to the right this time. "In the past, I supported funding for Planned Parenthood as a provider of reproductive health services in my district," Sununu wrote in a statement. "However, investigations into potential criminal activity on both a federal and multi-state level have convinced me to withdraw that support."
A survey from a Democratic firm showed why Democrats are so eager to go on the offensive over this issue. The poll, conducted by Hart Research Associates for Planned Parenthood Action Fund and released on Monday, found that two-thirds of New Hampshire voters disapproved of efforts to defund Planned Parenthood.
Democrats eagerly cast Sununu's recent vote as a blindly political swing. "I think the reason he voted this way was because he's going to run for governor and I think he was afraid that if he voted in favor of funding that he'd get a challenge from an even more extreme wing of the party," said former New Hampshire Democratic Party chair Kathy Sullivan.
On a campaign swing through Exeter this week, Hillary Clinton chimed in on Sununu's vote, saying, "It's appalling that three men in the chambers of the Executive Council would deny women across this state the health care they need and deserve."
Whether Democratic Gov. Maggie Hassan runs for reelection or for Senate, it's bound to be an issue she addresses. Planned Parenthood has played a role in both of her statewide campaigns so far. The council's 2011 vote denying Planned Parenthood $1.8 million in state funding came up again and again as Hassan ran in 2012, and she ran a TV ad in 2014 boasting that she restored the funding after her election.
Meanwhile, the candidates who could run for governor if Hassan tries for Senate are ironclad supporters of abortion rights and Planned Parenthood. One of them, Executive Councilor Colin Van Ostern, won his first council race in 2012 after a campaign that heavily featured the 2011 Planned Parenthood vote.
"[Van Ostern] is not to be underestimated," Cullen said, comparing him to Democratic Sen. Jeanne Shaheen — like Van Ostern, a former political operative. "He's a very skilled person."
Sununu won't be as easy a target on abortion as some past Republican candidates if he runs for governor. He readily calls himself a supporter of abortion rights, whereas 2012 nominee Ovide Lamontagne was a strong social conservative who later worked for an antiabortion group in Washington.
But the fight brewing over Planned Parenthood is similar to what state Democrats have successfully leveraged in the past. And as the issue gains prominence across the nation, it looks set to affect New Hampshire in a big way over the next year.