Rick Perry's campaign is in deep financial trouble. And fellow Texan Ted Cruz is part of the reason why.
While Perry's near-broke campaign has stopped paying its staff, Cruz has dominated the chase for Texas dollars—even among the donors who fueled Perry's 2012 presidential campaign. According to a National Journal analysis of campaign-finance records, Perry 2012 donors have given over $895,000 to Cruz so far this year but only $376,000 (less than half) to Perry's 2016 campaign.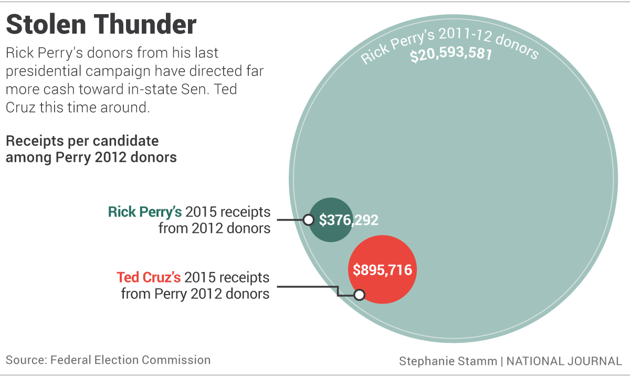 Perry raised just over $1.1 million in the second quarter of 2015, meaning Cruz has brought in almost as much from ex-Perry donors as Perry raised in total in the first half of the year. Perry raised more than $20.5 million in his 2012 run but dropped out just before the South Carolina primary.
Cruz's financial haul among Perry donors could be even larger than the stats show. Our analysis matched names and zip codes from the Federal Election Commission's donation records across campaigns; typos, name changes, and moving all could have caused shared donors' records not to match. The analysis also omits small donors who gave less than $200, since campaigns aren't required to itemize and report those donations.
Perry's campaign did not respond to questions about his fundraising.