Why Hillary Clinton Will Talk About Arctic Drilling, But Not Keystone
The politics of the pipeline are more complicated for the 2016 Democrat.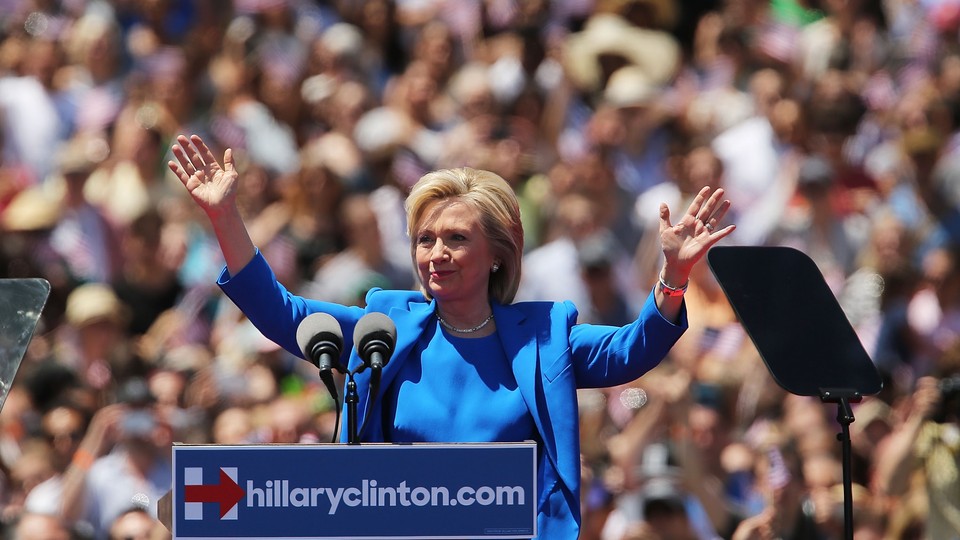 A day after President Obama's administration gave Shell the green light to drill for oil in Arctic waters, Hillary Clinton split with the White House by declaring her opposition to Arctic offshore drilling.
The move was widely heralded by environmentalists, some of whom fear that Clinton may not go far enough to tackle the rising greenhouse gas emissions that scientists say are driving dangerous global warming.
But the 2016 Democrat still won't say what she thinks about the Keystone XL pipeline.
Why not? Arctic drilling and Keystone are both hot-button environmental issues. But the politics of the controversial pipeline are far trickier for Clinton as she ramps up her White House bid.
In recent years, the Keystone pipeline has gotten caught up in a much broader battle over the future of American energy security and the threat of climate change. Environmentalists have made opposition to the pipeline a litmus test for elected officials and candidates, but organized labor has been largely supportive of the job-creating project.
To win the Democratic primary, Clinton wants to attract the support of labor and environmentalists, two key constituencies on the Left. And a decision on the pipeline is sure to infuriate one or the other—an outcome that undoubtedly makes silence an appealing option for the former secretary of State.
But that doesn't mean she won't get asked. Clinton has faced a barrage of questions on the campaign trail trying to pin her down on Keystone XL. And each time she refuses to take a stand, she opens herself up to criticism.
"If it's undecided when I become president, I will answer your question," Clinton said in July when asked if she would sign a bill approving the pipeline at a New Hampshire town hall.
Clinton is locked in a contest to win support from labor unions that largely pits her against fellow Democratic challenger Sen. Bernie Sanders. Organized labor is split on the pipeline, so in some cases staying silent may help Clinton, but in at least one —the nurses' union—it hasn't. Clinton has so far won endorsements from the American Federation of Teachers and The International Association of Machinists and Aerospace Workers union. But Sanders won the endorsement of National Nurses United earlier this month.
Other major groups such the AFL-CIO—whose president, Richard Trumka, has urged construction of Keystone XL—have not yet weighed in with an official nod.
At the same time, environmentalists haven't exactly lined up behind the Clinton campaign—at least not yet. Friends of the Earth Action, the only major environmental group that has endorsed a 2016 candidate, this month opted to throw its weight behind Sanders, who in contrast to Clinton has long been an adamant opponent of the pipeline.
In the meantime, Republicans have worked hard to make Clinton's silence a problem for her campaign.
After Clinton came out against Arctic offshore drilling Tuesday, Republicans quickly tried to shift the conversation to Keystone XL, a tacit acknowledgement that the GOP opposition understands that Clinton is between a rock and a hard place when it comes to the pipeline.
"Still waiting to hear your position on Keystone"¦.#AnswerTheQuestion," New Jersey Gov. Chris Christie tweeted at Clinton on Tuesday.
"Hillary Clinton's politically motivated silence on the Keystone pipeline is even more untenable in the face of her opposition to yet another job-creating energy project. Once again, Hillary Clinton is reminding voters she'll say or do anything to get elected," Republican National Committee spokesman Michael Short said in a statement.
Even if Clinton breaks her silence on an issue, that doesn't necessarily mean that her overall environmental platform will be crystal clear.
Clinton rolled out the first plank of her environmental agenda in July, emphasizing that as president, she would work to ramp up renewable energy. Clinton has also pledged to defend Obama's effort to regulate greenhouse-gas emissions from power plants.
The campaign has made clear that it will continue to outline her policy prescriptions for energy and the environment as the primary season wears on, but for now questions remain as to just how far a President Clinton would go to fight global warming.
And the longer that Clinton holds out on the pipeline, the more she risks eroding trust on either side, with environmentalists, and organized labor.
But expediency aside, Clinton has a political escape hatch for Keystone that she did not have for Arctic drilling. Because the issue is a presidential permit for the pipeline, Clinton has long said that it would be inappropriate for her to weigh in on the pipeline since she was secretary of State when the department began its review of the project more than six years ago.
As a result, the line from Team Clinton goes, she won't say what she thinks until the president either makes a final determination or she becomes president herself.
That answer has, of course, drawn sharp criticism from the GOP field—and it doesn't sit well with environmentalists either. But with little political upside to stepping out ahead of Obama in taking a stand on Keystone, Clinton is not likely to budge.