Why Hillary Clinton Faces Steep Hurdles in Helping Student Parents
The Democratic front-runner would put millions of dollars toward increasing campus child-care options. But money is just a start.
Bonnie & Seva
Bonnie Cherry, 32, found out she was pregnant with her daugher, Seva, during her first semester at the University of Kansas in 2011. Cherry, who was already deep in debt from battling an aggressive brain tumor as a teen, knew she wouldn't be able to afford child care and said the school's subsidized-care options weren't open to new infants.
So she took some time off and ultimately moved close to the University of California, Berkeley, where her child's father was a Ph.D. student and where there are campus child-care options for student parents.
Cherry enrolled at Berkeley City College and recently earned her associate's degree. She said she applied and received a scholarship to attend Columbia University in New York and would have loved to enroll, but a lack of affordable child-care options made that unrealistic.
"If I could go anywhere, if money was not an issue, that's where I would go," she said. "But, unfortunately, when you're a student parent, your material conditions are the most important thing."
So in the fall, she'll enroll at U.C. Berkeley. Seva, now 3, is thrilled that she and her mom will be going to the same school.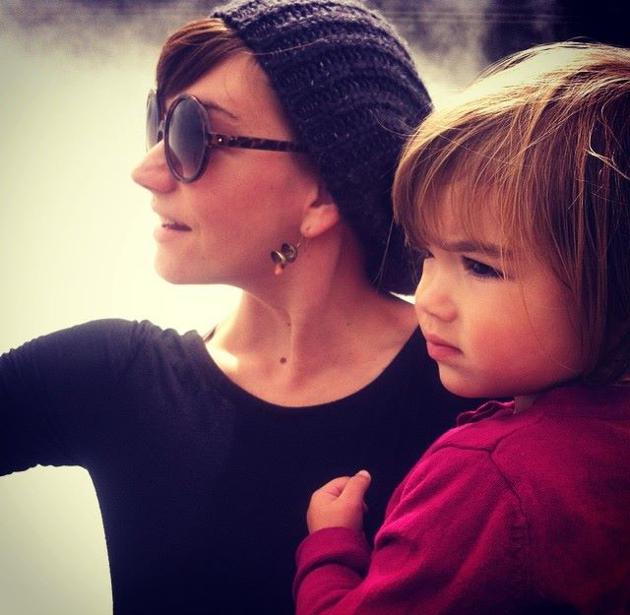 As a college student, Bonnie Cherry has struggled to obtain child care for her daughter.  (Courtesy of Bonnie Cherry)
Nontraditional = New Normal
The image of the young, carefree, and untethered college student has been the norm for decades. Increasingly, however, reality looks very different. University lecture halls are filling up with older nontraditional students. These students bring with them job experience, adult financial responsibilities, and, in many cases, children. As part of her promise to make college more accessible to a wider variety of people if elected, Hillary Clinton has outlined a plan to aid student parents.
"It makes such a huge difference in being able to focus on your studies and feeling like you're still being a good parent." —Bonnie Cherry, student parent
The Democratic front-runner would like to see more child-care centers at schools. Supporting student parents is a savvy move on her part, because this particular pool of voters is growing. As a recent report from the Institute for Women's Policy Research notes, a quarter of today's undergraduate students—4.8 million—have children and more than four-in-10 are single parents. The number of student parents has grown by more than 1.6 million since 1995.
And yet the percentage of public two-year and four-year colleges offering child care has actually declined, from 53 percent in 2003 to 46 percent in 2013, while federal funding has remained relatively constant at about $15 million.
That's "woefully low based on the need," according to Lindsey Reichlin, a research associate with IWPR who has studied the issue.
Worse Impact on WoC
These student parents are more likely to be women of color, to be low-income, and to be first-generation college students. Child care often presents an insurmountable barrier for these would-be students.
According to IWPR, low-income families on average spend 40 percent of their monthly income on child care, which costs between $5,000 and $16,000 depending on the state. Most families who are eligible for child-care subsidies don't get them, and many states impose restrictions on access to aid for student parents.
Aliea Hughes, now 25, knows this all too well.
A teen mom, Hughes entered Rutgers University in 2008 hoping to pursue a degree in mechanical engineering. But finding child care proved to be a challenging task.
The campus care center wanted $1,100 a month, she said, and it had a two-year wait list. So instead, Hughes, who didn't drive, ended up walking her toddler, Andrew, along a highway to drop him at a center across town when it opened at 8:00 in the morning. Then, she raced to catch a bus to try to make her first class at 8:20, a schedule she said the school had set for her.
"I failed every class my first semester," she said.
While child care wasn't the only issue, Hughes says, it was the "biggest" obstacle.
"I think I would have been good at [engineering]," she added, "but being a mom, I didn't have the time to dedicate to that field."
Child-care centers were only open during normal office hours, which made studying with classmates in the evenings difficult. There were few support groups on campus for parents, and family housing seemed geared toward graduate students. In the middle of her sophomore year, Hughes dropped out.
She found work first as an administrative assistant and then for a home-care agency. While she's grateful for the job opportunities, it's not the path she originally envisioned.
It's worth pointing out the obvious—that these student parents spend much of the time that other college students spend studying and going to networking events raising their children. It's no wonder that students who have kids are far less likely to earn a degree within six years—33 percent compared with about 60 percent nationally. They're also more likely to take on debt.
"We know that child care is a crucial support for parents given the number of other responsibilities they're juggling on a day-to-day basis," Reichlin said. While Cherry says the idea of more money flowing to support student parents sounds nice, what she really wants is more campus child-care centers.
"You can give a student money, but that doesn't create child care for them," she said.
"I can't go to school without child care," she added. "It makes such a huge difference in being able to focus on your studies and feeling like you're still being a good parent."
Andrea Fitch, a student parent in Colorado, took on student loans specifically to pay for child care. She had received a scholarship to help pay for school, but she had to enroll full-time to accept it, which meant expensive child care.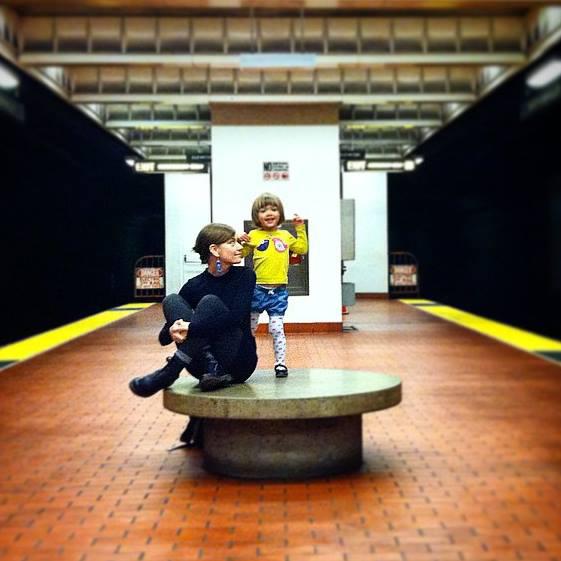 Bonnie Cherry and her daughter, Seva, pose for a photo. Seva attends a campus-based child-care center.  (Courtesy of Bonnie Cherry)
"Although the college I attended had a child-care facility on campus, there was a long waiting list, and most of the spots were taken by faculty and staff at the university," Fitch wrote in a blog post. "Furthermore, the cost of the on-campus child-care facility, which would have been the most convenient option, was more than our family could afford. My husband's paychecks went to rent, cars, gas, and other needs public-assistance services couldn't provide. My only option was to take out more in school loans to pay for child care."
Cherry said she, too, had to take out loans as a parent that she wouldn't otherwise have needed. She can't save money in the same ways that other students often can, by living with a roommate, for instance. Résumé-builders like unpaid internships are out of the question, making the job hunt more difficult.
Clinton's plan would increase federal funding for campus child-care centers to $250 million from the current $15 million. Her campaign estimates the plan would open up 250,000 spaces for student parents.
Child Care, Not The Same Everywhere
Young Invincibles, a youth advocacy organization, outlined a plan similar to Clinton's in a report calling for support for student parents. Author Konrad Mugglestone noted that millennial parents are particularly susceptible to poverty and could benefit significantly from having access to campus child care.
In a new follow-up post, he notes that access to campus child care varies greatly by state, with 60 percent of campuses in places like California and the Pacific Northwest offering child care at the high end, and less than a quarter of campuses in Southern states like Georgia, Alabama, and Virginia offering child care on the low end.
Clinton's plan would offer small scholarships to student parents to help cover things like child care and transit to and from campus. That's similar to a policy she championed in Arkansas during her time as the state's first lady. During a recent Iowa town hall where she outlined the plan, Clinton said the policy could also benefit people who want to go into the early childhood education field, by giving universities built-in child-care centers as teaching laboratories.
Research suggests that 88 percent of single students with children earn at or below 200 percent of the poverty level, which is currently about $16,000 for a mother and child.
Reichlin says her organization supports increasing campus child-care options, adding that "even small amounts of money ... can make the difference between someone going to class and feeling like they can persist or dropping out because they can't afford it."
Her research suggests that 88 percent of single students with children earn at or below 200 percent of the poverty level, which is currently about $16,000 for a mother and child.
But what are the chances of any of this actually becoming reality for parents like Fitch and Cherry?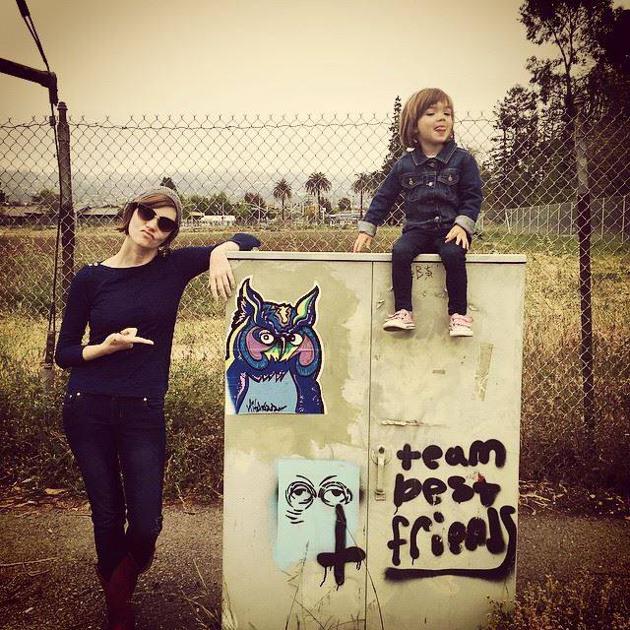 Bonnie Cherry found out she was pregnant with her daughter, Seva, shortly after she became a student. She has struggled to find affordable child-care options.  (Courtesy of Bonnie Cherry)
In June, the Senate Appropriations Committee approved a bill that would eliminate the federal program that provides campus child-care options to low-income parents. The likelihood of the current Congress boosting funding, particularly to the $250 million mark that Clinton has proposed, is slim.
But groups like IWPR and Young Invincibles are pleased that campus child care has made its way into the 2016 debate at all. Clinton, Reichlin said, "is getting the topic out there," and making it an issue that other candidates will have to address.
In the meantime, though, student parents like Cherry are left with few options.