Why Chuck Schumer's Move Won't Kill the Iran Deal
The presumptive next Democratic leader's opposition matters, but probably won't be a tipping point.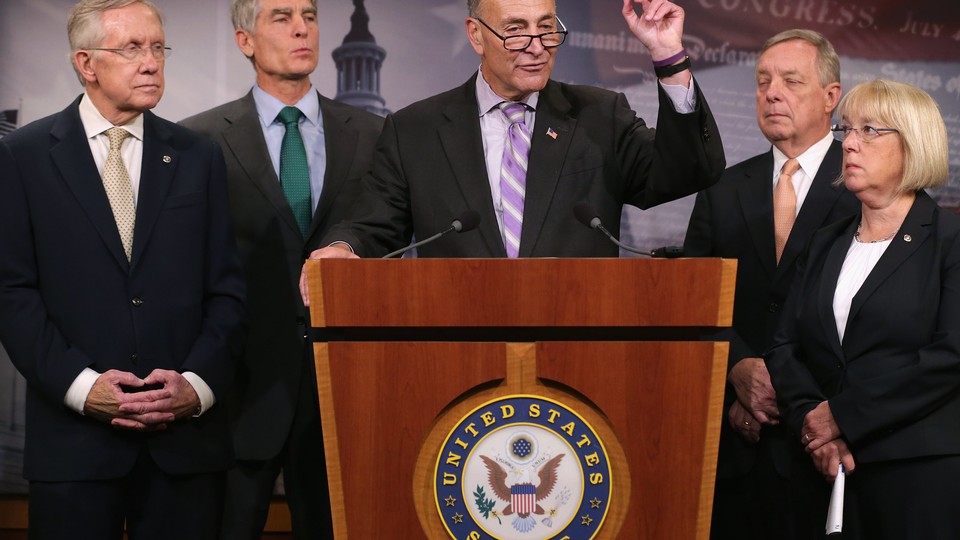 The Iran nuclear deal struck by six global powers will in all likelihood survive Sen. Chuck Schumer's disapproval.
Of course, that hasn't allayed the anger of the Obama administration, which has whipped the deal as furiously as you'd expect for a foreign policy pact immediately dubbed historic. Former Obama aides were particularly merciless after the New York Democrat's announcement Thursday night, even indicating that others might be better suited to take over for Senate Minority Leader Harry Reid when he retires next year.
"This is a Democratic leader: Dick Durbin Becomes Lead Whip for Peace on Iran," tweeted Jon Favreau, Obama's former speechwriter, linking to a Huffington Post article. "The base won't support a leader who thought Obamacare was a mistake and wants War with Iran," added Dan Pfeiffer, a former Obama senior adviser. "Senator Schumer siding with the GOP against Obama, Clinton and most Democrats will make it hard for him to lead the Dems in '16."
Senate Democratic aides reached by National Journal Friday doubted it'd make much of a difference — as one said, "If there is even a race, he'll be fine" — but progressive groups like MoveOn have already pronounced Schumer's move as "outrageous," blasting out fundraising emails with the goal of withholding $10 million in donations from any Democrat who joined Schumer. "Any Democrat who dares to join Sen. Schumer must see immediately that MoveOn members will fight, not just with our calls to Congress, our petitions, and our rallies — but with our checkbooks and our credit cards," wrote MoveOn.
Several key Senate Democrats had already declared their support for the Iran deal before Schumer made his announcement. So his impact is unlikely to be dispositive, but Republicans will be sure to use the Senate Democrats' main message man — and his nearly 1,700-word statement explaining his path to no — towards their own purposes. The deal's detractors, like Republican Sen. Marco Rubio of Florida, aren't nearly as confident as administration officials, who have stated unequivocally that they have enough Democratic support to sustain a veto keeping the deal afloat, as Obama spokesman Josh Earnest reiterated on Friday. Having Schumer on the GOP side will bolster opponents' claims, but it's not likely to move the masses.
Even Schumer is downplaying his own importance here.
"There are some who believe that I can force my colleagues to vote my way," Schumer said in his statement. "While I will certainly share my view and try to persuade them that the vote to disapprove is the right one, in my experience with matters of conscience and great consequence like this, each member ultimately comes to their own conclusion."
Other influential, undecided Democrats — like Foreign Relations ranking member Ben Cardin — agree.
"That is not in Senator Cardin's calculation," said Cardin spokeswoman Sue Walitsky when asked if Schumer's opposition provides cover to others. "He is examining the agreement. He has read it over. He has asked questions. He has talked to experts. He has talked to the president. He has talked to the secretaries. He has talked to people who support it [and] people who do not. He is continuing to do that. He will be meeting with Marylanders later in August and in September before we come back into session.
"Everyone has got their own process," Walitsky added. "Everyone has got their own decision to make."