Why Campaigns Have the Edge Over Super PACs on TV
Some stations are already charging super PACs almost 10 times as much as campaigns to advertise at the same times.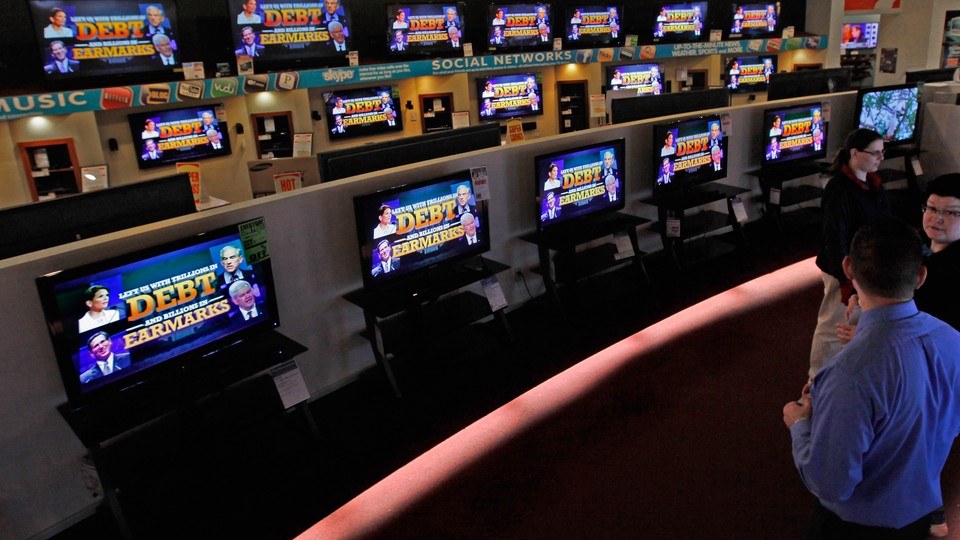 In the first week of January, Iowa viewers of The Tonight Show Starring Jimmy Fallon will get a dose of political advertising with the night's entertainment.
Both Marco Rubio's campaign and the super PAC backing Scott Walker have already reserved ad time during The Tonight Show for the weeks before Iowa's caucuses, according to contracts with the NBC station in Des Moines. While the two groups will air their messages to the same audience at the same time, behind the scenes, there's a major difference.
Rubio's campaign is set to pay $150 each for its 30-second spots. The pro-Walker PAC is on the hook for nearly 10 times that much: $1,300 apiece.
That's because of a federal law that protects campaigns' ability to talk to voters by guaranteeing them the "lowest unit rate" on TV ads near election time. But those laws contain no such protections for super PACs, which are at the whims of market rates that go sky-high before elections.
Super PACs are ascendant in this presidential campaign, raising more money and sometimes taking on more prominent roles than the candidates they support. But despite their gaudy fundraising and spending figures, the dollars they pour into TV advertising will only buy a fraction of the actual time on TV that the official campaigns can get themselves.
The price disparity is already glaring in New Hampshire, where the super PAC backing John Kasich ran July ads alongside TV spots from Ben Carson and Chris Christie's campaigns. While Christie paid $700 per spot during the 5 p.m. news on WMUR, according to station records, Kasich's PAC paid $5,000. Even accounting for the fact that the pro-Kasich ads were double-length, the super PAC still paid more than 3.5 times as much for the same slot.
Kasich's PAC paid nearly five times more than Carson's campaign to advertise during the same WMUR early-morning program, Daybreak.
This gap is only likely to grow as more campaigns and outside groups start advertising heavily. Right now, the airwaves are relatively calm, but the pro-Walker super PAC's Tonight Show rate highlights what's to come.
Super PACs are raising unprecedented sums to support 2016 presidential candidates, and soon they're going to start spending it in earnest—particularly the group backing Jeb Bush, which is planning to start over $10 million in early-state advertising in September.
As demand increases, so will the prices—especially for super PACs. "As high as the rates appear to be for super PACs and other outside groups now, they may wind up going still higher," said Elizabeth Wilner, senior vice president of Kantar Media, which tracks political ad spending.
"Just because a super PAC is committing to pay x amount for a spot down the road today, it doesn't mean the station won't come back and say, 'If you still want to keep that spot, it's going to cost you more,' " Wilner continued.
Even if a group reserves a specific time slot, TV stations can still give it to a higher bidder if one comes along. "A spot is never sold until the ad actually airs," Wilner said.
Still, by reserving ad time early, campaigns and outside groups are at the very least ensuring that they will be involved in the bidding process for coveted times when many target voters are watching TV.
Early-morning and evening news programs in Des Moines will also get plenty of attention, which is already conspicuous in the high reservation prices that PACs are seeing. The Walker super PAC reserved ad time on WHO's 6 a.m. show, Today in Iowa, and its 5 p.m. news show for $1,775 per ad in the two weeks before the Iowa caucuses. That's nearly eight times as much as the $225 rate the station quoted to Rubio's campaign.
Overall, Rubio's team has reserved 218 ad slots on WHO from Jan. 5-11 for just under $48,000; thanks to the ever-rising super PAC rates, Walker's Unintimidated PAC has reserved many fewer ads (83) for much more money (over $84,000). It and other super PACs might outspend opponents during those critical weeks—but they will get far less in return.