While Washington Tackles Opioid Abuse Epidemic, Hepatitis C Treatment Remains Unaffordable
If Washington wants to do something about the public health issues left behind by the opioid abuse epidemic, it might have to start doing something about prescription-drug costs.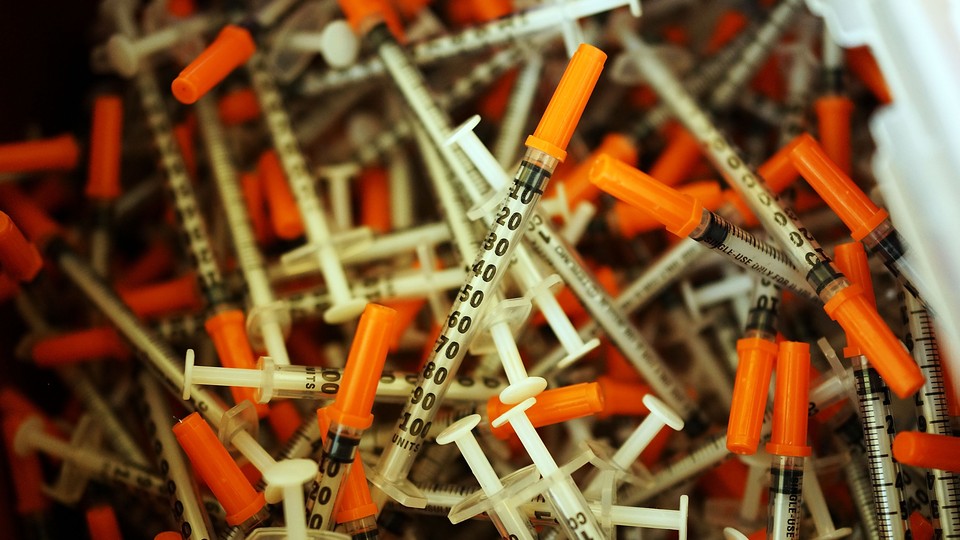 Big names in Washington are increasingly joining the fight to combat the rise of opioid and heroin abuse, but the conversation around the issue is missing half the problem.
On Monday, the White House announced an initiative to curb heroin use by addressing it as both a public-safety and public-health issue, pairing law enforcement with access to treatment for addicts. This builds on momentum within Congress and talk among 2016 presidential hopefuls surrounding the reduction of national opioid drug addiction.
But largely excluded from the discussion is what to do about those living with the consequences of their addiction and the public health concern that presents. For many, access to treatment for disease contracted through drug use is unaffordable. Although there is medication on the market to treat hepatitis C—a disease common among drug users—its cost often makes it unavailable to the sick.
"An unqualified yes," said Matt Salo, executive director of the National Association of Medicaid Directors, when asked if state Medicaid programs are struggling to cover the cost of hepatitis C medications. "There isn't a Medicaid program in the country that can afford to cover the cost of treatment for every patient."
If Washington wants to do something about the public health issues left behind by the opioid abuse epidemic, it might have to start doing something about prescription drug costs.
Sovaldi—one of few medications available to treat hepatitis C—costs $1,000 a pill, or about $84,000 for an entire course of treatment. And while it might be an extreme example, it represents a growing class of specialty drugs that are increasingly driving up health care costs—and an unwillingness in Washington to do much about it.
"When you've got an effective drug that has few or no competitors, its very hard for payers to push back," said Larry Levitt, senior vice president of the Kaiser Family Foundation. "We are alone in the world as a country that relies more on market forces to deal with drug prices than government regulation."
Hepatitis C medication presents an interesting case study of straddling the line between an issue the government is keen to address—opioid use—and one it does not seem to want to touch—the cost of medicine.
And while private insurers pay for the treatment as well, often the bill falls into the lap of the government.
"The way I look at it, hepatitis C is a public-health issue," said Dan Mendelson, CEO of Avalere Health, an independent consulting company. "It's a disease of poverty, it's a disease of addiction, it's a disease that comes along with needle use. That is why the hepatitis C cures are being purchased largely by Medicaid programs. And also many of them are purchased under the exchange policy—so this is government policy one way or another.
"Ultimately, the Congress has to decide whether drug price controls are the right answer. In my view, that would be a mistake," he added.
Cures for hepatitis C on the market include Sovaldi and the newer Harvoni, both made by Gilead Sciences Inc. Two others were approved within the same year, and another was approved last month, according to the FDA. But others are in the pipeline to market and could present price-reducing competition.
"The price of Gilead's hepatitis C treatments reflects the significant clinical, economic, and public health value of these drugs, and is comparable to, or in many cases less than, the cost of older, less effective regimens," the drug maker wrote in a policy position on its website.
An exception to inaction in Washington is an investigation launched by Sens. Ron Wyden and Chuck Grassley last year into the cost of Sovaldi, which is still pending. The senators asked the drugmaker for detailed pricing information.
"Given the impact Sovaldi's cost will have on Medicare, Medicaid, and other federal spending, we need a better understanding of how your company arrived at the price for this drug," the lawmakers said in a statement last July. "In order for a marketplace to function properly, it must be competitive, fair, and transparent. It is unclear how Gilead set the price for Sovaldi. That price appears to be higher than expected given the costs of development and production and the steep discounts offered in other countries. An efficient market needs informed consumers to keep costs down."
The president's budget request earlier this year includes a proposal that would allow Medicare to negotiate with drugmakers over drug prices. But these negotiations are generally a nonstarter policy for Republicans.
The heroin overdose death rate has nearly quadrupled over the past decade, and the rise in the drug's use is linked to the opioid painkiller epidemic. People who are addicted to opioid painkillers are 40 times more likely to be addicted to heroin.
A national hepatitis C outbreak has been well documented. Last month, The New York Times reported that in Kentucky, 16,000 Medicaid recipients had a hepatitis C diagnosis last year, compared with only 8,000 the previous year (this partly reflects a Medicaid expansion under Obamacare). Kentucky's rate of hepatitis C is more than seven times the national average, but the state spent 7 percent of its Medicaid budget treating only 861 people.
While the situation may be particularly dire in a handful of states, the number of cases and the cost of treatment is forcing states to make difficult decisions.
"States have to prioritize treatment to those most in need. An exercise that would be wholly unnecessary if the cost were affordable," Salo wrote in an email.
Generally, "most is need" is defined as those who have already experienced liver function deterioration, with stage 3 or 4 liver fibrosis the cutoff in most states, Salo said.
It's "harder to gauge what percentage" of the population with hepatitis C states can afford to treat, Salo wrote, "since the denominator is still somewhat unknown (and there are a number of people who are asymptomatic and may not even know they have it). But probably safe to say it's a fairly small percentage."
While Congress has not taken up any legislation addressing opiate addiction, the issue has a powerful advocate from Kentucky—Senate Majority Leader Mitch McConnell, who has made the issue a "serious focus ... for years," according to Robert Steurer, a McConnell spokesperson.
In response to hepatitis C, McConnell helped secure language in an appropriations bill this year that would allow states with a high increase in the disease to work with the Centers for Disease Control and Prevention on using federal money for needle exchange programs.
And in the House, there have been a series of hearings on opioid abuse held by the Energy and Commerce Committee's oversight and investigations subcommittee.
"It is essential to identify and engage people who use prescription opioids non-medically early because the risks of being infected with HIV or hepatitis C increases dramatically once someone transitions to injection drug use," Michael Botticelli, director of National Drug Control Policy, wrote in a prepared testimony in May.
"It is much less expensive to treat a person for just a substance use disorder early using evidence-based treatment, rather than to treat a person with a substance use disorder and provide lifetime treatment for HIV or a cure for hepatitis C," he added.
In blog posts discussing prescription drug spending, PhRMA pointed that not only do new drugs help control future health care costs and allow patients to live longer, healthier lives, but also that hepatitis C treatments—which include both Sovaldi and Harvoni and have cures rates of more than 90 percent—are often subject to steep discounts following Medicaid negotiations.
While the idea of government drug price negotiation is out there, it is not likely to become much more than an idea any time soon.
"There's a sense that price regulation is somewhat un-American, even though the public is quite supportive," Levitt said. "It involves a role for government in the market that makes people uncomfortable."
But the good news for those paying for hepatitis C treatment—and those hoping to address the opioid epidemic—is that its unaffordability probably won't last forever.
"What's interesting about Sovaldi is it's a one-time treatment, so I think the big costs we were seeing recently will drop off because there was a lot of pent up demand for people that had hepatitis C that was untreated," Levitt said.
But, he added, "you never know when the next Sovaldi will come along either, whether it's for cancer or heart disease or HIV or MS—drug spending tends to be very lumpy because it's driven by new blockbuster drugs, which don't come along all the time."