What Trump Doesn't Know About Southern Conservatives and Immigration
There's a long, complex story of conservatives' relationships with Latino immigrants.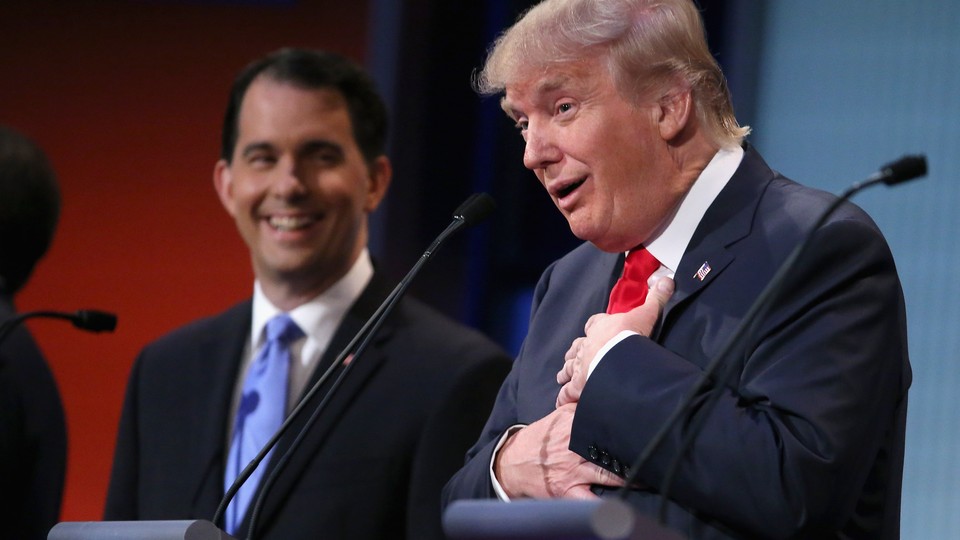 Last night's Republican debate showcased the GOP's predictable immigration divide: The audience cheered when Donald Trump defended his earlier provocative rants, seemingly confirming the Republican base's anti-immigrant sentiments. Meanwhile, Jeb Bush reiterated his support for legalization while throwing a bone to the Right in the form of a commitment to border security.
Leading up to the debate, Trump got the most attention. Multiple polls show that Republican primary voters oppose a path to citizenship for undocumented immigrants even as Bush supports one.
But telephone polls, tea-party activists, and Trump's rants obscure the longer and more complex story of Republican voters' relationships with Latino immigrants.
In over 10 years of researching Mexican migration to the U.S. South, I have learned that a slice of the Republican electorate—rural Southern Republicans—has cautiously and quietly embraced Latino immigration over the past four decades, albeit on their own terms.
Last night, Bush stood by his earlier insistence that illegal border-crossing was not a felony but an "act of love" toward one's children. Yet what most considered a political gaffe actually reflects the sentiments of a significant group of Republican base voters: White growers, working-class Whites, and middle-class people in the rural South's traditional agricultural areas.
Latino immigrants have been coming to the rural South in small numbers since the 1910s and have dominated the agricultural labor force there since the 1980s. From the early 20th century through the 1960s, they mostly picked cotton alongside poor African-American and White laborers. But since the postwar economic expansion and civil rights movement created new opportunities for White and Black workers, Latinos have become the main source of labor for all of Southern agriculture.
Working-class Whites have not competed with immigrants for agricultural jobs in decades and, thus, are receptive to growers' pronouncements that Latino immigrants "saved" entire local economies.
Arriving to racially divided communities in the wake of the civil rights movement, Latinos were initially met with suspicion and exclusion. But over time, that suspicion gave way to acceptance as agricultural and evangelical community leaders successfully used their local clout to frame the issue for rural White people from across the economic spectrum.
Working-class Whites have not competed with immigrants for agricultural jobs in decades, and thus are receptive to growers' pronouncements that Latino immigrants "saved" entire local economies. During the time I spent conducting research in Southern Georgia, I heard stories of anti-Latino incidents but observed that, overall, locals supported their presence in town. When I tell this to blue-state liberals, they find it surprising, because it contradicts their stereotypes about the rural South. But upon reflection, it makes sense, considering who the key players are in rural Southern communities.
White evangelicals, who have dominated civic culture in the rural South, play an important role in the generalized acceptance of Latino immigrants.
They heard echoes of their own immigration discussions in Bush's language of "love." For them, Latin America was not a far-off scary haven of drugs and disease. It was the place they ventured to build houses as missionaries. Many returned excited to pursue charity and evangelization with the Latin Americans living closer to home. One such man I interviewed, Sonny B., sported a "No to the Obama agenda" bumper sticker. But when I asked him about his views on undocumented immigrants he told me: "I've got no problem with them. They accept me, and I accept them."
For rural White conservatives like Sonny, Latino immigrants were not a threat to the future of White America. Instead, they became an opportunity for its redemption: a chance to cultivate cosmopolitanism and "tolerance" in a region shamed by its resistance to equality for African-Americans. Reconciliation with local Black communities has been fraught with pitfalls, while charity projects in Mexican migrant camps have become increasingly attractive. For example, an overwhelmingly White Christian private school in Peach County, Georgia, eagerly initiated Easter Egg hunts and other charity projects in Mexican migrant camps rather than in the area's much-larger Black communities.
In these deeply red communities, immigration enforcement has not been a welcome opportunity to purge unwanted deadbeats but, rather, another intrusion of a federal government that would do better to mind its own business. In 2011, small-town Republican Mayor Paul Bridges of Uvalda, Georgia, joined the American Civil Liberties Union to challenge an enforcement-heavy state immigration law in court. In 2012, a disgruntled neighbor formally accused Vidalia, a southern Georgia community that voted two-to-one for Mitt Romney, of being a "sanctuary city" for undocumented immigrants.
As Latino immigrants have increasingly made their homes not just in places like south Florida but also in remote corners of the United States, Bush's personal connection to Latino immigrants is more common than polls and red-state stereotypes suggest. Upper-middle-class tea-party suburbanites will certainly decry Bush's stance while elite pundits will urge him to tout immigration's economic benefits and "leave love out of it."
While the hostile national climate of the last several years has certainly made inroads into Southern agricultural communities, Bush and his fellow candidates can rest assured that a more open attitude toward Latino immigration can resonate with primary voters in some deeply conservative corners of Republican America.
Julie M. Weise is assistant professor of history at the University of Oregon and author of Corazón de Dixie: Mexicanos in the U.S. South since 1910.