What Martin O'Malley and Carly Fiorina Can Agree On
The two presidential candidates are equally disgruntled with their parties over debate structure.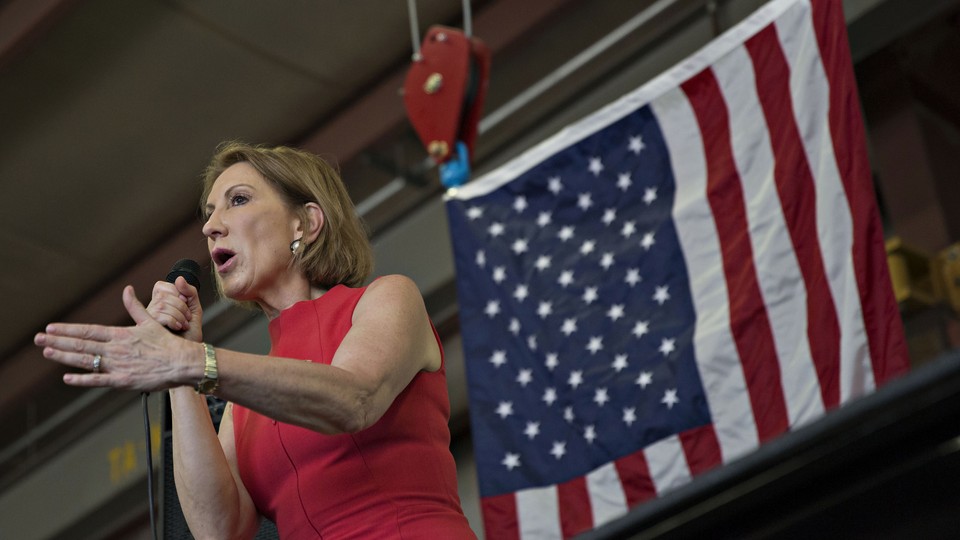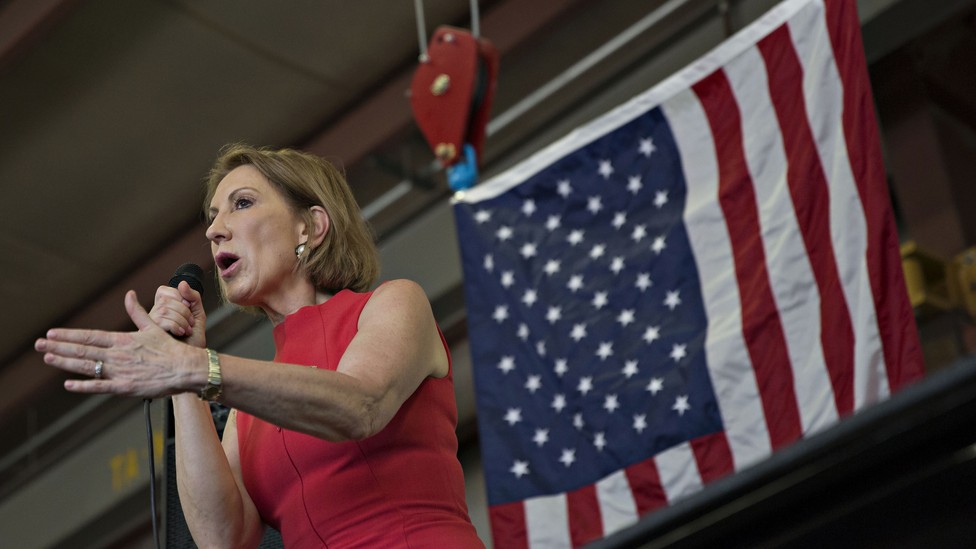 AMES, Iowa—In Midwestern cities a three-and-a-half-hour drive from each other, Carly Fiorina and Martin O'Malley spent Friday decrying the same villain: their party establishment.
Here in Ames, after speaking to a crowd at Iowa State University, Fiorina accused the Republican National Committee and CNN of putting their "thumb on the scale" to keep her off the debate stage.
"The rules are ridiculous. It's like saying to a football team that performs well and goes to the playoffs, 'You can't play in the playoff game because of a preseason game.' It's a stupid rule," Fiorina said. "They could change them if they wanted to. The RNC could ask them to change the rules. They could do more polls. They could count state polls."
O'Malley was even bolder than Fiorina on Friday, as he leveled his complaints against his party at the Democratic National Convention's own summer meeting in Minneapolis.
"Will we let the circus run unchallenged on every channel while we cower in shadows under a decree of silence in the ranks?" O'Malley asked, referring to the nine debates that the Republican Party has sanctioned for its candidates. "Or will we demand equal time to showcase our ideas?"
"We are the Democratic Party, not the undemocratic party," he added.
On Tuesday, Fiorina's campaign put out a withering statement against both the RNC and CNN for configuring the debates so that polls taken before her breakout performance in the so-called "happy hour" debate Aug. 6 outweigh polls taken since then, in which Fiorina's popularity has risen.
"Since when did CNN get to decide who Republican primary voters get to hear from?" Fiorina asked a group of reporters after her talk Friday.
The polling data CNN will look at encompasses national polls taken in the three weeks running up to the first debate, and the five weeks following the debate.
"We believe that our approach is a fair and effective way to deal with the highest number of candidates we have ever encountered," a CNN spokesperson said.
According to CNN, Federal Election Commission guidelines stipulate that they cannot change the debate rules after they have been made public. If that is true, the only way for Fiorina to break onto the main stage in Denver on Sept. 16 is for her to outperform expectations, and by a lot—a complex calculus that the Washington Post's Philip Bump has attempted to explain.
But as with any election law, things quickly get murky, and interpretations abound. Some election law experts have said the law does permit CNN to change its criteria.
"There is a strong legal argument that CNN can modify criteria as long as they remain objective and are established some time prior to inviting candidates to participate," Jan Baran, an elections lawyer, told The Hill.
In both candidates' telling, the national committees of the Democratic and Republican parties are actively rigging the debate process against them. And with all the antiestablishment angst swirling on both sides this election season, their anger only helps Fiorina and O'Malley look more like independent warriors within their parties.
Waging intraparty battle may not have made as much sense in past cycles, but O'Malley and Fiorina have little to lose in making their respective parties as uncomfortable as possible. That is, until they have a more legitimate chance of winning their parties' nomination.