What Is the Matter With Nevada?
It's one of the key early states in the 2016 presidential primaries, but the 2016 presidential field is largely focusing elsewhere.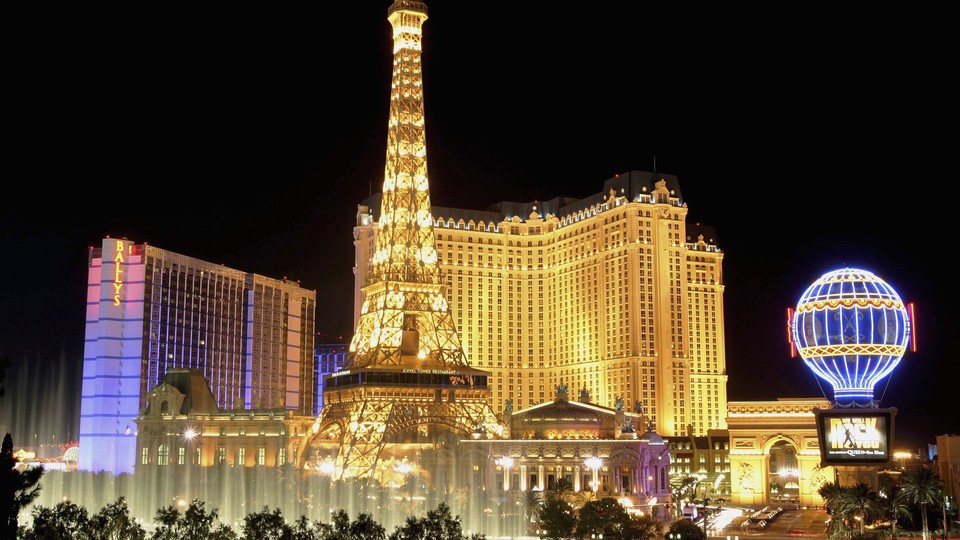 LAS VEGAS—Candidates make fewer trips here. Pollsters don't poll here. And the state has no iconic cattle-call event like the Iowa State Fair to draw presidential hopefuls in droves and to drive national headlines.
So what's the matter with Nevada?
It has been eight years since Nevada cemented the coveted status as one of the four early voting states, but Nevada still gets considerably less attention than Iowa, New Hampshire, and South Carolina. Despite being the most demographically diverse state to vote next February and a major general-election battleground, Nevada seems to have had trouble crafting an early state identity for itself that rivals the other three early states.
The state has seen a flurry of attention in the last week as candidates from Jeb Bush to Hillary Clinton to Bernie Sanders came to town, but their stops here only throw into starker contrast the difference between Nevada and the other early states. As of Tuesday, Nevada has hosted 30 separate candidate trips in 2015—miles behind Iowa's 175 and New Hampshire's 168. Even South Carolina, which comes after the first two states, has received 90 candidate visits this year.
And in comparison with the relative wealth of public polling available for Iowa and New Hampshire, the only public 2016 polling that has been done for either party in Nevada appears to be several surveys from Gravis Marketing.
"We don't get no respect," said veteran Nevada political reporter Jon Ralston. "Why are we the Rodney Dangerfield of early states?"
In a piece last week titled "Why Nevada Should Be the New Iowa," Ralston—who frequently uses the Twitter hashtag #wematter to try and draw more attention to the state—lays out a 10-point argument. His main points: It's demographically diverse, it's more of a representation of the country as a whole, and it's a lot more fun than Iowa or New Hampshire. ("Engaging in frivolity in those two states would be like being in a coma in Nevada," he wrote. "Fun matters, for the candidates and, of course, the media.")
Nevada became an early state for the first time just three election cycles ago, back in 2008. As a result, operatives in the state say visiting here is far less ingrained in national campaign operatives' minds than Iowa and New Hampshire are.
"It's habit," said Democratic strategist Dan Hart. "The people who work in presidential campaigns, who are doing scheduling in presidential campaigns probably did it four years, eight years ago. "¦ Everyone pays attention to New Hampshire and Iowa."
Longtime Nevada Democratic strategist Billy Vassiliadis called it a "double-edged sword": On one hand, the state's political clout has grown by leaps and bounds since it first joined the early carve-out states in 2008, but it certainly still lags behind the others in the group. Some of that, he said, is because being "first in the West" isn't the same as being first, overall—and that it would be difficult for any state to overtake or even rival Iowa in that respect.
"If the lead-off hitter is still in the batter's box, you don't talk about the No. 3 hitter," he said. "Iowa is just Iowa: It's first up."
It's not as if nothing is happening here: Nevada is hosting the first Democratic debate in October, and a handful of candidates in both parties have been through in the last few days. (Republicans for an event hosted by state Attorney General Adam Laxalt; Democrats for the state AFL-CIO convention in Las Vegas.) On the Democratic side, Clinton's campaign has had staff and organizers on the ground since the former secretary of State launched her campaign in mid-April and now has 22 staffers in the state. A handful of top-tier Republicans—including former Florida Gov. Jeb Bush, Sen. Marco Rubio, Wisconsin Gov. Scott Walker, Sen. Ted. Cruz, and neurosurgeon Ben Carson—have hired strategists in the state and are in the process of building operations here.
But the reality is that Nevada is harder to get to from the East Coast (it's much farther away from D.C. than the other three early states), harder to get around (apart from the Las Vegas and Reno areas, huge swaths of the state are incredibly rural), and it's a state where fewer national operatives have any experience.
Ralston argued there's also a national perception about Nevada—that it's all the Las Vegas Strip, essentially—that keeps people from taking it as seriously as the other traditional early states. "Nevada has a stigma, too. "¦ We're kind of seen as an anomalous place, and I think that hurts our standing, too," Ralston said. "There's no real tradition that's been established here."
As for the lack of good polling data, Nevada is notoriously difficult to poll, which some in the state suggested was the reason major public outfits have steered clear thus far. With its high cell-phone use, number of shift workers who are difficult to reach during regular polling hours, and relatively transient population, pollsters have been consistently stumped by the state. Back in 2008, one poll the week of the caucuses put Mitt Romney in fourth place with 15 percent, and none that week had him at higher than 34 percent. The former Massachusetts governor ended up winning the caucuses with 51 percent of the vote.
On the Republican side, additional reasons abound. The first two early GOP caucuses held here, 2008 and 2012, were hardly competitive; Mitt Romney hit the 50 percent threshold both times, leaving little room for challengers and little reason for them to spend time here to build up operations.
Republican operatives in the state say this time around is far more open. "Our previous two early caucus events weren't really contests," said Robert Uithoven, Cruz's state director. "With Mitt Romney not being on the ballot this time around, there is a lot more investment in time and resources and from a much larger Republican field."
The state Republican Party also badly botched the counting process last time around, placing additional pressure on party officials to get it right this time. In 2012, despite Romney being announced early on as the victor, it took populous Clark County 36 hours to finish counting the ballots—leaving the second-place finisher in doubt for days. The state party has been plagued with problems, and GOP strategists in the state say that makes it harder for the state to get the national attention it deserves.
So what's the state to do? Republican operatives and lawmakers tried earlier this year to switch the party's caucus system to a primary system, which its proponents argued would bring significantly more voters into the process and, as a result, more candidates to the state. The move was ultimately unsuccessful, and the state legislature didn't pass the measure before it adjourned this summer.
"We want to protect our first-four status for presidential races, and perhaps more important than anything, we want to protect the integrity of the election," Bush adviser Ryan Erwin, who supported the move to a primary, told National Journal in May.
Most of all, there's extraordinary pressure to make sure none of the organizational mistakes of the 2012 caucus come back to haunt Nevada in 2016, particularly on the Republican side. If the caucuses can be both competitive and successful this time around, Nevada operatives say it will go a long way in raising the state's profile going forward. "At least from the Republican side, we run the risk of losing our early state status if we don't perform better than we have the previous two cycles," Uithoven said.