What Happens if Planned Parenthood's Federal Funding is Ended?
Other health care providers probably could not step into Planned Parenthood's role.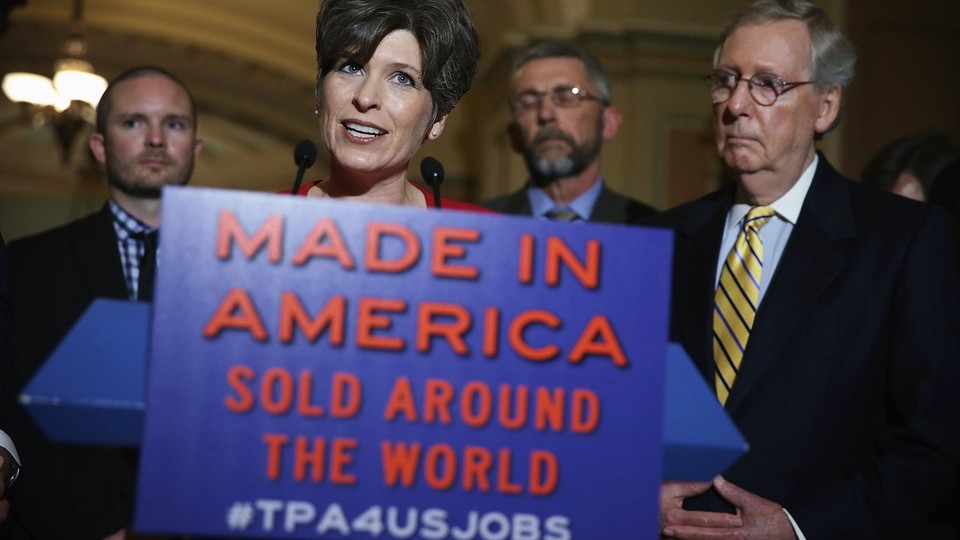 Republicans have carefully tried to avoid accusations of being anti-women as they have waged war on Planned Parenthood the past couple of weeks, most recently appointing Sen. Joni Ernst to head the effort to end federal funding for the organization and then writing legislation ensuring the money continues to be used for women's health.
But they may have a problem with that strategy — there is no guarantee that redirecting funding to other health organizations will fill the resulting gap in community women's health services.
Ernst's bill will come to the Senate floor for a cloture vote Monday night, although it is largely a messaging vote and is expected to fail without getting the 60 senators needed. Regardless, GOP leadership has said that the effort to defund Planned Parenthood will not end Monday.
Planned Parenthood receives more than $500 million annually from the federal government — around 40 percent of its total budget. The vast majority of services offered by Planned Parenthood — which are used by 2.7 million people each year — are preventive, including birth control, cancer screenings, treatment and testing for sexually transmitted infections, and well-woman exams. (Abortions consist of 3 percent of Planned Parenthood's services and are not paid for by federal dollars; the Hyde Amendment prevents any federal funding from being used for abortions.)
"Community health centers provide really critically important services to low-income women in this country, but it's not clear all of them are equipped to provide the full range of sexual and reproductive services that women need," said Alina Salganicoff, vice president and director of women's health policy at the Kaiser Family Foundation.
For example, many health centers give referrals for select contraceptive methods, according to a study by George Washington University examining women's health. Only 19 percent of health centers reported that their largest sites both prescribe and dispense delivery of all methods of contraception on-site. A majority — 57 percent — offer implants, 34 percent offer intrauterine devices (or "IUDs") by referral or other arrangement, and 49 percent prescribe and dispense emergency contraception on-site.
And Planned Parenthood health centers constitute 10 percent of all federally funded health centers, but it serves 36 percent of the total clients served by all centers receiving public dollars, according to the Guttmacher Institute
The fact that other health care centers may be hard-pressed to absorb Planned Parenthood's caseload has not been lost on Planned Parenthood, nor on Democrats.
"More than half of Planned Parenthood's nonprofit health centers are in rural or medically underserved areas, and millions rely on us each year for care. If this bill went into effect, blocking our health centers from serving patients who rely on publicly funded programs for health care, millions of people would struggle to access quality reproductive health care — period," wrote Dawn Laguens, executive vice president of Planned Parenthood Action Fund, in a statement.
The legislation does not specify where exactly funding would be redirected to, only stating that, "All funds no longer available to Planned Parenthood will continue to be made available to other eligible entities to provide women's health care services." According to Ernst's office, these include state and county health departments, community health centers, hospitals and physicians offices that provide health services to women.
The current congressional fight over Planned Parenthood stems from a series of videos that allegedly show organization officials selling fetal tissue, although there is not any evidence of illegal activity. It is possible Planned Parenthood funding could be removed from spending bills, and some conservative Republicans have threatened a fight leading all the way to a government shutdown.
"Republicans and Democrats are appalled at the images and what is being portrayed in such a callous and inhuman nature of the leadership within this organization," Ernst said.
"I think these videos are so disturbing to people," said Republican Sen. John Thune, "and demonstrate such a callous disregard for human life that there seems to be an interest in doing something to try and ensure this sort of thing doesn't happen again."