What Will It Take to Get Climate Change on the Republican Agenda?
An entrepreneur plans to find out by spending $175 million with the aim of encouraging Republican politicians to address climate change.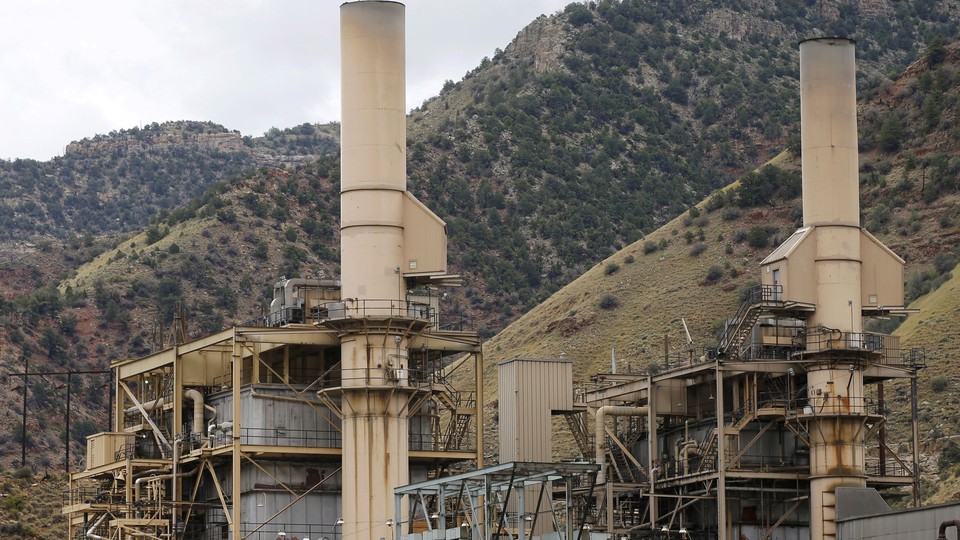 Climate change is increasingly on the minds of policy wonks and bureaucrats, with good reason: A report released by the White House and Environmental Protection Agency in June warned that it poses a dire threat to America's economy, as did a Pentagon report in regard to national security.
But Republican politicians—and, in particular, those running for president—don't seem to be paying attention. In recent weeks, leading Democratic candidates have put forward plans to address climate change. Republicans, by and large, haven't.
Some conservatives are hoping to break their party's silence on the issue. Key among them is Jay Faison, an entrepreneur from Charlotte, North Carolina, who announced last month that he plans to spend $175 million to encourage Republicans to advance solutions to climate change. "If conservatives fail to put forward our own agenda, climate change policy will likely go the way of health care—the Democrats owned the answers, and we ended up with Obamacare," Faison wrote in a Politico op-ed.
But he's not alone in calling for policy solutions to climate change from the right. Think tanks are arguing for free-market solutions to reduce carbon emissions. Grassroots Tea Party groups are butting heads with Koch brothers-backed Americans for Prosperity on allowing the sell of power from rooftop solar systems at the state level. Big business and some foreign oil companies are increasingly willing to accept—and, in many cases, are calling for—a price on greenhouse gas emissions. Even Newt Gingrich has expressed support for a GOP environmental platform that makes room for climate change.
But green conservatives have their work cut out for them. As in previous elections, the forces seeking to protect the status quo are already readying their resources. The Koch brothers political network, for example, plans to mobilize around $889 million in 2016—more than double what it spent on the 2012 election.
Industry players can also pack a punch. During the 2012 election cycle, the oil, gas and mining industries spent millions in support of candidates, most of whom were Republican. And that represents only the money that these companies and their employees contributed through traditional political giving; additional millions in "dark money" were passed through various non-profit groups that shield donors.
Environmentalists on both the left and right realize they can't hope to muster that kind of money, but they see Faison as a signal that, for conservatives, the tide might be turning on climate change. "I think Jay Faison is a game-changer. I describe him as the cavalry coming over the hill," said Bob Inglis, a former South Carolina Republican congressman who lost the state's primary election, in part, for accepting climate change, and who now heads the Energy and Enterprise Initiative at George Mason University. "It's just really exciting to us... to see a champion of free enterprise—someone who is an exemplar of how free enterprise works—engaging, and he can't be dismissed."
Of Faison's $175 million, $165 million will go to polling, outreach, and advocacy efforts lead by the ClearPath Foundation, a group he founded with the aim of promoting conservative solutions to climate change. He's also putting $10 million into a political action group to support some candidates, and hoping to raise more money from like-minded conservatives. He hasn't decided, however, if he'll spread these political funds far and wide, or pick a few GOP environmental champions.
And while Faison admitted his spending isn't going be able to compete with anti-climate-action interest groups, he sees an opportunity in the changing electorate. "If it were just a money thing, we would lose. But we have the truth on our side, and we have a fact pattern that's unfolding in front of us," Faison told me.
Recent polling shows that there is an appetite among the conservative electorate—not just among the policy wonks—for the party to develop an environmental policy. According to a poll by the League of Conservation Voters and the Natural Resources Defense Council Action Fund, roughly three quarters of Republican primary voters in both New Hampshire and South Carolina said they would support a carbon tax, and around 40 percent said they supported Obama's Clean Power Plan.
Conservatives and environmentalists who track the issue attributed this growing support for GOP climate action to three main drivers: Faith, the availability of new solutions, and an evolving electorate.
Pope Francis's recent encyclical challenged many conservatives to think about humans' impact on climate, and 300 evangelical leaders from across the political spectrum followed up, expressing support for the Pope's message. "Republicans like to claim that we're the party of God," said Rob Sisson, executive director of the conservative environmental group ConservAmerica. "Pope Francis is speaking out on this and urging not just Republicans—he's urging everyone—to work on this from a moral standpoint...It's going to move the needle."
Second, voters are increasingly aware that tackling climate change does not have to take the form of what the fossil fuel industry has started calling an "energy tax." "For many people... it was either cap and trade or nothing. And they preferred nothing," said Adrian Gray, a Republican political analyst. "Now, you're seeing this proliferation of different ideas, different solutions, more free-market-based solutions." Voters that may not support a price on carbon can still back ideas like rooftop solar and improving smart-grid technologies, he said. A veteran of the Bush White House, Gray has conducted polling to analyse how Republican candidates can talk about climate in a way that appeals to their electorate—voters have a more favorable response to the term "global environmental issues," for instance, than "climate change."
But the biggest factor working in favor of climate action may be the changing makeup of the electorate: Polls show particular support for environmental initiatives among millennials. One survey conducted by the University of Texas last year found that two-thirds of Americans aged 18 through 34 said they would favor a political candidate who supported emission cuts, compared with just half of those aged 65 and older.
"You ask young voters today, they all understand that the climate is changing and they all understand that their generation is going to be the one that is going to bear far more of the cost of climate inaction than the baby boomers who are running for president," said Daniel Weiss, the senior vice president of campaigns at the League of Conservation Voters, a group that tends to support Democrats.
Candidates continue to keep mum on the issue. Of the four Republican presidential candidates who have affirmed that they believe the science on man-made climate change—Jeb Bush, Lindsey Graham, John Kasich, and George Pataki—only two, Bush and Kasich, made it into the prime-time televised debate, and they've waffled on the issue.
"Republicans have very little incentive to take up the cause. They have every incentive to either avoid it or raise questions about climate change," said John J. Pitney, a professor at Claremont McKenna College. "A lot of them represent constituencies that are dependent on fossil fuels: Mitch McConnell's from Kentucky, there's a lot of coal mines in Kentucky. The Republican Party is getting stronger in West Virginia, which is a huge coal state."
Faison's challenge will be finding the right district in which to spend. In districts where fossil-fuel-industry money can help fund a primary challenge from the right, Republican members of Congress have little incentive to speak out on climate change and lose their seats. But for a few legislators who might soon face a challenge from the left, backing green policies could make a difference—especially in the general election. "If you are in a more balanced district…then your challenge will probably come in the general election, which means you probably should start talking about this issue because your more moderate voters will want to hear about solutions on this problem," Faison said.
One such candidate is New Hampshire Senator Kelly Ayotte: In addition to a likely Tea Party challenger in the primary, she may be in for a stronger challenge from her state's Democratic governor, Maggie Hassan. And the League of Conservation Voters has detected a pro-environmental shift in her voting record over the last year. In 2015, the non-profit ranked 50 percent of her votes as friendly toward the environment—far higher than her career average of 23 percent.
Not coincidentally, she also won Faison's first major donation of $500,000 in June.
Winning over just a few senators could be enough to make a difference, Faison said. With the exception of those hailing from coal-producing states, he posits, Democrats can be nudged onboard with climate-friendly, market-based policies. "It's just math and trying to break off enough of the party that's confident enough in the politics of their district to support climate policies," Faison said. Only a fraction of the Republicans in Congress would have to break ranks to reach the 60-vote threshold needed to overcome a filibuster.
"What I hear about Washington—what I'm learning is—it's sort of slow, slow, slow, slow and then fast," Faison said. "Something breaks, something changes, and then next thing you know there's all this activity. We don't know when that will open, but we just want to be there when it does."