What Do Dominican-Americans Really Want?
Over 1 million strong, these Latinos have their own set of political and economic concerns.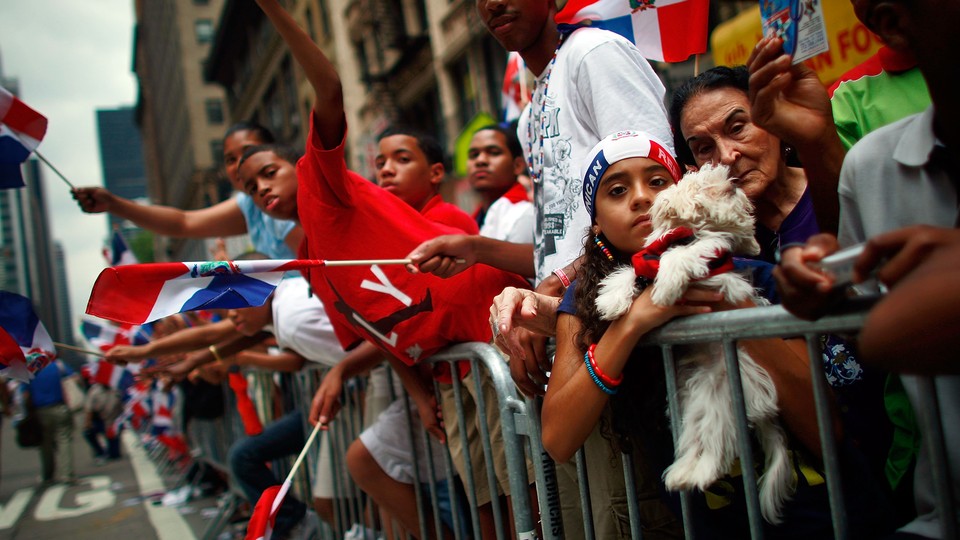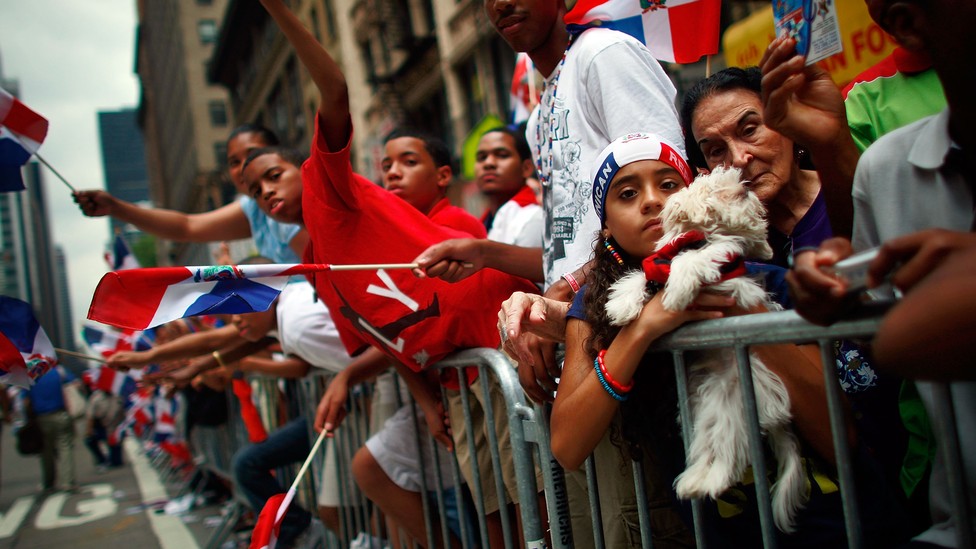 Last year, a wealthy Dominican sugar-baron family invested $3.5 million to help fund an organization that would advocate on behalf of Dominican-American voters in the Northeast. That organization, Dominicanos USA, has since registered nearly 80,000 voters. Most recently, the organization released what it calls a "first-of-its-kind" report that asks Dominican-American voters a simple question: What issues do you care about?
Dominicans are one of the fastest growing Latino groups in the U.S. In fact, according to the U.S. Census Bureau and American Community Surveys, in 2000 there were some 688,000 people of Dominican descent in the country. In 2012, they numbered nearly 1 million. And for the first time in New York—where the majority live—Dominicans now outnumber Puerto Ricans.
(Related story: "Young Latinos Have Quickest Rebound After Recession")
This study is helpful, especially around election time, when the "Latino vote" becomes a sound-bite monolith—one homogenous group that will supposedly vote the same way. And if you pay attention to what pundits say, it would appear that the only thing Latinos care about is immigration.
"The No. 1 complaint that I get in my district office is housing. Dominicans are renters. They live in urban areas, so housing is an important issue."—New York state Sen. Adriano Espaillat
But that's certainly untrue, says New York state Sen. Adriano Espaillat, who has twice run for Congress, and who is arguably one of the most prominent Dominican politicians in the Northeast. "They have their different issues that are more pronounced in one group than in others."
The study on what issues Dominicans care about was done in combination with Latino Decisions. It used interviews and an 800-respondent telephone survey of Dominicans in Rhode Island and New York (Latino Decisions polls differently. Read about it here).
So what's most important to Dominicans in the Northeast?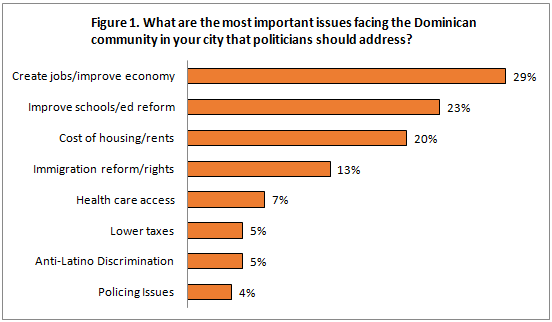 Improved Economy
As the graph shows, jobs were most important to Dominican-Americans in the Northeast. When asked what needed improvement, nearly all respondents wanted higher pay. That could be in part because Dominican-Americans have a slightly higher rate (28 percent) of poverty than Latinos as a whole (26 percent).
"Those challenges lead to issues with affordability," Espaillat says, "because if you don't have good paying job then you can't afford to pay rent. And that's why you see migration to other states that are nearby."
Espaillat says that job creation and demand for higher pay is most likely tied to rent. In New York, people ages 22 to 34 (the median age of Dominican-Americans is 29) spend more than 40 percent of their income on rent. It's gotten so bad that he's noticed a migration of Dominican-Americans to Rhode Island, Massachusetts, Pennsylvania, and other surrounding states where rent is cheaper.
"The No. 1 complaint that I get in my district office is housing," Espaillat says. "Dominicans are renters. They live in urban areas, so housing is an important issue."
Education
Dominicans make up 13 percent of the student population at City University of New York, which is located in the Washington Heights neighborhood—the epicenter of Dominican migration to the U.S. And on average, Dominican-Americans tend to have a higher educational attainment than other Latinos.
Among respondents, 23 percent said they want politicians to improve schools and reform education. When pressed further, Dominicans surveyed wanted more money invested in pre-schools, as well as bilingual education.
Immigration
Dominicans share an interest in immigration with most Latinos. A 2014 poll by the Pew Hispanic Center also showed that when polled as a whole, immigration was the fourth-most important political issue.
Living in New York, Espaillat says, can influence this perspective. The state is fairly welcoming of immigrants. It has a driver's license program for undocumented immigrants and Dream Act legislation.
Going Forward
What will the next generation of Dominican-Americans care about?
"When we get a lot of young students, and they come out as professionals, you're going to see the unemployment and jobs issue come down one slot—one position," Espaillat says. "I think education will also go up, because those folks will recognize their that achievements are directly connected to education. Housing will also be less relevant, because if you make more money you're able to purchase your own home."