Well-Received Mental-Health-Reform Bills Have an Unclear Future
Is there such thing as too many mental-health bills?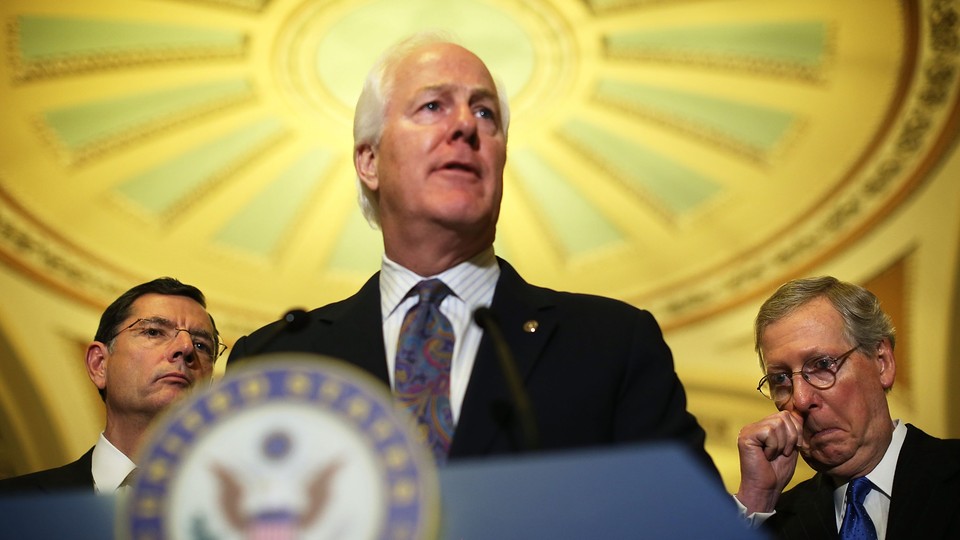 Sen. John Cornyn, the No. 2 Republican in the Senate, added to the swell of mental-health legislation growing in Congress on Wednesday by introducing a bill to identify and treat the mentally ill.
The topic of mental-health reform has surfaced recently in both chambers, framed as a response to mass violence that has much more potential for bipartisanship than gun-policy reform. While Cornyn's bill goes the furthest into territory prone to bitter debate — and also has the name of the majority whip attached to it — the addition of yet another mental-health-reform bill raises the question of which, if any, will be able to make the long trek to actually becoming law.
"I think this is an area that is ripe for a lot of discussion," Cornyn told reporters Wednesday, saying that he has been in conversation with colleagues on both sides of the aisle.
"What we're trying to do is deal specifically with this problem of mass violence from mentally ill people that, if we could identify them earlier, either because the background-check system would catch them so they couldn't buy a weapon, or else we can prevent them from becoming violent by getting them to this intermediate level of treatment before they do, then we can hopefully save some lives," he added.
Cornyn was referencing the multipronged approach his bill takes. It seeks to strengthen the National Instant Criminal Background Check System, or NICS, to clarify the scope of mental-health records required to be uploaded and gives states financial incentive to share those records. Currently, states are not required to share this information, which sometimes allows weapons to fall into the wrong hands. He has already garnered the support of the National Rifle Association and the National Alliance on Mental Illness.
But the bill also addresses the issue of the incarcerated mentally ill by helping state and local governments identify and treat them, and then also help them transition out of custody, which NAMI cited as the more important part of the bill.
"I know violence gets a lot of headlines, but for the most part we're talking about people who have committed crimes — a lot of times nonviolent crimes — that result from a lack of treatment for their severe mental illness," said Ron Honberg, NAMI's national director of policy and legal affairs. "Instead of processing them and incarcerating them, which is almost guaranteed to make their symptoms worse, this bill would concentrate some resources into jail diversion and linking people with much-needed supports."
There are now several mental-health-reform measures vying for attention. Cornyn's has joined a comprehensive reform bill from GOP Sen. Bill Cassidy and Democratic Sen. Chris Murphy, and a narrower Senate bill from GOP Sen. Lamar Alexander and Democratic Sen. Patty Murray, as well as Republican Rep. Tim Murphy's reform bill in the House. The Alexander-Murray bill is scheduled for a markup on Thursday, and House Energy and Commerce Chairman Fred Upton has said mental health will come up in committee after recess.
It seems that mental-health reform is a uniting topic, one that might actually create momentum in a slow-moving Congress.
"Isn't it great that there is shared concern regarding mental health?" Cassidy said when asked about Cornyn's bill. "It ... means there is a widespread recognition of lots of problems with how we're currently addressing mental health. And if they've got great ideas, and we've got great ideas, let's perhaps even combine to get a better bill."
"If in fact we're going to address mental health in the prison systems in a constructive way "¦ I would love to see that," said Democratic Sen. Jon Tester, who had not yet seen Cornyn's legislation but responded to it based on a brief description.
But there will almost certainly be debate over whether Cornyn's bill — or any other for that matter — goes far enough. Sen. Chuck Schumer plans to introduce legislation allowing the Justice Department to create rewards and penalties for states that submit or don't submit records into NICS, whereas the Cornyn bill addresses only mental-health records.
And then there's also the question of funding. The budget resolution currently does not appropriate all funds authorized for mental health — something both Cornyn and Schumer take issue with. Cornyn's bill keeps all funding at existing levels.
"The authorization that I mentioned earlier for $195 million a year is not appropriated at the authorized levels. I think that's a conversation that we need to have," Cornyn said. "But we need to make sure the money, whatever money is spent, is spent in a effective and targeted sort of way, and that's what we're trying to do here. So that's a conversation we should perhaps have about what is the appropriate level of funding."
"I believe we should improve mental-health funding," Schumer said in an interview, "but why are our Republican colleagues supporting a budget that cuts mental-health funding by $129 million?"
There's also the issue of timing. Cornyn did not give a timeline for his legislation, which currently does not have any cosponsors. But the Senate has a packed schedule after the recess, and it is hard to see where there will be room for mental-health reform — especially given how many separate bills have been introduced. Cornyn's will likely be referred to the Judiciary Committee, whereas the Alexander-Murray and Cassidy-Murphy bills will be considered in Health, Education, Labor, and Pensions.
"The key around here is capacity. When we come back in September, we're going to be dealing with Iran, with funding the government, and that's going to consume a lot of capacity. I'm new here, but I'm just trying to figure out how all that fits in," said Sen. Thom Tillis on Cornyn's bill. "I think it's something good to get out there and get moving, though."