What Does the Voting Rights Act Mean Today?
As Democrats and Republicans celebrate the law's 50th birthday, their praise hides deep divisions over whether it's a piece of history or if it remains a vital tool.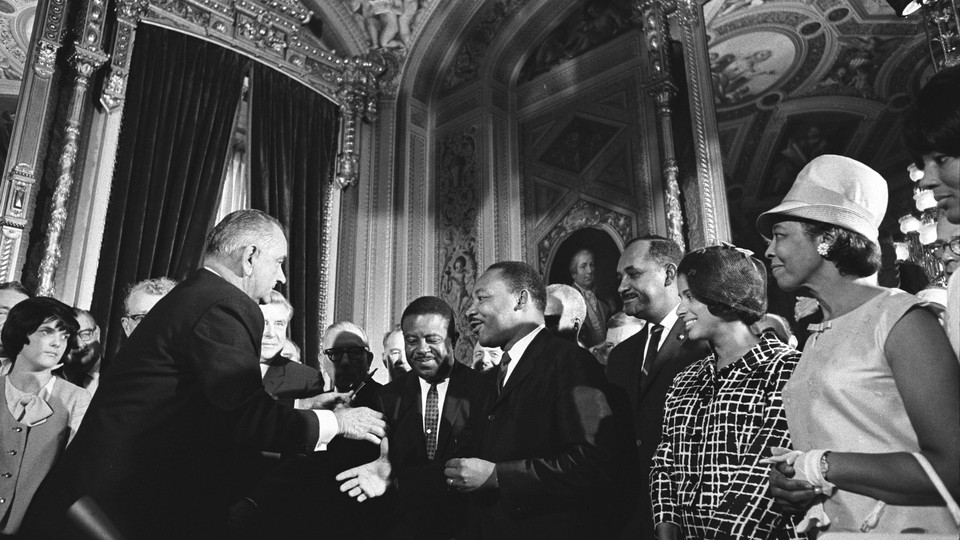 What does it mean to celebrate the Voting Rights Act's 50th anniversary, and what's being celebrated? The law reached that milestone Thursday, and the way it is being remembered—and the context in which that's happening—says a lot about the divergent meanings of the law for liberals and conservatives.
Take the Republican National Committee's statement on the anniversary. "We owe a great deal to those who stood up to discrimination, threats of violence and even death to push for the passage of the Voting Rights Act in 1965," Reince Priebus said. "The Voting Rights Act of 1965 enjoyed broad Republican support, but protecting citizens' right to vote in free and fair elections is not merely a Republican priority. It is an American priority."
For the GOP, the VRA seems mostly to be a matter of the past. It marks the point at which decades of racial injustice were reversed by sweeping legislation. It's important to remember that moment, the thinking goes, as history to be commemorated. The same mindset appeared in Chief Justice John Roberts's 2013 opinion in Shelby County v. Holder, which struck down key elements of the VRA's Section 5. That section required certain jurisdictions with a history of discrimination to seek "preclearance" from the Justice Department before changing voting laws. Roberts wrote that the VRA was designed to remedy certain problems, but it shouldn't be a punishment for the past. America's racial politics have drastically improved since 1965, he reasoned.
That might be true, but events since the ruling have shown that vast racial fissures remain. Police killings of black men (and children) have set off massive protests and riots around the country. But in addition, several states used the Shelby County decision to revamp their laws, now that they were free from federal preclearance. Many of those changes have been challenged in courts, and two have made headlines in the last week.
One is in Texas, where legislators imposed a strict requirement for citizens to present a photo ID when voting. On Wednesday, a panel of judges on the Fifth U.S. Circuit Court of Appeals ruled that the law unfairly discriminated against minorities. They are less likely to have the forms of ID accepted under the law, such as driver's licenses or gun licenses, while other forms—including student IDs—that minorities are more likely to possess are not accepted.
Meanwhile, arguments wrapped on Friday in Winston-Salem, North Carolina, on a case over the Old North State's own post-Shelby law. That law doesn't include the same strict voter-ID provisions (it did, but they were later scrapped), but it did limit early voting, out-of-precinct voting, and early-registration programs, among other things. The conventional wisdom on that case is that the plaintiffs challenging the laws are underdogs in federal district court, but that the decision will be appealed either way.
In his statement Thursday, Priebus mentioned the possibility of fraud, and said, "Today, as we enjoy more access to the polls—through early, absentee and weekend voting—than in past decades, we celebrate the sacrifice, accomplishments, and memory of those who made it possible."
The Democratic National Committee reacted fiercely to the statement. Some of that is partisan gamesmanship, but it's also a factor of how liberals see the law differently: as a work still in progress, one that began in earnest 50 years ago and remains essential today. Voter fraud, Democrats and many experts say, is a tiny or nonexistent threat, while strict laws like those in North Carolina and Texas prevent many lawful voters from casting a ballot. The people most likely to be left out are minorities—who happen to vote mostly for Democrats—and the North Carolina law was specifically designed to eliminate or reduce just the sort of expanded access to the polls that Priebus hailed.
Republicans say that the intent of these laws isn't discriminatory, even when the effect is—further proof, perhaps, of how far the country has come since 1965. Democrats see it as just the opposite: as stealthy ways to suppress the minority vote, taking the country right back toward the '60s. That's reflected in the way Democrats are marking the anniversary, too. Hillary Clinton, for example, didn't just celebrate the law, but also called for new measures to ease registration and voting, including expanded early voting and automatic registration for 18-year-olds. Writing on the White House website, Representative John Lewis—an icon of the civil-rights struggle—highlighted remaining challenges to equitable voting and called for continued work on rights.
There are some areas on which Democrats and Republicans agree. My colleague Russell Berman reported this week on a rare accord in Oklahoma, where Republicans and activists agreed on reforms to ensure the state was complying with the 1993 "Motor Voter" Act's provisions for indigent registration. Mostly, however, Thursday's superficially uniform praise for the Voting Rights Act on both sides of the aisle hides much deeper disagreements over what the law should and does mean.