Trump's Shaky Electoral Foundation
Though Trump is surging in national polling, that hasn't always translated into success once voters start casting ballots.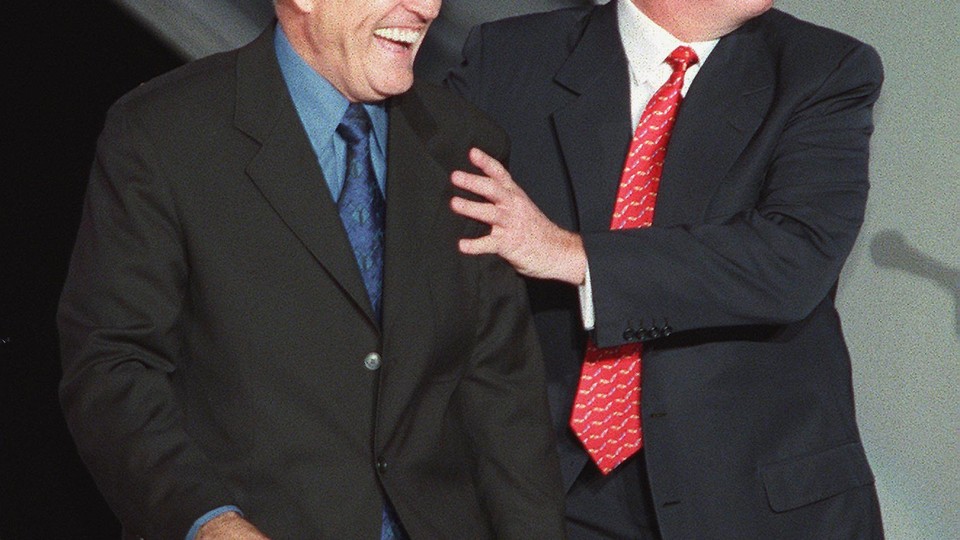 Donald Trump still has a way to go to become the next Rudolph Giuliani — or even the next Rick Perry.
Though Trump has surged to the lead of the GOP field in national surveys on the eve of the party's first presidential debate on Thursday, he hasn't generated nearly as much support as Giuliani did in national polls early in the 2008 race, or even quite matched Perry's peak around this point in the 2012 contest.
Despite their gaudy early poll numbers, neither Giuliani nor Perry won a single primary or caucus in their respective contests. Both tumbled out of contention early and neither figured meaningfully in the results of their nominating races.
Trump might demonstrate more staying power and avoid that fate.
But the Giuliani and Perry experiences offer a sobering reminder that national-polling success in the year before voters actually make their choices in primaries and caucuses is often evanescent. Early national-polling strength "is really indicative of name identification and that's generated off media," says David Carney, Perry's chief strategist in 2012. "Until voters start to make hard choices "¦ it's really just a popularity contest at the moment."
Historically, in both parties, the floor has fallen out quickly on candidates who failed to translate broad national interest into specific victories in the early nominating contests. That's particularly true in the kickoff states of Iowa and New Hampshire, where voters are exposed to much more information about the contenders than elsewhere in the country.
In recent primary history, no one underscores that point more dramatically than Giuliani.
The combative former New York City mayor dominated national polling in the early stages of the 2008 Republican presidential race as thoroughly as any recent contender in either party — and far more than Trump is doing now.
Through 2007, Giuliani led in all eight national ABC/Washington Post surveys, according to a compilation of primary polls from that year collected by PollingReport.com. While Trump has reached support of about 25 percent in several recent national polls, Giuliani exceeded 30 percent six times in the ABC/Washington Post surveys that year. In February 2007, Giuliani peaked at 53 percent, vastly more than any GOP contender has marshaled at any point in this race.
That poll wasn't unique. Giuliani also led in all 21 USA Today/Gallup polls through 2007, according to the PollingReport.com compilation. Giuliani's support exceeded 30 percent in 17 of those 21 polls, peaking at 49 percent in March; he still attracted 34 percent as late as November 2007. Similarly, Giuliani led in all ten CNN/ORC polls through 2007. The Republican polling firm American Research Group placed Giuliani ahead in nine consecutive national surveys from February through November 2007.
"Until voters start to make hard choices "¦ it's really just a popularity contest at the moment." — David Carney, political strategist
Giuliani also led in Quinnipiac University national polls in February, April, June, August, and October, and Pew Research Center polls in March, April, July, September, and October. Three national NBC/Wall Street Journal polls in September and November of 2007 showed him with at least twice as much support as any rival.
Meanwhile, John McCain, the eventual nominee, languished in these national polls through 2007. With his campaign staff in turmoil and his finances squeezed, McCain did not attract support from more than 20 percent of Republicans in USA Today/Gallup national polls from June 2007 through January 2008. In the ABC/Washington Post poll, McCain did not exceed 19 percent from July through December 2007.
Through in the second half of 2007, McCain in national surveys usually trailed not only Giuliani but also former Sen. Fred Thompson — who also ultimately failed to win a single primary. In a December 2007 ABC/Washington Post survey, McCain placed fifth, behind not only Giuliani and Thompson but also Mitt Romney and former Arkansas Gov. Mike Huckabee, the two men who proved his most serious rivals once the voting started.
Voters shuffled this deck very quickly once they actually cast ballots. Weighed down by his liberal positions on social issues, Giuliani did not seriously contest the kickoff Iowa caucus that Huckabee won. Giuliani then faded to fourth in a New Hampshire primary captured by a revivified McCain. The former New York mayor put all his remaining chips into the Florida primary but lost badly there too and was soon out of the race. With Thompson fading as well, McCain eventually scored a fairly easy victory over Huckabee, the other finalist in the contest.
By late January 2008, Giuliani, the man who led in virtually every national survey by every news organization in the year before the voting began, woke up to this coruscating opening sentence in a New York Times post-mortem on his campaign: "Perhaps he was living an illusion all along." In that story, one unnamed Giuliani adviser reflected bitterly on the disparity between his strong national-poll showings and his weak performance in the actual contests. In a description that Trump supporters today might find chilling, the Giuliani adviser then told the Times: "His numbers were built on name recognition and celebrity."
Perry's surge in national polls four years later wasn't as sustained or powerful, but it also thrust him to a temporary lead in the GOP race with support comparable to what Trump is attracting now. Shortly after the Texas governor entered the race in August 2011, an array of national polls showed him rocketing to the top of the field. A late August ABC/Washington Post poll showed Perry leading eventual nominee Romney by 30 percent to 25 percent. Perry led Romney by 30 percent to 18 percent in an early September 2011 CNN/ORC survey, and by 28 percent to 23 percent in a poll later that month. In mid-September, a USA Today/Gallup poll also showed Perry leading the field, with 31 percent support. And when that survey asked Republicans who they would pick in a one-on-one contest, Perry led Romney by a solid margin of 49 percent to 39 percent.
Perry wasn't the only candidate who enjoyed a moment in the tumultuous 2012 GOP race. A late October 2011 Quinnipiac University poll reported that in a one-on-one contest, Republicans preferred businessman Herman Cain over Romney by 47 percent to 39 percent. A December 2011 NBC/Wall Street Journal poll found that in a three-way contest (with Ron Paul included), former House Speaker Newt Gingrich led Romney by 53 percent to 31 percent.
Historically, in both parties, the floor has fallen out quickly on candidates who failed to translate broad national interest into specific victories in the early nominating contests.
Perry faded after a succession of autumn missteps on the campaign trail and in debates, and the brief Cain boomlet deflated after he faced a series of sexual-harassment charges. Cain dropped out before the voting began and Perry left the field before South Carolina, the third critical contest on the GOP calendar. Gingrich persisted in the race and achieved a dramatic victory in South Carolina (which had voted for the winner in the past five seriously contested Republican presidential contests dating back to 1980).
But the former House speaker could not capture any other contest except in his home state of Georgia. Romney ultimately outlasted former Sen. Rick Santorum, who emerged as the leading alternative after a narrow victory in Iowa, even though his support almost never exceeded 3 percent in 2011 national polling.
Carney says the key to converting early national-polling strength into lasting success in the race is building a sufficient national infrastructure to channel that interest. "It is all fleeting if you don't have the infrastructure to take advantage of that energy," he says. "You are overwhelmed with people who want to help and have no way to channel that energy in a positive direction."
Carney says he believes Trump is polling so well not only because of his celebrity and unparalleled ability to rivet media attention but because he is giving unvarnished voice to a deep frustration with Washington and traditional politicians.
But Carney adds that the jury is still out on whether Trump will build a "serious structure" and perform well enough in debates to transmute that interest into primary and caucus victories next year. "Voters who vote in March will not be making their choice in October," Carney notes.
The example of famous candidates who fared well in early national surveys but ultimately failed to emerge as serious contenders extends far back beyond Perry and Giuliani to earlier hopefuls, such as Democrat Wesley Clark in 2004, Republican Elizabeth Dole in 2000, and Democrat John Glenn in 1984. (In a variation on the theme, Howard Dean rocketed from obscurity to top the Democratic field in late-2003 national polls, but then plummeted back down just as quickly once the voting began.) The past isn't always prologue. But that history is a reminder that national polling success in the year before voters cast their ballots is a shaky foundation on which to construct a campaign. And if anyone in the 2016 race should recognize the risks of building on fragile foundations, it ought to be the billionaire developer Donald Trump.